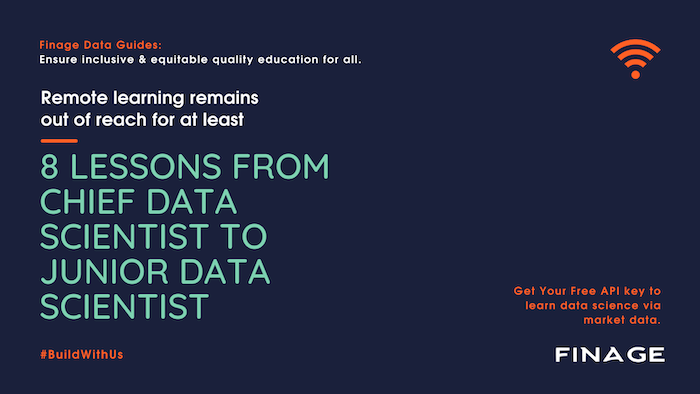 The transition from a junior data scientist to a chief data scientist is a slow process. As a junior, you are probably unfamiliar with so many terms and practices used in the industry. You have your foundation set, but there's a lot more to build.
With time, you begin to grasp all the intricacies of data science and eventually you become an expert. Here are a few things you will understand after you've made your journey to chief data scientist.
Contents:
The Most Important Qualities

If You Can't Get Find the Right Job, Create It

Be Weary of the Proof-of-concept Trap

Background Plays a Huge Role

Being the Jack of All Trades Is Resourceful

Never Trust Your Work

Always Make Sure You're Solving the Right Problem

Data Science will Live On
Final Thoughts
1. The Most Important Qualities
What drives a data scientist to be the best asset to any company they work for? The first quality is curiosity. Asking questions regularly will help you run into problems that no one else thought about. As such, you will be driven to find the solutions to them, and the more solutions you provide the better you become.
The second important quality is passion. The best results are often produced by individuals who are deeply passionate about what they do. You can be hardworking and spend numerous hours on your craft, if you don't add love to the mix your results won't be as impressive. In this industry intelligence is not the only factor that determines growth.
2. If You Can't Get Find the Right Job, Create It
Being a data scientist exposes you to a wide array of different projects. It is safe to say that not all projects are enjoyable. Many are tedious and exhausting. Knowing what to expect will help you evade disappointment and focus on getting a job in the first place.
On the other hand, if you feel like you could be doing more, you can opt to create your projects. Remember that doing so will require you to improve your skills. This will require you to do the heavy lifting of acquiring as much knowledge as possible.
3. Be Weary of the Proof-of-concept Trap
A lot of data scientists run into this obstacle. When presented with data, your main aim is to analyze it to make a profit. POCs always provide promising results from primary tests. However, they are not as valuable to the business as they may seem to be.
A lot of problems can be identified as the cause of this issue. For instance, poor management of the project can lead to releasing a worthless product.
4. Background Plays a Huge Role
You don't necessarily have to have been a data scientist before working as one. That being said, you need to have skills in either coding and have profound knowledge of computational biotechnology. Having a history of data creation and management will help you to be easily acquainted with the ins and out of being a data scientist.
The chances of you being good at data science without prior knowledge of anything related to it are slim. Even though you decide to put in the work by studying, it'll take a long time before you become knowledgeable enough to be productive. This craft requires a lot of time to master.
5. Being the Jack of All Trades Is Resourceful
To become a valuable data scientist you have to be resourceful in as many subjects as possible. Why is this so? Data science requires a lot of thinking outside the box. When you're well learned in other subjects, it becomes easier to escape the confines of data science and find creative solutions which would otherwise be unattainable without mastering other subjects.
Mastering the following will give you an advantage:
Programming

Machine learning

Big data platforms

Data visualization tools
6. Never Trust Your Work
Treat every project you work on like a work of art. Be meticulous and make sure everything is just right. Although this could be enough in other trades, data science is a little different. When you are done working, it is not advisable to present your product yet.
Take your time to go through the setup of the cross-validation, go through all your values for the predictions. Human error is one of the reasons why data science fails to produce valuable results. Never trust the initial results until all possible factors in the model are considered.
7. Always Make Sure You're Solving the Right Problem
One of the most overlooked issues of failed data science issues is identifying the initial problem. The main objective of any company is to produce revenue by providing a product of value. How valuable the product is is determined by the solution it provides to consumers. Therefore, dedicate your time and resources to figuring out the right problem. Once you do that, you can then provide a solution that will be valuable to the business.
8. Data Science will Live On
Many individuals believe that data science will possibly become obsolete. This couldn't be further from the truth. In actuality, data science will evolve. The tools used for the process may be replaced and titles may change. However, the basic structural principles will remain as they are. Therefore, it is important to focus on data science innovations and development.
Final Thoughts
Getting to be a chief data scientist is a journey that takes mastery of patience. But once you get there it'll all be worth it. We have looked at a few lessons that are valuable for any junior data scientist or anyone thinking about pursuing data science as a career. Knowing these few tips will get you better prepared to take the industry head-on.
If you are looking for other advice, you can check more articles within the topic at the Finage blog section. Also, you can use real-time and historical market data to master your skills. Learn more here!

You can learn data science with Finage free market data API key.
Build with us today!