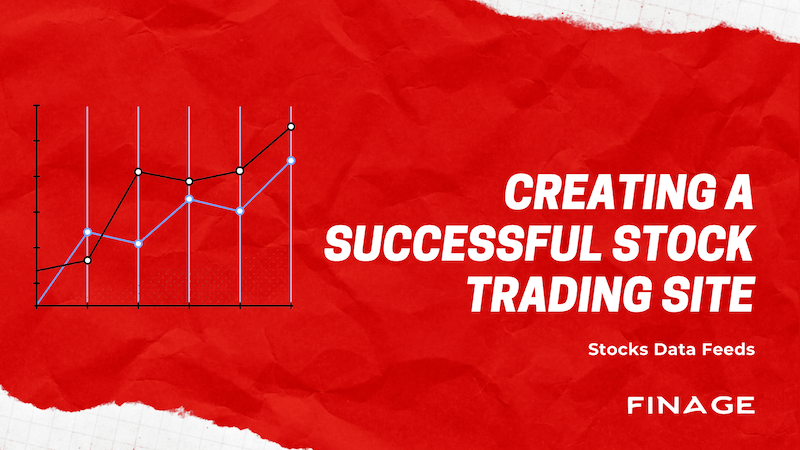 Stock market websites have become quite popular today. Numerous reasons can be attributed to the growth but the most common one is how lucrative creating one can be. A good example of well-performing trading and stock data service is Finage which has many users. It was created to provide trading data within the easiest and fastest currency and cryptocurrency API. You can find many different websites, but what makes them work? Let's look at some of the main features of the stock trading websites and see how you can create your own trading platform and ensure it flourishes.
Contents:
Features of Good Stock Market Website
News Feeds
Reliable Order Execution Tools
Well-designed Infographics
Scanning Features
Customer Support
What Do You Need to Create a Stock Market Website?
Top Steps to Create the Website
Find a Domain Name & Appropriate Web-hosting

Content Management

Adding the Right API
Final Thoughts
Features of Good Stock Market Website
Before we get down to the nitty-gritty of creating a good stock market website, let's briefly look at some of the key features you will be required to add to your service. With practicality and customer engagement in mind, here are the important characteristics to consider:
News Feeds
Getting the latest financial news plays a huge role in influencing trading decisions. Some of the most popular news feed options are PR Wire, DowJones Newswires, and Reuters. You can also get the proper API to be on the trend with up-to-date statistics.
Reliable Order Execution Tools
Your site should include some top tools that will permit traders to make transactions without any difficulty. Execution tools might differ based on different types of orders. For example, timed orders require a tool that can execute the sale automatically.
Well-designed Infographics
Whether you are dealing with the stock market, Forex or Cryptocurrency, adding infographics and charts should be a priority. In this case, charts are mainly used for analysis with the most popular types being candlestick and bar charts.
Scanning Features
Traders are always looking for the right opportunity to execute a trade. To facilitate this, adding scanning features to help them find the right moment to do would be very helpful to them.
Customer Support
If your goal is to create an engaging stock trading website, making customer support available at all times should be a priority. Support can be provided in real-time on the site, through email, and possibly through phone calls.
What Do You Need to Create a Stock Market Website?
Having a written plan of what you'll need to create your site serves an important purpose. In this case, it'll be a guide so that you know exactly what to do and when to do it. This guide or checklist may contain the following points:
Branding, which includes the name and logo of your site

Adding trading tools

Including API with real-time and historical data, proving quotes

The type of content you want to add to the site

Deciding on the newsfeed

Domain name and web hosting

Registration of traders on the platform
Your checklist can be personalized to include your top priorities. However, using as many points as possible from the list above will probably be the best option.
Top Steps to Create the Website
Once your checklist is done, you can proceed to create your website. If you have the knowledge to do the site by yourself, doing so won't be complicated. That being said, in many cases having a professional handle, it is probably the best option. You can focus on the following steps:
1. Find a Domain Name & Appropriate Web-hosting
Step one is to find a good name for your website. You have all the freedom to pick a name that is memorable. However, you have to leave some space for compromise because you might not get the name that you feel will best represent your website.
If your preferred name is not available, you can try to look for similar names or use alternate domain extensions. With so many extensions available, the chances of you getting something you'll be comfortable with is significantly high.
Finding web hosting services is no hassle as well. Nowadays many businesses specialize in providing website domain extensions and also provide web-hosting. This way you won't have to look elsewhere for hosting and have your needs covered in one place.
2. Content Management
Having the right content management system can make or break your site. Luckily, there are so many good options to choose from. One of the best CMS available today is WordPress. What makes WordPress special and why would you consider it? Here are a few reasons:
It is an open-source system, which basically means it gets input from numerous professional developers;

Security is top-notch;

Its UI is impressive;

It is the most popular content management system;

You don't need to be a professional to use WordPress, most of the UI is self-explanatory.
After dealing with CMS, you can proceed to focus on other important aspects of your site. Figuring out the newsfeeds and other important tools required for daily transactions. Make sure that you test all the features prior to marketing which will be your last step.
3. Adding the Right API
Providing the right financial data and tools that are understandable and accessible for everyone is very important, especially when you want to build a successful stock trading site.
Creating and innovating simple and clean financial services for startups and businesses is a hard task. However, with the easiest and fastest currency, stock, and cryptocurrency API with the lowest latency, you can deliver transparent and critical information to everybody. By using Finage API, you can build an uninterrupted and reliable service with modern technology.
Final Thoughts
Running a stock trading website can be quite lucrative, especially when done well. The size of the global online trading market is about $8.3 billion today and this number will only continue to rise.
With the success of other trading platforms and cryptocurrencies, now is definitely the best time to create your own site. We've highlighted the necessary tips to start and develop your project. Hope the tips will help you to start your own project!

You can get your Real-Time and Historical Stocks Data with Finage free Data API key.
Build with us today!