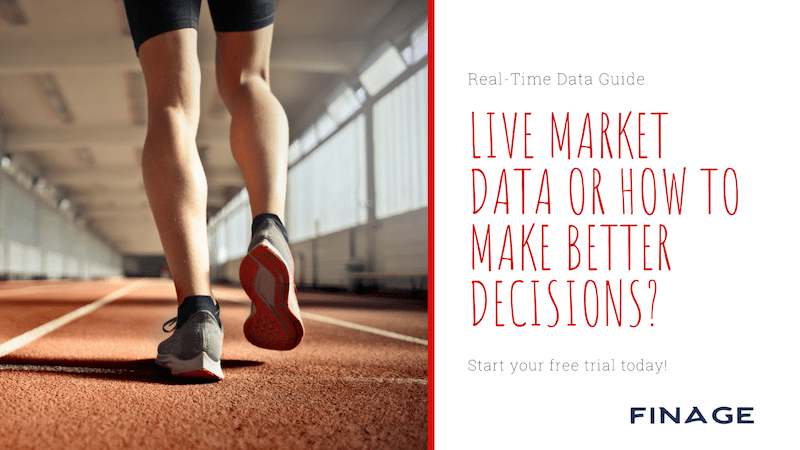 Before deciding on buying stocks, it helps to have the right information. Because market prices are always rising, having live data provides more room to make more informed decisions.
Most channels or organizations are dedicated to providing live market data. Examples of organizations that do this include Bloomberg, Reuters, the Financial Times, and News Agencies such as the BBC. These websites provide up-to-date information about market prices. Nowadays, you can find market data on mobile applications and services as Finage which shows current and past information. Continue reading to find out the definition of live market data and why it is important to follow updates.
Contents:
What Is Live Market Data?
Types of Live Market Data
Level I
Level II
Data Providers
What Is Live Market Data?
Live market data is the type of information that shows market prices in real-time. This data is issued by different companies but notably those in the Stock exchange business. Live market data is intended to assist buyers and sellers to make the right decisions.
Live market data includes information such as current buying and selling prices, market shares, and deviations in worldwide currencies. This provides more information about making decisions on the spot.
However, market data has also been used to study the past and predict future trends. This information is published after considering factors that affect stock prices. Professionals have also used this data to assess investment risks, which improves the chances of success.
Market data includes information such as:
Product ticker symbol

Updated bid prices

Current ask price

Time of recent purchase

Size of the most recent sale

Time of current quote
The product ticker symbol also known as the stock symbol is a specific series of letters that are used to represent each company on the Stock Market. The number of characters used varies based on requirements for different markets. Some may have four or five characters. This makes it easier for buyers and traders to identify companies. Examples you may see include:
AAPL (Apple)

NYSE (New York Stock Exchange)

FB (Facebook)

WFC (Wells Fargo)

GSK (GlaxoSmithKline)
Types of Live Market Data
In general, market data can be divided into two broad categories: Level I and Level II. The cost for the data gathered from these two levels differs and mostly depends on the provider.
Level I
At this level, users have the basic information required to make a trade. This includes the current bid and available prices. You will get a general idea of all the data for most trading systems. It is a summary of all the data needed to make a stock chart. This includes:
Bid price and size

Ask price and size

Last price and size
Level II
Information at this level is more detailed which is intended to help traders make short-term predictions. In addition to information from Level I, you can find all recent bids, offers, and all current prices on the Stock Market. Any Orders made are also included in the Level II market data. Also, it provides details about contracts; the number, bidding prices, and ask prices. You will also get details about:
The highest bid prices

Lowest ask prices

Number of forex lots

Future contracts.
The cost of accessing both Level I and Level II data may be expensive and information overload. So most traders usually access just Level I data which is sufficient to make decisions. Those that are looking for trends in the future also pay for Level II data. Level II provides more markets for traders.


Data Providers
Traders have access to market data from so many providers. These companies provide live and past data about the stock exchange market. Many of these provide live feeds through different apps. This gives users access to current market prices and currency changes in a more convenient way.
Delivery of data is very crucial in the Stock Exchange Market. These different providers have varying speeds and modes of delivering data. Delivery can be real-time, delayed, or after a day. Modes of delivery include TV broadcasts, internet, mobile apps, or satellite.
Something that may affect the prices from vendors is additional information such as historical records. Data may also be static, which means it will not change over time. Any additional data can increase the costs depending on the vendor.
Final Thoughts
Live market data is crucial for traders on the Stock Exchange Market. This information is real-time data showing current buying prices, bids, and contracts. It may also include past information from weeks, months, and years ago. Past data helps traders to make informed decisions and predictions about future market trends. Traders have access to different vendors that provide real-time market data.
The cost of market information will depend on whether you use Level I or Level II data. Also, different providers have different prices depending on the services provided. Live data is aimed to provide traders with information to make profitable decisions while trading on Stock Markets.

You can get your live market data feeds from Finage. Start your free trial today.
Build with us today!