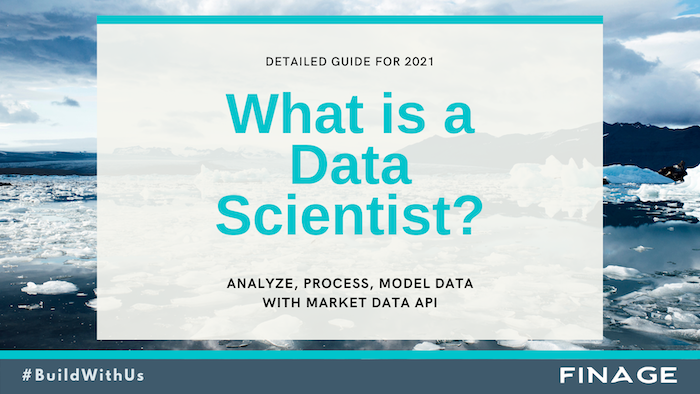 What is a Data Scientist

Data scientists are big data wranglers, gathering and analyzing large sets of structured and unstructured data. A data scientist's role combines computer science, statistics, and mathematics. They analyze, process, and model data then interpret the results to create actionable plans for companies and other organizations.
Data scientists are analytical experts who utilize their skills in both technology and social science to find trends and manage data. They use industry knowledge, contextual understanding, skepticism of existing assumptions – to uncover solutions to business challenges.
A data scientist's work typically involves making sense of messy, unstructured data, from sources such as smart devices, social media feeds, and emails that don't neatly fit into a database.
Technical skills are not the only thing that matters, however. Data scientists often exist in business settings and are charged with communicating complex ideas and making data-driven organizational decisions. As a result, it is highly important for them to be effective communicators, leaders and team members as well as high-level analytical thinkers.
Experienced data scientists and data managers are tasked with developing a company's best practices, from cleaning to processing and storing data. They work cross functionally with other teams throughout their organization, such as marketing, customer success, and operations. They are highly sought after in today's data and tech heavy economy, and their salaries and job growth clearly reflect that.
Steps to Become a Data Scientist

Here are six common steps to consider if you're interested in pursuing a career in data science:
Study data science or a closely related discipline at the undergraduate level.
To become a data scientist, you'll need to learn the necessary skills.
Think about specializing.
Get your first work as a data scientist.
Examine additional data scientist credentials and post-graduate education.
A master's degree in data science is a great way to advance your career.

In 2021, how can you become a data scientist?

1. Study data science or a closely related discipline at the undergraduate level.
To get your foot in the door as an entry-level data scientist, you'll need at least a bachelor's degree in data science or a computer-related area, though most data science jobs would require a master's degree. Degrees also offer your résumé structure, internships, networking opportunities, and recognized academic qualifications. If you have a bachelor's degree in a different area, you can need to concentrate on online short courses or bootcamps to learn the skills required for the job.
2. Learn the skills required to work as a data scientist.
Computer programming
Techniques for Machine Learning
Reporting and Data Visualization
Risk Assessment
Math and statistical research
Communication that works
Skills in Software Engineering
Data cleaning, munging, and mining
Investigate
Platforms for Big Data
Cloud-based applications
Structures and data warehousing

3. Think about specializing.
Data scientists may specialize in a specific industry or develop strong skills in areas including artificial intelligence, machine learning, analysis, and database management. Specialization is a smart way to boost your income power while still doing work that you enjoy.
4. Start your career as a data scientist at the entry level.
You should be ready for your first data science job once you've acquired the necessary skills and/or specialization. Creating an online portfolio to highlight a few projects and your achievements to prospective employers can be beneficial. Because your first data science job may not have the title of data scientist, but rather an analytical role, you should look for a company with room for growth. You'll quickly learn how to work as part of a team and best practices, which will help you advance to more senior roles.
5. Examine additional data scientist credentials and post-graduate education.
Here are a few useful-skills-focused certifications:
Professional in Analytics Certification (CAP)
The Institute for Operations Research and the Management Sciences (INFORMS) developed CAP, which is aimed at data scientists. Candidates must show their understanding of the end-to-end analytics process during the certification test. This includes problem framing, data and methodology, model building, implementation, and life cycle management, among other things.
SAS Enterprise Miner 14 SAS Certified Predictive Modeler
SAS Enterprise Miner users who conduct predictive analytics will benefit from this credential. Candidates must have a thorough understanding of the predictive modeling features available in SAS Enterprise Miner 14.
6. A master's degree in data science is a great way to advance your career.
Academic credentials may be more relevant than you think. Is a master's degree needed for most data science jobs? It varies by task, and some data scientists have a bachelor's degree or have completed a data science bootcamp. According to 2019 data from Burtch Works, over 90% of data scientists have a graduate degree.
Responsibilities of a Data Scientist
A data scientist's duties may include the following on any given day:
Undirected analysis and framing open-ended market issues to solve business problems
Massive amounts of structured and unstructured data can be extracted. They use programming languages like SQL to query structured data from relational databases. Web scraping, APIs, and surveys are used to collect unstructured data.
To prepare data for predictive and prescriptive modeling, utilizing advanced computational techniques, machine learning, and statistical methods.

Clean the data thoroughly to remove any irrelevant information and prepare it for preprocessing and modeling.
Exploratory data analysis (EDA) is used to figure out how to deal with missing data and to look for trends and/or opportunities.
Creating programs to automate repetitive tasks and discovering new algorithms to solve problems
Use useful data visualizations and analyses to communicate forecasts and conclusions to management and IT departments.
Changes to current policies and methods that are cost-effective are recommended.
Data science job tasks will be approached differently by each group. Others need top-level analytics experts skilled in intensive machine learning and data visualizations. Some companies treat their data scientists as data analysts or merge their responsibilities with data engineers; others need top-level analytics experts skilled in intense machine learning and data visualizations.
If data scientists gain more experience or change careers, their roles can change as well. A individual working alone in a mid-size business, for example, might spend a significant portion of the day cleaning and munging data. A senior executive in a company that provides data-driven services may be asked to structure big data initiatives or develop new products.
Professional Characteristics of a Successful Data Scientist
Data scientists should be instinctively curious about their surroundings, albeit through an empirical lens, rather than just knowing programming languages, database management, and how to transpose data into visualizations. Data scientists may have personality characteristics that mimic quality assurance departments when they analyze vast volumes of data and look for trends and answers. They're also inventive when it comes to developing new algorithms for crawling data or designing well-organized database warehouses.
Professionals in the data science field must be able to interact in a variety of ways, including with their team, partners, and clients. There may be a lot of dead ends, wrong turns, or bumpy roads along the way, but data scientists must have the drive and grit to stay afloat in their research with patience.
"Successful data scientists have a good technological background, but the strongest data scientists also have excellent data intuition." Are the features useful, and do they correspond to what you believe they should mean? Which model can you use based on the distribution of your data? What does it mean if a value isn't present, and how should you proceed? The best data scientists are also excellent communicators, both among themselves and with non-technical people. Our analyses must be both technically rigorous and delivered in a transparent and actionable manner to other members of the organization in order to be successful at Airbnb."
Job Prospects in Data Science
According to the Bureau of Labor Statistics (BLS), employment of computer information and research scientists, which includes data scientists, is expected to grow 15% between 2019 and 2029. While there is a strong demand for experienced data scientists, you must start somewhere. Some data scientists start as entry-level data analysts, extracting structured data from MySQL databases or CRM systems, creating simple Tableau visualizations, or evaluating A/B test results. Consider what you could do with a career in data science if you want to go beyond your analytical role:
Engineer, Data/Big Data
Architect for Data/Big Data
Companies of all sizes and industries are searching for experts to help them wrestle big data into submission, from Google, LinkedIn, and Amazon to the humble retail store. In some companies, "new look" data scientists may be in charge of financial planning, ROI evaluation, budgeting, and a variety of other management-related responsibilities.
Salary of a Data Scientist
The salary of a data scientist is determined by their years of experience, skill set, education, and place. Employers trust data scientists with advanced skills, such as Natural Language Processing or Artificial Intelligence, according to The Burtchworks Report. Because of high demand, according to the BLS, professional computer research and information scientists, which includes data scientists, have excellent job prospects. The salary information below is based on Bureau of Labor Statistics data from 2019.
Data Analyst
The average salary for a data scientist is $122,840 per year.
$69,990 is the lowest ten percent.
$189,780 is the highest ten percent.
Senior Data Scientist Salary: $171,755 (median) Senior Data Scientist Salary: $171,755 (median) Senior Data Scientist Salary: $171,755 (media
The total pay range is $147,000 to $200,000 a year.
Check out the following bootcamp guides:
Guide to Data Science Bootcamp
Guide to Data Analytics Bootcamp
Guide to Coding Bootcamp
Frequently Asked Questions about Data Scientist Jobs:

What steps do I need to take to become a data scientist?
Earning a bachelor's degree in data science or a similar area is usually the first step toward becoming a data scientist, although there are other options for learning data science skills, such as attending a bootcamp or joining the military. Before landing your first entry-level data scientist position, you should consider pursuing a specialty or credential in data science, as well as obtaining a master's degree in the field.
What qualifications do you need to work as a data scientist?
Depending on the field they work in and their job roles, data scientists employ a range of skills. Programming languages like R and Python, as well as mathematical analysis, data visualization, machine learning techniques, data cleaning, testing, and data warehouses and frameworks, are all common to most data scientists.
What is the average length of time it takes to become a data scientist?
The amount of time it takes to become a data scientist is determined by your career aspirations as well as the amount of money and time you want to devote to your education. There are four-year bachelor's degrees and three-month bootcamps available in data science. If you already have a bachelor's degree or have completed a bootcamp, you can consider pursuing a master's degree, which can be completed in as little as a year. According to the Burtch Works report, the majority of data scientists have a master's degree.
To get a Data Science job, learn more about Data Science Bootcamps.
Tech bootcamps are a great way to learn data science and programming languages like Python, R, and SQL in a short amount of time. Data science bootcamps are usually short programs that can be completed part-time, full-time, online, or on campus. Some bootcamps can be completed in a few weeks, while others can take up to a few months. Bootcamps may help you network and can provide dedicated career resources to assist with job placement after graduation.
During the bootcamp, you'll work on assignments and create a portfolio to show prospective employers your skills. Machine learning, natural language processing, various forms of data analytics, data visualization, and other subjects are commonly covered in data science bootcamps.
While looking at bootcamps, think about your career aspirations and what you want to get out of the program. Some bootcamps are designed for complete beginners, while others are best suited for those who have prior programming or computer science experience. You should also think about the experience of the instructors who will be teaching the bootcamp, as well as the price. Is it possible for you to take time off and devote yourself to a full-time immersive experience? Is there a scholarship or discount program at the bootcamp? Be certain to inquire about all of your available financing options.