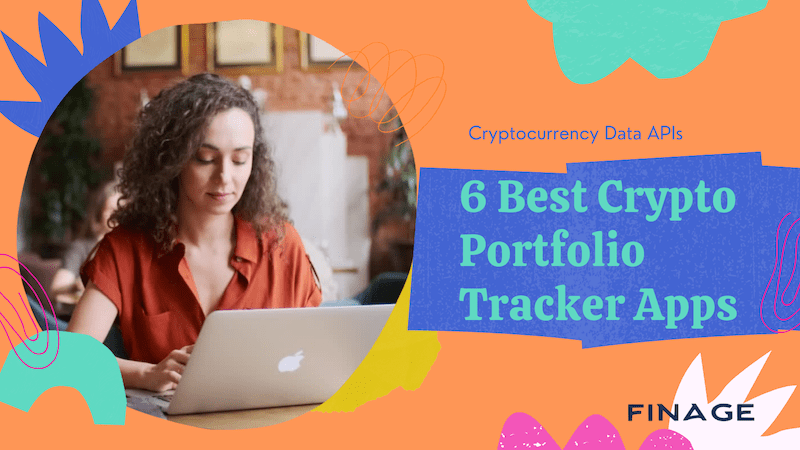 The best crypto portfolio trackers help investors and traders make real-time decisions and manipulate their portfolios. Here you can find the 6 best crypto portfolios.
Different crypto portfolio tracking apps have different features and work differently. Most allow you to add all wallet addresses regardless of the main blockchain, so you can track the value and price of coins in real time and historically. As such, portfolio monitoring software may have API integration with exchanges and other wallets. The best crypto portfolio trackers help investors and traders make real-time decisions and manipulate their portfolios. Most include advanced charting and value estimation tools to help users make timely decisions regarding crypto assets.
Blockfolio
Blockfolio was launched in 2014. It supports all crypto assets in the market today and has more than 6 million users. It also allows users to integrate wallets from around 15 cryptocurrency exchanges, which is a very competitive offering compared to most other crypto portfolio trackers. Allows users to set price alerts. An intelligence tool called Signal provides users with useful trading data and information. It is currently extensively reviewed with over 28,000 points on the Apple Store and 148,700 on the Android PlayStore.
Properties:
Available as Android and iOS app.
No desktop app or web platform access.
News section.
Cost: Free
Delta
Delta is a staunch competitor of Blockfolio, with over 1 million app installs, 1 million global users, and support for over 3000 crypto assets. It also tracks transaction fees. However, they also offer ICO support services where users can add their preferred coins even when no exchange supports them. The tracker app allows ICO and token launch teams to create notifications to app users about upcoming token and ICO launches. Delta Direct also means being a relevant crypto investment information center resource for users. ICO teams can provide training and other types of information to potential investors.
Properties:
It is available as an Android app, iOS app, and Windows, Linux and Mac OSX app.
Limited charting tools and crypto exchange API connectivity.
Cost: Free and paid version. The Android Early Back version costs $70 to $80 per year and $60 to $70 for iOS.
CoinStats
CoinStats tracks over $100 billion of cryptocurrencies on its website and has 500,000 exchange accounts linked to it, 100 million transactions and trades, and over 1 million users. It provides broad support for crypto with over 8,000 cryptocurrencies, 26 exchanges and 34 wallets. It also provides detailed analytics and transaction details for past transactions. Charting tools help users predict future movements in crypto prices and gain insights.
Properties:
Works on iOS, Android, web, Mac desktop, iWatch, widgets, Apple TV, Apple Watch, iPad App, Google Chrome extension.
Crypto news feed that can be customized according to user needs. Taken from 40 news sites.
Allows API connectivity and adding wallets from Ledger, Metamask, Binance, Ethereum, Binance, Trust and 30 other sources. Withdrawal access is not granted.
Cost: Free for very limited features, $3.49 per month for Pro and $13.99 for Premium accounts.
Lunch Money
Lunch Money allows users to track, manage and budget cryptocurrencies held as well as other assets in the form of cash, brokerage accounts and loan or investment accounts. It also allows you to budget total with income and expenses even if it is simple expenses like groceries. You can use the net worth calculator to track your net worth over time. It can integrate credit cards, checking accounts, savings accounts, lines of credit, loans, investments and other balances and transactions, even from banks and other sources. You can import CSV forms from banks to the app, link to transaction resources via banks and app APIs, and/or attach files from apps and websites. This means it allows you to track fiat and crypto.
Properties:
It does not support Android and iOS, but is web-based only.
Import transactions as CSV and APIs.
Supports all major cryptocurrency exchanges through integration with Zabo.
Cost: Lunch Coin allows users to try it for 14 days. Users can then pay $6.67 per month for annual billing.
Altpocket asset management and portfolio tracking platform also includes a social platform and therefore allows users to communicate with other investors and traders. You can view other people's profiles and receive notifications when they take action, so you can follow them to take action.
It syncs with the most popular exchanges and makes it easy for users to add their wallets from other exchanges. The tracker supports over 100,000 users using different crypto exchanges.
Properties:
The app includes a social feed very similar to what we see on Facebook and Twitter, with a much more focus on crypto only.
You see posts from people you follow and get an idea of ​​what's trending in the crypto community. You can also follow information, news and buzz about the coins you want or trade.
Filters are available to narrow the leaderboard of top traders.
It is available on Android, iOS and web platforms.
Cost: Free.
CryptoCompare
CryptoCompare provides more than just a portfolio tracker. It also provides data as a service, content, crypto guides, price aggregator and widgets for websites. This tracker allows you to get live prices of over 5,000 cryptos and coins and monitor the value of assets you can hold. In addition, CryptoCompare provides market information on different exchanges and cryptos for any trader directly from the app. You get news from within the app as soon as they arrive and you can clearly check how they affect the prices of any coin.
Property:
It is available as an Android and iOS app along with a web platform.
Cost: Free.
Final Thoughts
In today's post, we discussed the main crypto portfolio audiences in the market and satisfied beginners and advanced users. Alongside the usual trading apps and platforms, we have listed individual tools that people can use to track assets. We also discussed platforms where traders can manage both assets and assets and trade simultaneously without the need for extra trading apps. We hope that this blog post will be beneficial for you. We will continue to create useful works in order to get inspired by everyone. We are sure that we will achieve splendid things all together. Keep on following Finage for the best and more.

You can get your Real-Time and Historical Cryptocurrency Data with Finage free Crypto Data API key.
Build with us today!