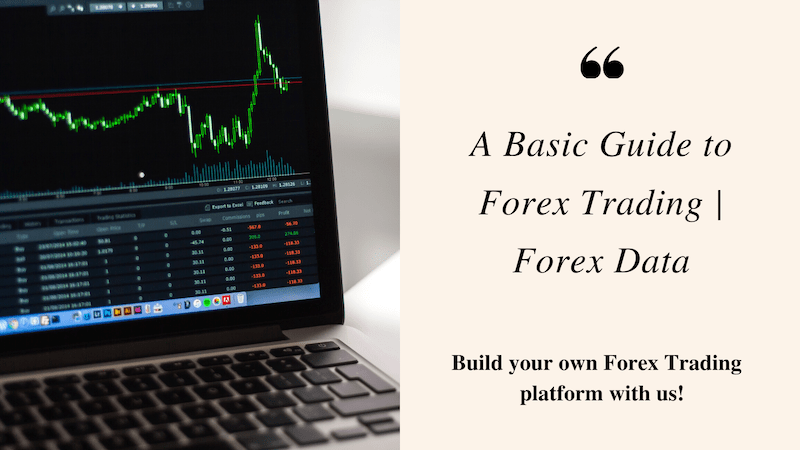 You can find all the detailed information about forex trading, which is similar to the currency exchange you can do while traveling abroad, by reading our article.


Table of Contents
What is Forex Trading?
How to Trade Currencies?
How Are Forex Trades Quoted?
Forex Terms to Know
Why Forex Trading Is Important for Average Consumers?
A Basic Guide to Forex Trading
The foreign exchange market, called Forex or FX, is the name given to the market in which foreign currencies are exchanged. Forex is the world's largest market, and the transactions that take place in it affect everything from the price of clothes imported from China to the amount you pay for a drink while vacationing in a beautiful country.
What is Forex Trading?
In its simplest form, forex trading is similar to the currency exchange you can do while traveling abroad. A trader buys one currency and sells the other. The exchange rate fluctuates constantly according to supply and demand. Currencies are traded on the foreign exchange market, a global market opens 24 hours a day, Monday through Friday. All forex trading is done over the counter (OTC). In other words, there is no physical change. A global network of banks and other financial institutions oversees the market.
The vast majority of business activity in the Forex market revolves around institutional traders such as those working for banks, fund managers, and multinational corporations. These traders do not aim to physically capture their currency. They are simply speculating about or want to hedge against future exchange rate fluctuations. For instance, a forex trader will buy US dollars if he believes that the dollar's value will strengthen, and therefore, he can buy more euros in the future. Meanwhile, an American company with European operations can use the forex market as a hedge if the euro weakens, meaning the income they earn falls in value.
How to Trade Currencies?
All currencies are assigned a three-letter code that closely resembles the stock's ticker symbol. Although there are more than 170 currencies worldwide, the US dollar is involved in the vast majority of forex trading. Therefore, it is useful to know the code. The second most popular currency in the Forex market is the euro (code: EUR), which is the currency accepted in 19 countries in the European Union. Other major currencies in order of popularity are Japanese Yen (JPY), British Pound (GBP), Australian Dollar (AUD), Canadian Dollar (CAD), Swiss Franc (CHF), and New Zealand Dollar (NZD).
All forex trading is expressed as a combination of two exchanged currencies. The following seven currency pairs – known as the principal – make up about 75% of trading in the forex market:
EUR/USD
USD/JPY
GBP/USD
USD/USD
USD/CAD
USD/CHF
NZD/USD
How Are Forex Trades Quoted?
As you know, each currency pair represents the current exchange rate for two currencies. We explain below how to interpret this information, using the EUR/USD or euro-dollar exchange rate as an example. The currency on the left (euro) is the base currency. The currency on the right (US dollar) is the counter currency.
The exchange rate indicates how much of the counter currency is needed to purchase 1 unit of the base currency. As a result, the base currency is always expressed as 1 unit, while the counter currency varies according to the current market and how much is needed to purchase 1 unit of the base currency. If the EUR/USD exchange rate is 1.2, it means that 1 € will get $1.20. When the exchange rate rises, it means that the price of the base currency increases relative to the quote currency. While there is a historical tradition of how some currency pairs are expressed, currency pairs are often presented with the base currency first and the quote currency second. For example, USD to EUR conversions are listed as EUR/USD, but not USD/EUR.
Forex Terms to Know
Every market has its own language. These are the words you need to know before getting into forex trading:
Currency

pair: All forex transactions involve a currency pair. In addition to majors, there are trades that are less common.
Pip:

A pip, short for percentage in points, refers to the smallest possible price change in a currency pair. Since forex prices are quoted to at least four decimal places, one pip is equal to 0.0001.
Bid-ask spread: As with other assets (such as stocks), exchange rates are determined by the maximum amount buyers are willing to pay for a currency (bid) and the minimum amount (hang) that sellers need to sell. The difference between these two amounts and the value trades that will eventually be executed is the bid-ask spread.
Lot:

Forex is traded in a standard currency known as lots. The typical lot size is 100,000 currencies, but micro (1,000) and mini (10,000) lots are also available for trading.
Leverage: Because of these large lot sizes, some traders may not be willing to deposit a lot of money to make a trade. Leverage, another term for borrowing money, allows traders to participate in the forex market without the amount of money that would otherwise be required.
Margin: However, trading with leverage is not free. Traders must put money upfront, known as a deposit or margin.
Why Forex Trading Is Important for Average Consumers?
The average investor probably shouldn't be playing in the forex market, what happens out there affects us all. Real-time activity in the spot market influences the amount we pay for exports and the cost of traveling abroad.
For instance, if the value of the US dollar strengthens relative to the euro, it will be cheaper to travel abroad and buy imported goods. On the other hand, when the dollar drops, it will be more expensive to travel abroad and import goods. However, companies that export goods abroad will benefit from this. If you are planning to purchase a large quantity of an imported product or plan to travel outside of the USA, it is a good idea to pay attention to the exchange rates set by the forex market.
We hope that this blog post will be beneficial for you. We will continue to create useful works in order to get inspired by everyone. We are sure that we will achieve splendid things altogether. Keep on following Finage for the best and more.

You can build your own Forex Trading Platform with Finage free Forex API key.
Build with us today!