by Finage at April 5, 2022 4 MIN READ
---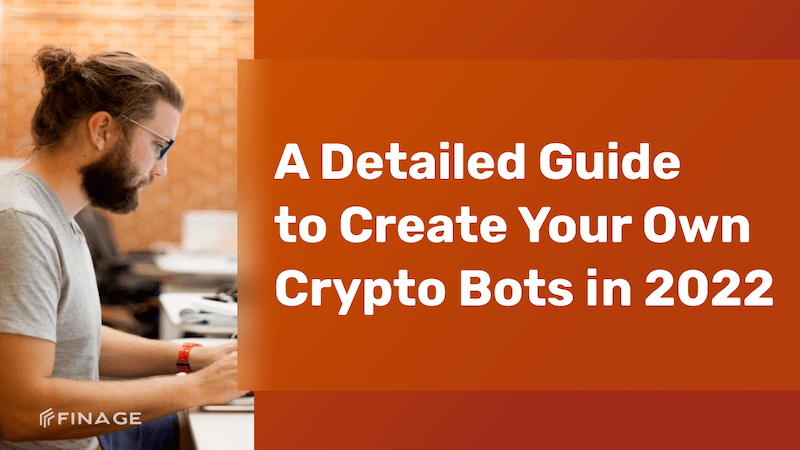 A Detailed Guide to Create Your Own Crypto Bots in 2022
Unlike stock markets, the cryptocurrency market never shuts down and never sleeps, which can be quite a stressful scenario for traders and even casual investors in the industry.
Users familiar with crypto investing will also be familiar with the feeling of waking up in the morning (cheerful or sinking) when they check their portfolio and see big gains or losses, and they will be pleasantly or unpleasantly surprised. As a result of the volatility of the market, trading bots have become increasingly popular among traders allowing them to always stay in control of their trades and the bot does not sleep even if it is an investor. In addition, a properly designated bot ensures that trades are executed faster and more efficiently than the trader can do manually.
The explosion of popularity in cryptocurrency has also led to a massive increase in the number of crypto trading bots available from open-source platforms for free or licensed to users for flat fees. However, it is difficult to determine which ones work as intended and which ones are an absolute waste of time.
How Do Crypto Trading Bots Work?
The most advanced trading bots work with 3 moving parts:
Signal Generator
We are making predictions here. There will be some data going into the signal generator and on the other hand a buy or sell signal will come out.
If you see any bots using 'tech indicators', it's probably a good idea to try not to make eye contact and back off slowly.
Risk Allocation
This takes the buy or sell signal and then decides how much to buy or sell. As it stands, should we devote all of our capital or just some of it to this trade? Should we buy them all at once or do we average?
Now we know the direction, we know how much we want to buy or sell, and the next part is the part that makes the trade.
Executive
See, if you have a lot to buy at once (let's say you have to get a total of $10,000,000 for 500 customers), then you probably don't want to do it all in one transaction as you are unlikely to get a fair price. Ideally, you want to spread your order to the market.
If you have the same bot as 1000 people and you are all working in discrete situations (i.e. they are not communicating with each other), that will give you a negative price.
All three parts, signal, risk, and execution, need their different algorithms and optimization processes implemented. If you have a bot skipping any of these parts, or worse, ignoring them entirely, it won't keep you in good shape for profitability.
What Should You Consider When Buying a Trading Bot?
What is the professional experience level of the senior leaders of that firm? If they've managed over $100 million in capital and have a good track record in doing so, you should probably stick with it.
Are their algorithms publicly known and publicly available? If so, arbitrage quickly no matter what "end" their bots have.
Is their success compatible with your success? Are they willing to cut their wages if you lose money? If you make money, will they be successful too? If they just give you a platform and send you on a joyful path to figure things out on your own, it's never a good sign if you don't know exactly what you're doing.
Popular Crypto Trading Bots
WunderTrading
WunderTrading is a cloud-based platform that allows you to seamlessly trade and start investing in cryptocurrencies. Users can clone top crypto traders with transparent trading records, trade using WunderTrading's advanced trading terminal, or create fully automated trading bots using TradingView.
Bitsgap
Bitsgap is one of the most well-known cryptocurrency trading bots. Bitsgap, a one-stop cryptocurrency trading platform that answers all your trading needs, allows users to gather their crypto money accounts under the same roof and make transactions from an integrated interface. The registration process to Bitsgap does not take more than two minutes and it is enough to verify an e-mail account. . Users can alternatively connect with their Google or Facebook accounts. The platform also offers a 14-day free trial that potential users can try before paying a fee.
3Commas
3Commas is a popular and widely used trading bot of the market. The most important advantage of 3Commas, which was developed by the Russians as in Cap. The club is that it offers many exchange options. In addition to Binance, 3Commas can trade on exchanges such as Bitfinex, BitMEX, Bittrex, Bitstamp, Gate.io, Coinbase Pro, HitBTC, Huobi, OKEx, Kraken and Poloniex. At 3Commas, it is possible to experiment with a demo account without using real cryptocurrencies. The platform, which will be difficult to get used to in the first place, also has Android and iOS applications. Its monthly price ranges from $24 to $84.
We hope that this blog post will be beneficial for you. We will continue to create useful works to get inspired by everyone. We are sure that we will achieve splendid things altogether. Keep on following Finage for the best and more.

You can get your Real-Time and Historical Cryptocurrency Data with Finage free Crypto Data API key.
Build with us today!