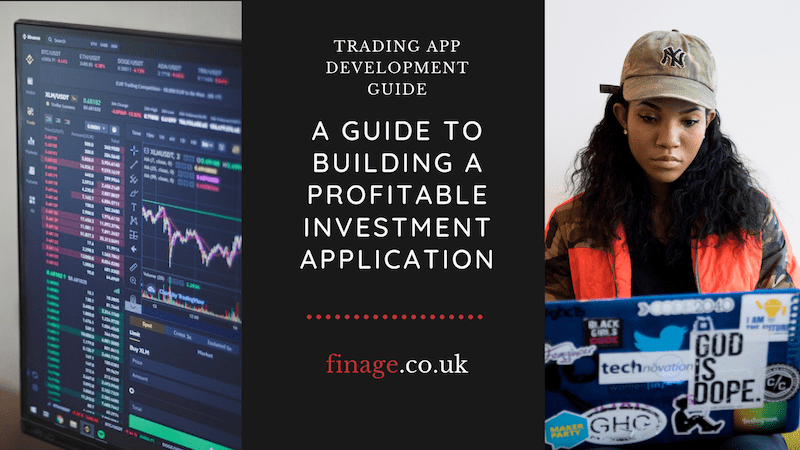 You can read our blog where we explain in detail that developing a free stock trading application is a difficult task that consumes a lot of time, effort, and funds.
Table of Contents
Key Features of a Share Trading App like Robinhood
Account and Trade Protection
Orientation for Both Knowledgeable and Novice Traders
Intuitive And Useful UI/UX Design
Reliable Ways to Use Your Profits
What Does It Cost to Create a Robinhood-Like Trading App?
Final Thoughts
Online stock trading has been in our lives for several years and still remains a hot trend. It enjoys such enduring popularity because it appeals to the human innate desire to get rich without effort, or in this particular case, to take some risk in exchange for potential profit. While the benefit of users is subject to many factors that affect trading results, it is certain that specialized software for this activity can be quite lucrative in some cases. Let's go over the skills and tools needed to build a stock trading app like Robinhood, TradeHero, M1 Finance and more.
Key Features of a Share Trading App like Robinhood
Various stock trading apps like Robinhood offers different features. However, some of these benefits are often more valued by users than others. It is wise to review as many features as possible, as this information will prove to be invaluable in the later stages of development planning. Your desire to launch a free-trading app like Robinhood may certainly be ambitious, but don't let your assertiveness ruin the entire venture. First, be realistic and remember that you cannot meet all user needs and provide all possible functions in a single application. Therefore, it is important to examine the following aspects and focus on the most demanded, effective, and potentially profitable ones.
The order of features and development principles below does not reflect their relative importance, with a few exceptions. Some users look for certain features in a stock trading app. But others value completely different advantages. While it's impossible to include everyone in your audience, there are a few universally necessary functions that are listed and briefly reviewed below:
Account and Trade Protection
The vast majority of users, regardless of computer skills, are concerned about security, especially during financial-related online activities. Therefore, the most important and difficult task for developers is to convince the target audience that the software is safe and reliable in every possible way. While any added security measure will increase the cost of a stock trading app like Robinhood, it's never wise to compromise on security.
Be sure to provide at least a few methods to protect user data to gain the trust of the audience, such as multi-factor authentication, advanced encryption algorithms, suspicious activity monitoring including sudden or unusual change of user's location, or repeated failed attempts. And in addition to that, make sure your servers are adequately protected against DDoS or brute force attacks, software vulnerabilities and other exploits.
Orientation for Both Knowledgeable and Novice Traders
When stepping into a stock trading app like Robinhood, target yourself, preferably with broader user coverage, to maximize your audience and increase potential profits. Thus, make sure that your software does not require specific technical or financial skills and knowledge. A great way to attract inexperienced users is to offer a clear but comprehensive tutorial, including a step-by-step guide or FAQ section.
Modular Structure and Integration Possibility
It recommends considering a modular structure of your stock trading application to further accommodate a variety of users and functions. This way you can combine features into functional blocks, providing easier access and better usability. The design of such an app further encourages various monetization schemes based on the availability of different features, which will be explained in more detail later. Also, a modular structure allows for the creation of several versions of the application with limited or "more focused" functionality. For instance, you can make an app like Robinhood for cryptocurrency or CFD trading.
Intuitive And Useful UI/UX Design
After choosing the number of functions and features to implement in your software, the next phase of your application development plan like Robinhood is design development. This process aims to provide the most appropriate UX/UI, taking into account the characteristics of various modules, hardware platforms or operating systems. This is a challenging task that requires a thoughtful selection of various development technologies: languages, APIs, frameworks, protocols, data formats, etc. In short, some are better suited for certain tasks than others. Therefore, mobile and web versions may require different tools.
For example, developing a commerce application may require Python for the backend, AngularJS for the front end, Swift for iOS and Kotlin for Android. This creates the need for additional work and coordination alongside many existing developers. Increases the overall cost of an investment app like Robinhood. Also, sometimes you will need to outsource parts of your project if you do not have available experts on the optimal technology required.
Reliable Ways to Use Your Profits
Equity investment software should allow its users to monetize their income in a secure and preferably effortless way. To attract more users, developers need trading accounts and various ways to transfer funds from their accounts. In optimal scenarios, your application should support wire transfers and worldwide payment systems such as Mastercard or Visa, online services such as Paypal, Amazon Payments or Dwolla, and the possibility of withdrawing cash. Also, if you plan to develop an app like Robinhood for cryptocurrency trading, you naturally need to allow their use as well. Integration with Google Wallet/Checkout and Apple Pay is essential, as the mobile app needs to be optimized for smartphones.
What Does It Cost to Create a Robinhood-Like Trading App?
As you can imagine, the chosen number of features and technologies mentioned above directly affects the cost of building a stock trading app. The more advanced your application, the more man-hours it needs to develop and test. In addition, the necessity of outsourcing some steps of the development process also increases the total costs. In this context, keep in mind that developers in the US or Western Europe are paid more than their business competitors in Eastern Europe or Asia, and their rates vary based on their skills and experience.
Final Thoughts
The list of features and requirements described above proves that developing a free stock trading app is a difficult task that consumes a lot of time, effort, and funds. Also, the field of online commerce is quite challenging. Therefore, make sure you have a good trump card in hand. This includes an optimized monetization model, more attractive terms for traders, a more intuitive interface for investing in stocks, advanced security measures to protect accounts and assets, etc. it could be.
If you decide to undertake this effort, remember that you will need a large team of experts in areas such as development, testing and support. However, if you have a sensible strategy, the result will bring you profit and reputation among both customers and colleagues. We hope that this blog post will be beneficial for you. We will continue to create useful works in order to get inspired by everyone. We are sure that we will achieve splendid things altogether. Keep on following Finage for the best and more.

You can build your own trading application with Finage free API key.
Build with us today!