by Finage at December 7, 2021 4 MIN READ
---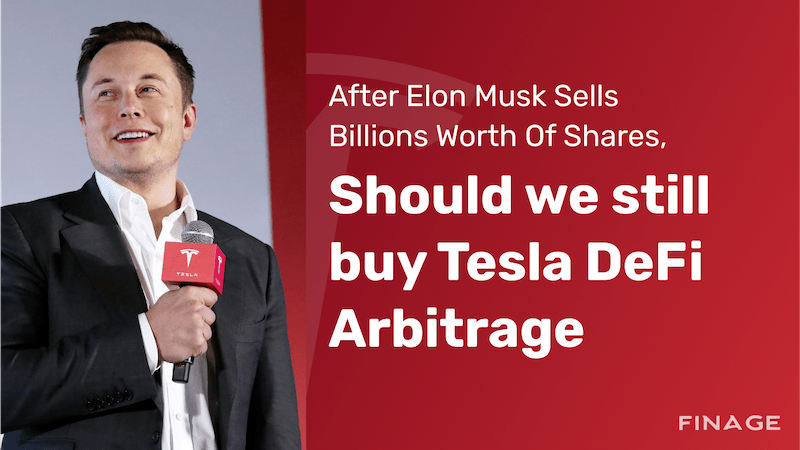 After Elon Musk Sells Billions Worth Of Shares, Should We Still Buy Tesla Stocks?
Our comments on whether you still buy Tesla shares after Elon Musk sold billions of shares in our blog post.
Elon Musk, CEO of Tesla, has defied the odds and consistently exceeded expectations since he took over the electric vehicle manufacturer in 2008. Now that Musk has sold billions of Tesla shares, is this a buyout? Let us share our thoughts on this subject with you.
Tesla stock sales come because Musk has a massive tax bill resulting from the 23 million stock options he earned in 2012 and expire in August 2022. It sold approximately $6.9 billion worth of shares beginning in early November. Tesla stock has dropped nearly 21% since hitting a record 1,243.39 on Nov. However, it continues to be the most valuable automobile manufacturer in the world with a market value of close to 1 trillion dollars. Musk still owns more than 166 million shares in the company.
The stock sell-off comes after Tesla reported third-quarter results that beat estimates despite chip shortages and supply chain bottlenecks. Adjusted earnings increased 145% year-over-year to $1.86 per share. That beat estimates of $1.62. Sales rose 57% to $13.76 billion, meeting expectations, according to FactSet. Delivering 241,300 vehicles in the quarter, beating estimates of 232,000. Shipments increased by 20% compared to the previous quarter and by 73% compared to the previous year. In addition, Tesla vehicle deliveries in China rose 44% from the previous quarter to 133,218. Its third-quarter results were reported late October 20.
Wedbush analyst Daniel Ives raised the price target for Tesla stock from $1,000 to $1,400 in a note to clients on Nov. Ives says that the cornerstone of the overall bullish thesis about Tesla remains China. Wedbush estimates that China will represent 40% of Tesla's deliveries in 2022.
Massive Expansion Will Support TSLA Stock
Tesla greatly expanded its production capacity. Musk wants to eventually build 20 million electric vehicles per year over the next decade. That's more than double the current output of other automaker giants. So it is now on a mission to rapidly expand its manufacturing capabilities.
Once Tesla starts making cars in Germany, it will go head-to-head on electric vehicles with three established German names: Volkswagen Group (VAGY), BMW (BMWYY), and Daimler AG's Mercedes-Benz division (DDAIF). Other serious competitors include General Motors (GM) and Ford Motor (F), in addition to their Chinese competitors. These include Nio ( NIO ) Xpeng ( XPEV ) and Li Auto ( LI ).
Tesla Stock Check
Tesla stock has an IBD Composite Rating of 99 out of 99, according to the IBD Stock Checkup tool. When choosing growth stocks for the greatest potential gains based on the CAN SLIM investment paradigm, focus on those with a Composite Rating of 90 or higher.
The stock also has a Relative Strength Rating of 97 out of 99. A rating means that Tesla stock has outperformed 97% of all stocks in the IBD database in the past 12 months.
Its Backlog/Distribution Rating is A-. This rating analyzes price and volume changes in stock over the past 13 weeks. A grade indicates heavy corporate buying. The lowest E grade means heavy selling. Think of the C rating as neutral.
Should Buy Tesla' Stock Now?
Tesla stock is currently not an acquisition. While Musk is selling his shares, Tesla stock is struggling to stabilize itself after suffering its biggest weekly drop in 2021. Volatility remains an above-average risk. Also, TSLA stock is in the profit-making territory after crossing the 900.50 buy point on a trophy basis, according to MarketSmith chart analysis. Wall Street is counting on strong long-term electric vehicle demand to continue growing profits at Tesla, citing strong third-quarter delivery numbers despite chip shortages and supply chain issues.
If you're interested in buying big-cap stocks, in these articles you'll find technical analysis of the leading big-caps to see if they're in or near a suitable buying zone. You'll also find alerts for warning signs and sell signals that show you when to take your profits or cut any losses. You will also discover whether the current stock market trend is conducive to buying stocks or if there is an environment in which you want to take defensive action and sell. Before making any investment decision, be sure to check current market conditions and use the IBD Stock Checkup to see if your stock has passed the most important fundamental and technical criteria.
We hope that this blog post will be beneficial for you. We will continue to create useful works in order to get inspired by everyone. We are sure that we will achieve splendid things altogether. Keep on following Finage for the best and more.
You can get your Real-Time and Historical Stocks Data with Finage free Stock Data API key.
Build with us today!