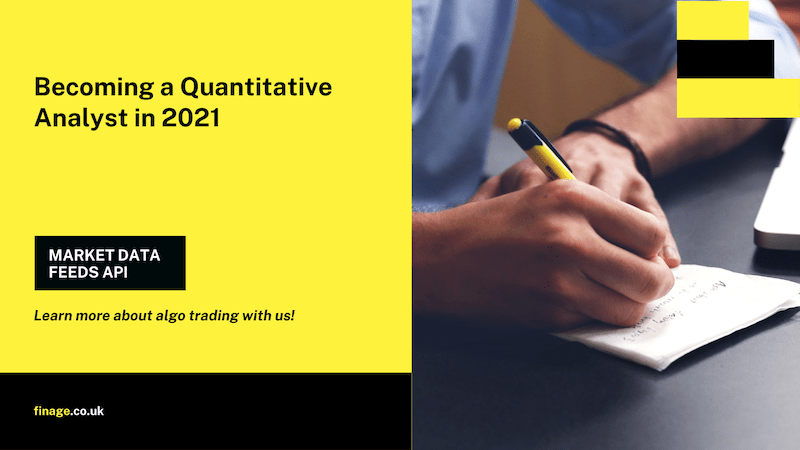 Becoming a quantitative analyst is a job that can't be restricted to one degree, especially if said mathematical models influence pricing and decisions on investments and risk management. Quantitative analysts or "quants" have two main goals: reduce risk and generate profits. Let's discuss what skills you need to acquire to become quantitative analysts that are bound to give the best services.
Contents:
Quantitative Analyst Requirements
Common Responsibilities of a Quantitative Analyst
How to Become a Quantitative Analyst
Earning the appropriate degree
Master's degree
Skills Needed to Be a Quantitative Analyst
Technical Skills
Business Skills
Possible Certification
Quantitative Analyst Requirements
Using science to fund and discover new ways of analyzing and looking at data is a quant's job. Having said, the lengths to which a quantitative analyst will go are broad. The job varies from day to day and is as volatile as the stock market.
Quantitative analysts also have uses that go beyond broader finance. A common use for them is in the insurance industry. There, they can be found developing risk evaluation and/or pricing models.
The demand for people possessing such skills is high. Even the most experienced investors need more knowledge to form opinions of future ventures. A quantitative analyst will also provide insight concerning their importance. They will inform you of their uses and how they match up with and at times surpass other methods.
Common Responsibilities of a Quantitative Analyst
The jobs of a quantitative analyst are also varying, to say the least. One establishment may demand things that are not required in another. This can also depend on the day, product focus, and experience. Some of the more common responsibilities are as follows:
Developing and implementing complex mathematical models and software tools;

Researching and analyzing market trends to form opinions and make modeling decisions;

Getting a feel for new analytics programs and products;

Applying and/or inventing independent tools to help with verification of results;

Performing regular statistical analysis as well as coding tasks;

Collaborating with various specialists (physicists, computer engineers, and mathematicians) to create the best strategies;

Keeping up with financial models and updating the if need be;

Consulting other experts on matters concerning trading strategies, the stock market dynamics, and cryptocurrency;

Clarify model specifications and modes of data collection.
There are many functions of quants, but the above are the most known. Quantitative analysts can also specialize in particular aspects of their profession. Areas of such specialization include algorithmic trading, statistical arbitrage, and electronic market-making.
How to Become a Quantitative Analyst
A job of this importance is just as difficult to attain. The demand for this job heavily outweighs the number of people qualified for it. These qualifications take years to master but could result in a highly lucrative job.
Becoming a quantitative analyst is something that begins in high school. Some might say that excelling at any mathematics or technology course will help in the future. After this, however, certain things will help qualify you as a quant.
Earning the appropriate degree
It is best to start this journey by acquiring a bachelor's degree in any finance-related field. From here, you can begin attaining more skills in mathematics, analytics, and statistics. Finding your entry-level quant position will help you gain experience before moving on to certification
Master's degree
Possessing a master's degree in this field will prove to be very helpful down the line. Degrees in operations research or quantitative finance are well respected. The same can be said for science like physics or advanced mathematics itself. This will help with creating models and the like.
Having a Ph.D. will give you the best chance of getting a job in some places. This is because it shows independence and outside-the-box thinking.
Skills Needed to Be a Quantitative Analyst
Here are the top requirements that most companies are looking for when hiring such experts. You can also get more skills during your education but these are among the many you must be ready to implement in daily work.
Technical Skills
This is the basic knowledge that will allow you to perform a job. These skills are often taught beforehand and should come naturally:
Big data modeling

Machine learning

Mathematical abilities

Calculus

Game theory

Credit-risk products

Numerical linear algebra
Business Skills
These are certain qualities that are difficult to quantify and yet, can be considered to be the most important:
Concentration

Working without supervision

High-stress resistance

Creativity in terms of problem-solving

Communication
The constantly moving state of finance requires these things. The best qualifications mean nothing if productivity is lacking. Having these intangibles will make life easier.
Possible Certification
The issue of certification is quite odd because nothing specific to quantitative analysis exists. However, certain certificates would be helpful to your career:
Chartered Financial Analyst or CFA. This is mainly for investment professionals

Certificate in quantitative finance or CQF. This is an online course built for people who are interested in the subject
The Finage quantitative analysts work to provide some of the best data analysis as well as a lens to look at data. A prime quantitative analyst has to have both technical qualifications and drive, this is something we have in spades. With our experts, we built an amazing service and features. So think of us when there is a need to get financial data!

You can learn more with Real-Time and Historical Market Data.
Build with us today!