by Finage at January 6, 2022 4 MIN READ
---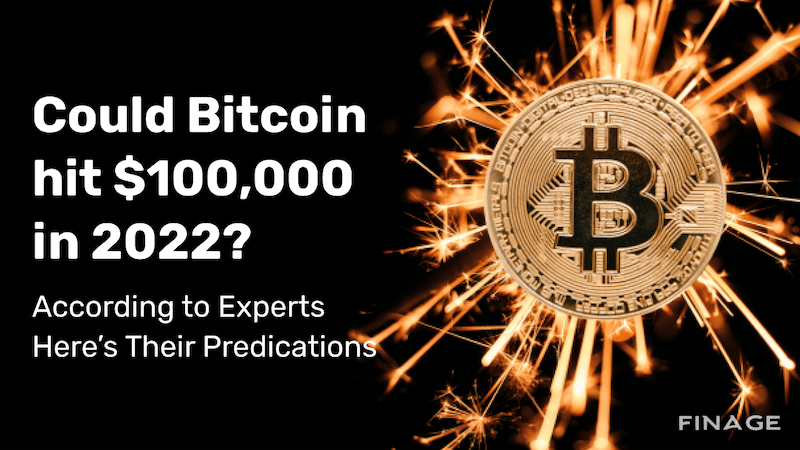 Can Bitcoin Hit $100,000 in 2022? Here Are the Experts' Predictions
Bitcoin, like all cryptocurrencies, has the tendency to have its value fluctuate wildly. However, the price of Bitcoin is decreasing at the moment under $43,000. This brings up the million-dollar question: "When will Bitcoin reach the $100,000 mark?".
Many experts have their own opinions on this matter, with most of them saying that 2023 is the safest bet. There are others who seem fairly confident that Bitcoin will hit the $100,000 mark next year. These predictions, like all things crypto, are always expected to change.
What would lead experts to believe that the 2022 prediction is guaranteed? What are some of the variables they considered? What affects the price of Bitcoin to begin with? These are all questions that have to be answered in order to find out if these predictions are accurate or a stretch.
Contents:
Predicting Bitcoin's Future Prices
Public Adoption
Mining Cycles
Scarcity
International Regulations
What to Know Concerning Bitcoin Price Projections
Final Thoughts
Predicting Bitcoin's Future Prices
As stated earlier, the point at which Bitcoin is predicted to reach$100,000 is between 2022 & 2023 according to experts. The 2023 prediction usually comes from experts who are cautious or in some ways, pessimistic. These are the people who are likely to predict a future drop. This is fair due to the volatility of the crypto market.
On the other hand, many predict that not only could the value of Bitcoin reach $100,000 in 2022, it could very well surpass it. This take is rather bold and should be read with a lot of caution. Those who are looking to get into Bitcoin should be more cautious especially if they are new to it. In this case, they should focus more on other parts of their portfolio. When it comes to predicting the price of Bitcoin, a number of factors come into play including the following:
Public Adoption
If the general public is buying Bitcoin and using it to acquire goods and services, it means that the cryptocurrency's value is bound to rise. As more people and large institutions begin to use Bitcoin as a major currency, it could definitely push its price up to the predicted heights by 2022. In other words, the $100,000 mark is not out of reach.
Mining Cycles
When the results of Bitcoin mining transactions are a reward that is cut in half, they are halved. That value of Bitcoin holdings can be affected by halving because the rate at which new coins enter circulation impacts it. These halving cycles are difficult to predict, but it doesn't stop experts from trying once a cycle has concluded.
Scarcity
In comparison to how many potential cryptocurrency buyers there are on Earth, the amount of Bitcoin available is remarkably low. Simply put, the demand for Bitcoin is high and increasing while its supply is fixed and low. Much like gold and precious gems, scarcity drives up the price.
The rare commodities gain power in people's minds and they are compelled to buy as much as they can. This, however, does not change the fact that all cryptocurrencies including Bitcoin can lose value overnight despite that demand for it.
International Regulations
Every country has its own rules that affect the price of the cryptocurrency. Larger markets like China, the US & the EU have regulations that directly affect Bitcoin's standings in the world. If
The US were to ban Bitcoin the way China banned cryptocurrency in September, the price would drop. Despite this, it will most likely rebound because of the crypto market's volatility.
What to Know Concerning Bitcoin Price Projections
In business, all decisions cannot be made on a whim or pure emotion. With Bitcoin, a sudden rise or fall can't be your reason for going all in or withdrawing from the investment. For this reason, experts agree that a relatively small fraction of your portfolio should be invested in Bitcoin.
The crypto industry has been around for a shockingly short amount of time. This means that the amount of data collected during this time is not sufficient enough to make any secure guesses. As such, it is best to wait & observe the market for a considerable amount of time before making any consequential moves.
Final Thoughts
Volatility is the only thing that is certain about Bitcoin. The volatility of Bitcoin and the crypto industry as a whole has made it difficult for people trying to invest in it. This volatility has led to a large number of clashing opinions and predictions from experts.
Of course, none of these predictions is ever really close to hitting the mark and even if they do, change is imminent. One thing does seem to be a done deal, which is that at some point the value of Bitcoin will reach $100,000. It will even surpass that mark eventually, but the mystery is when that will be.

You can get your Real-Time and Historical Cryptocurrency Data with Finage free Crypto Data API key.
Build with us today!