by Finage at December 20, 2021 5 MIN READ
---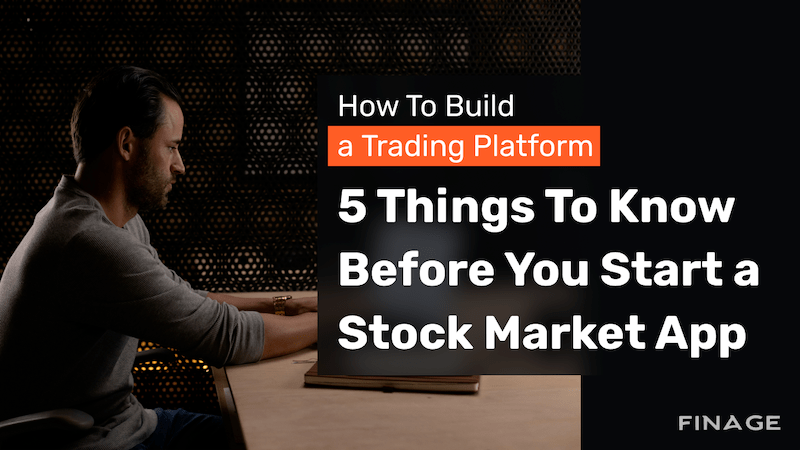 Creating a Trading Platform: Top Things to Know Before You Start a Stock Market App
Internet trading via stock market apps started back in 1992. Investors and brokers agree that trading online has been the best thing to date. The up-to-date applications for the web are already in use to provide an amazing e-trading experience.
However, many users who are actively involved in e-trading are still looking for the perfect stock market app. Some businesses and startups even decide to create apps that would suit their needs. If you are looking for tips on how to create an app that caters to specific requirements, let's have a look at how to make an ideal solution and get a high flow of users. With the help of thorough research, we have tried to come up with a strategy for the perfect stock market app.
Contents:
What Is an E-trading App?
How to Start a Stock Market App?
Mobile site vs application

Which platform is better for app creation?

The process of development

Design of the trading system

Safety is priority
Conclusion
What Is an E-trading App?
An E-trading app is a solution that will spark millennials to invest. You can start purchasing stocks straightforwardly. Simply, find out the company you want to invest in, find its public name, call up a stockbroker and purchase the stock. You can also do it through an e-trading app and purchase the stock online. It is an app that helps people trade without physical stock market hassles and mediators.
Simply said, these apps provide an amazing opportunity for people to invest in both big and small companies. Independent entrepreneurs and start-ups have a great chance to have a clear look at the market and follow the trends appropriate for increasing the business efficacy.
The transparency provided by the apps is a bonus that helps to bridge the gap between investors and companies. It is an exciting solution for every trader and anyone who has an interest in the stock market. The following points will help us to understand what are the critical requirements for building the perfect app.
How to Start a Stock Market App?
Like many other apps, a stock market app has its prerequisites. You must know how the trading world works.
Before you start building a new solution, you have to do deep research and check out the competitors. Investigating the most popular apps will clear up where you can forward and what additional solutions and advanced functionalities you can place into. Let's check the following top tips you would want to add to your checklist:
1. Mobile site vs application
Although you might not be needing this part in case you are creating just a mobile application, it is significant to distinguish between the two. The mobile site is a mobile version of the website. It is usually optimized for all software programs and screens. You do not need to create a mobile site for separate platforms.
But most of the time, the mobile site lacks the features present on a desktop. On the other hand, an app is a better version that has to be created for separate platforms like iOS or Android. All the features present on an app are smoother than the ones on the mobile site. In the direction of perfection, it is better to work harder and create an app rather than just having a website.
2. Which platform is better for app creation?
Your choice of e-trading app platform depends on which type of users you are going to attract. It is better if your app is compatible with iOS and Android, which means you have to create it on both platforms.
This choice is going to automatically put you on the lead since you can engage both Apple and Android clients. If you want to save some money in the beginning, you may start with the Android platform as the development processes may cost a bit cheaper compared to the iOS solutions.
3. The process of development
The process passes through three main phases: mobile development, backend development and frontend development. Mobile development refers to coding separately for Android or iOS. Afterwards, a backend developer works with servers, databases, API, data analytics and security features.
Finally, front-end development refers to client-side and user interfaces. Whatever the user touches will be dealt with by front-end developers. For example, you can hire a full-stack developer who can manage both Front and Back-End web development. Apart from a programmer, frontend developer and backend developer, you will also need a project manager, application testing engineers and designers for UX/UI.
4. Design of the trading system
The stock market is quite specific and has no option to deviate from the specifications. UI/UX design, usability testing opportunities and technical support are some things you must keep in mind while designing the app. This accelerates the process of stock market app development.
Unlike other apps, the design is limited since you don't have a wide range of things. You will be going through a series of prototypes and similar tools that can help you understand how your stock market app is going to look like.
5. Safety is a priority
Finally, once the whole process of building and designing the app is over, you have to think about the safety of the user details and also the credit card details. This is a point where most people lose their trust in finance apps.
Strong safety goes against the convenience of users sometimes which might be also frustrating for users. Therefore, you might have to find a balance between convenience and security. You need to keep in mind legal issues, payment system solutions and transactions.
6. Adding main features
You have to focus on the basic features and add-ons that you would include in your app. The most used functionalities are:
Sign-in authorization process

Personal data management system

Placing trades options

Payments +transactions

Newsfeed

Updatable portfolios of the stock market

Deposits & quote monitoring

Useful search engine +filter systems

Analytical tools

Push-notifications
Conclusion
If you are convinced to start working on your stock market app, then all you need is a team of software developers who have the proper experience in developing the e-trading app. We have mostly covered basic points that you can add to your checklist when starting an app development for the stock market. There might be some points like cost and time frame that have not been covered in the list. On average, it might take anywhere between 6-10 months to develop the app, depending on the features and add-ons you might want to add. Hope these tips will help to build an effective road towards the perfect stock-market app.

You can get your Real-Time and Historical Stock Data with Finage free Stock Data API key.
Build with us today!