by Finage at February 11, 2022 7 MIN READ
---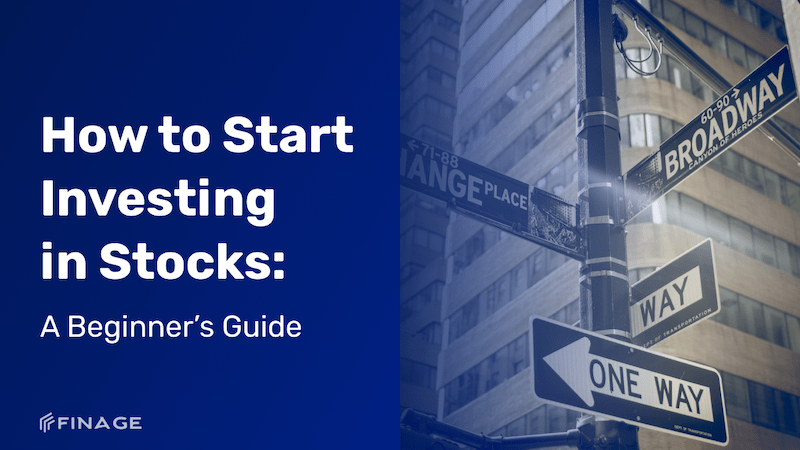 Crucial Things to Know When You Start Investing in Stocks: Step-by-Step Guide
You can make an extra amount of money while investing in stocks. What exactly are stocks and how do they help you make money when you buy and sell them? If you want a really good grasp, let's analyze the basics and go into the different types of stocks that you can focus on first. Here are the top tips and techniques for beginners.
Contents:
Key Takeaways:
Main Steps and Basic Tips for Beginners
Working with Online Brokers
What Are Robo-Advisors?
Investing through Employer
Opening a Deposit Account
Considering Fees
Considering Mutual Funds Fees
Diversifying & Reducing Risks
Key Takeaways:
Investing means allocation of your resources and aside money (for example, capital) with an expectation to increase or make extra profit in the future.

​​Investing may vary for various people and their aims. It could be funds, kickstart for a startup, buying a property, getting crypto, etc. The point is to resell it in the future at a profitable price and higher rates to maximize returns. Investing could be passive meaning you minimize withdrawing and let your investments be.

The stock market is a marketplace where a buyer or seller can trade companies' shares that are traded in the industry. So people can simply buy those shares on their laptops or phones and raise money by reselling them in the future at better rates.

It's crucial to keep in mind that investing may be risky due to the losses. However, investing in stocks and earning profit by trading shares is the most popular method for newbies to earn experience and start practice.
Main Steps and Basic Tips for Beginners
You decided to invest in stocks and you face 13 different exchanges in the USA. You can find the biggest ones which are the New York Stock Exchange and Nasdaq. These are heavily tech-focused exchanges that allow individual investors and beginners like us to buy and sell in a regulated environment. It's basically like an auction where a stock is a piece of a company or your share of ownership in a corporation like a type of currency that is backed by that company you have units of stock (it is called shares).
Modern exchanges allow you to trade online without getting up from the couch. However, for these actions, you need a mediator or a company that has a license for exchange trading. Before you start searching for the mediator, it is worth identifying for yourself some important things. First, you need to make some research and answer the following basic questions:
What kind of investor you are: do you want to make passive income or be active and manage profits?

What aims and risks are you willing to take? Think of what amount you are ready to invest. Also, try to present the situation in advance where you can potentially lose your money.

Choosing the type of investing and strategy: here we focus on stocks and basic strategy where you focus on a set of investment parameters that determine your behaviour style, for example, what assets you trade, how often you sell/buy (the period when you invest), figure out your max loss, building a decision-making guide (for example, see the news and trends that affect the market and taking decisions according to the parameters).
Working with Online Brokers
After you choose the strategy, the next step is to find an intermediary, mediator or broker. The most important thing when choosing a broker, your trusted manager or management company, is to make sure that they have a license. You can make a contract and transfer money to the trust manager or the management company. You can cooperate with:
Full-service brokers who can provide a different range of traditional services, from financial tips to everything else concerning your investments.

Discount-brokers who work online and use different features/tools/apps to choose and place your transactions. They also offer to work with the Robo-advisory services.
To sum up, to buy stocks, you will need a professional in the market or a broker who will become a mediator between you and the stock exchange. Make sure, an expert has a license, check the feedback and then sign a contract directly with the broker and buy/sell shares on any of the 13 US Exchanges (the largest ones are NYSE and NASDAQ).
What Are Robo-Advisors?
You can use the investment advisors which are robots and AI tech systems and tools or digital platforms that offer advanced automated investment services. First, the main aim of tech was to lower costs for investors and streamline investment advice. So if you want an algorithm to make investment decisions, including tax-loss rebalancing, then a Robo-advisor may be an answer for you.
According to statistics and the success of index investing, you might do better with a Robo-advisor if your goal is a long-term investment. Trading robots are also popular on the stock exchange. You can automatically trade on the stock exchange, make decisions faster and get a profit of 20-50% per month. You can find lots of positive feedback
Some brokers provide direct access to their APIs (the client-server program interface), and the client uses it and receives real-time data, check price deviation, etc. Most trading robots use existing software solutions.
Investing through Employer
If you have a small budget, you can start investing through your salary by adding 1-2% into the retirement plan. A great thing about this method is that you will not even notice that you invest a huge amount of money.
This plan for retirement investment means that you deduct a certain percentage from your paychecks before even taxes are counted. You can also grow your contribution and receive a higher annual amount which will allow you to invest in stocks in the future.
Opening a Deposit Account
Another option, even if it's the least profitable but the most reliable way, is to start cooperating with financial institutions and deposit money. However, some institutions open an account only if you deposit a certain amount of money (starting from 1k dollars) and some companies do not require minimum deposits. In any case, you can be offered a certain amount of commission-free trades for opening such an account.
Considering Fees
When you invest money, your broker will get commissions and certain fees. The trading fees may range, depending on the services. It can start from the $3 per one trade and end with $15. You can find brokers that do not charge but they get profit by using other means, for example, through charitable institutions that are using brokerage services.
Therefore, when you invest in stocks, remember that it could cost you a lot, especially if you just hop into and out of positions frequently. It is also crucial to remember this point for people who can invest only a small amount of money.
Considering Mutual Funds Fees
Besides the above fees, you can face charges for purchasing a mutual fund. You can research other data and costs that fully describe this investment type. In any case, you can find many investors who incurred many fees when investing in mutual funds.
Another crucial fee to think about is the management expense ratio: it's charged by the management teams annually based on the number of fund assets. Generally, the ratio ranges from 0,05% to 0,7% per year and it may vary according to the type of your funds.
When you buy mutual funds, there are charges for sales which are called loads. . Load funds could be no-load and back-end. You need to make sure you know the difference between them and ask brokers about fee funds if you wish to not pay extra charges.
Diversifying & Reducing Risks
Diversification could be a profitable solution as when you invest in different assets, you may avoid risks of one investment performance influencing the return of all investments.
However, the biggest issue that you may face in doing such an investment can come from investing in stocks. If you invest money in a different and large number of stocks, it could be detrimental to the portfolio.
You can focus here on the advantages of mutual funds or ETFs. These solutions tend to have a bigger number of stocks and other investments within their funds. This way it makes them more diversified than a single stock.
Summing up, before you start your journeys, it is important to research and analyze the deposit requirements and then checks the commissions and fees of financial institutions and mediators. You need to find a cost-effective way that matches your investment expectations and buy stocks (even if you plan to spend a small capital), cooperating with the right broker.

You can get your Real-Time and Historical Stocks Data with Finage free Stock Data API key.
Build with us today!