by Finage at January 11, 2022 4 MIN READ
---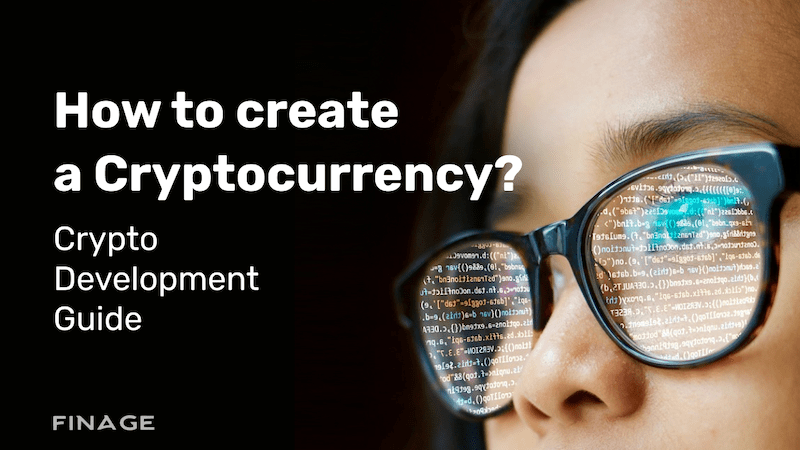 Crypto-Development Guide: How to Create a Cryptocurrency?
Cryptocurrency is on the rise, the demand is higher than it has ever been. Bitcoin alone gained 193,639.36% from 2012 to 2020. Crypto offers benefits such as anonymity, security, and high speed. With the many benefits that it offers, it is easy to understand why crypto is lucrative.
So how do you create one? Before you get started, decide what to create first. If you own a cryptocurrency it can either be tokens or coins. The one you choose will depend on personal preference. Each of these has its advantages and disadvantages.
One of the main differences between the two is availability. Tokens can only be used for a specific service while coins serve multiple purposes. Also, coins do not come with any restrictions. If you want to save money then go for tokens. So once you have decided on the cryptocurrency to create, how do you go about it?
Contents:
How to Create Tokens
Determine Token Properties

Launch a Smart Contract

Create a Token Supply

Enable the Token

Add Variables

Set Transfer Events
How to Create Coins
Underline your Coins Function

Determine Coin Parameters

Select a Blockchain

Create Nodes

Control Laws
Final Thoughts
How to Create Tokens
Creating a token is cheaper and less time-consuming. The first step is to choose a Blockchain. There are so many options including Ethereum and Tron.
1. Determine Token Properties
Ask yourself what your token will do. This will guide you to create something valuable. For instance, if you eat to attract investors then the ERC-20 is the typical choice. Determining the token properties will help you to figure out the:
Value

Name and symbol

Number of decimals

Total supply

Auxiliary functions
2. Launch a Smart Contract
Any token will need to be run on a Smart Contract. Smart contracts provide decentralization and more security. It is software that will run on a Blockchain. So you have to write code for a Smart Contract for your token. This will give your token more functionality.
2. Create a Token Supply
As the owner of a token, you can regulate the supply. Limit the token supply by the number of your choice. Doing this gives you more control.
3. Enable the Token
When you create a token it has a limit. Before supplying it, make sure the token is available for sending. Add the right function to enable the token.
4. Add Variables
At this point, you have to add various variables that describe the token, these include:
Token name and symbol

Decimals (the decimals represent the value of the token)
5. Set Transfer Events
These indicate that a transfer has taken place. It notifies the wallet that there has been a transfer. The transfer event thus creates a communication between the token and wallet. This makes it easy to track transactions.
Once you have added transfer events, your tokens will be ready for use. Keep in mind that you will have to run multiple tests before launching your token.
How to Create Coins
1. Underline your Coins Function
Cryptocurrency coins have several functions. Before you start creating one, determine what functionalities it will have. This helps you know which features to add.
2. Determine Coin Parameters
Coins have Parameters. These are also known as tokenomics. These Parameters include:
Method of distribution

Price

Total supply
3. Select a Blockchain
When creating a coin, you have several blockchains to pick from. The most used are Ethereum and BSC. For coins, a custom-made native Blockchain is required. You can also create your Blockchain. However, this may be more expensive and time-consuming.
Additionally, if you will use your Blockchain, it requires a consensus mechanism. This defines how transactions will be verified on a Blockchain. An example of a consensus mechanism is a proof-of-stake. Also, determine the internal architecture of your Blockchain. This is very crucial as you cannot make changes later on.
4. Create Nodes
The nodes determine the functionality of coins. Coins can either be public or private. The node lets you decide whether the coin will be public, private or require permission. To get more control over nodes, opt for a private Blockchain.
5. Control Laws
Before you add control laws, make sure the interface is easy to navigate. Control laws should be as required by your country. Ask legal experts if you have any doubts. Check if local authorities require permission before launching your coin. Finally, do not forget to mint your coin. How you do this will depend on the Parameters for your cryptocurrency.
Final Thoughts
When creating cryptocurrency, keep the functionality in mind. Making a token may be cheaper but Ultimately a coin will be more lucrative. Determine what function you want your cryptocurrency to have. Select a Blockchain to run the token or coin.
Careful planning will help you create a cryptocurrency of high value. Once you have created the coin make sure it abides with the requirements of the local authorities. Creating a token or coin can seem like a lot of work. But when done correctly it will bring in a lot of profit.

You can get your Real-Time and Historical Cryptocurrency Data with Finage free Crypto Data API key.
Build with us today!