by Finage at May 1, 2021 5 MIN READ
---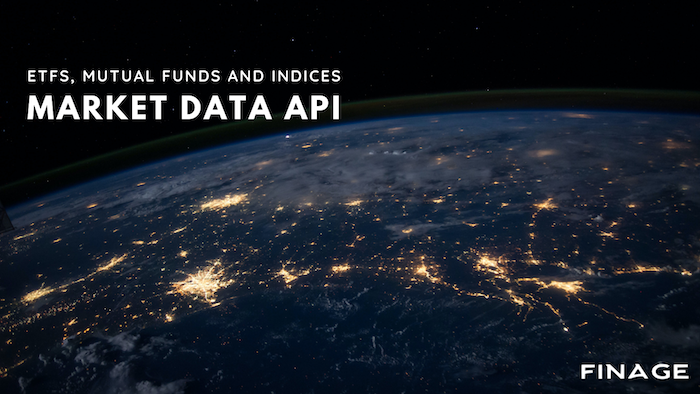 ETF Data & Mutual Funds & Indices
The financial world has hosted many innovations along with the technological developments. With every innovation, new products that can be used in the field of finance have emerged. These products have made it easier for both corporate finance giants and individual investors.
One of these technological advances is APIs. APIs are actively used in many areas such as forex, stock market and crypto assets. You can browse the main page of Finage to access all these details.
Finage is one of the data providers that offers the most detailed services on APIs. This is because, in addition to cryptocurrency and forex APIs, real-time, delayed, end-of-day and historical pricing data for exchange traded funds (ETFs), mutual funds, closed end funds, separate accounts / collective investment trusts, variable annuity It also provides detailed services in areas such as underlying funds, and hedge funds. In addition to Finage's features mentioned in previous articles ETF quotes APIs feature last price, volume and stock quote (bid / ask) data, intraday tick data, volume and time weighted average prices (VWAP, TWAP) and other market statistics including open, high, low, close, and volume data for active equities, depository receipts and ETFs.
ETF AND MUTUAL FUNDS API FEATURES
One of the most important things to consider when purchasing an ETF or mutual fund API is the availability of some critical features. The ETF and mutual funds APIs offered by Finage have been used by many investors from all over the world, and their success has been tested.
Wide Coverage
Finage Fund APIs do not only cover ETFs and mutual funds. In addition, it includes different types of funds such as closed-end funds, separate accounts / collective mutual funds, hedge funds. You can access basic data for many funds using a single API interface.
Global Coverage
More than 50 countries are covered. Finage ETF and mutual fund APIs offer true global coverage from best-of-breed vendors and sources.
Chart Bars
One of the best features of our ETF and mutual fund APIs is the "chart bars", which are the intraday market bars. These bars have different ranges that can be scaled to dynamically power your graphics applications.
Historical Prices
Finage packages have 15 years of historical data as standard. However, you can access 30 years of historical financial data by customizing your package according to your professional needs. By defining Finage's historical API to your account after your subscription, you can see it on the control panel and use it easily.
With Finage, you have the freedom to customize, edit and create your own rules on the system without any coding or extra charge. You can always get help with the expert technical team.
Funds data as is
Using Finage APIs, ETF and mutual funds data from more than 50 countries can be accessed with approximately 10,000 tools. Below are some examples:
United States (US)
United Kingdom (UK)
Germany (DE)
Italy (IT)
Canada (CA)
Switzerland (CH)
Japan (JP)
France (FR)
South Korea (KR)
Australia (AU)
Mexico (MX)
Denmark (DK)
China (CN)
Netherlands (NL)
Taiwan (TW)
India (IN)
Sweden (SE)
Singapore (SG)
Hong Kong (HK)
Russia (RU)
Finage Index API
Stock indices are usually calculated based on the market value of component companies, and therefore the weight of large firms more influences the up or down movement of the index. Finage offers the Finage Index API so that you can manage your trading strategies by tracking the changes in the indices. Finage has more than 1600+ index market data in real-time. You can get the last price for a symbol that you want. In addition, you can get the tick bars of the index market with the Index Market Aggregates API.
One of the services offered is the Volatility Index. Thanks to this index, you can see the volatility and its future trend. The more than 25000 stock data included in the Finage Index API is divided into many databases, each covering a separate topic. In addition to free databases, there are also "premium" databases for paying subscribers.
Finage API currently offers real-time data processed from the highest quality, accurate and raw data on the market at the most affordable price. In addition, you can access it via Web Socket or Web API. No other company offers this data via the Web Socket, which is particularly supportive as you only need some lines of code.
Global Indices API
In addition to providing current prices of indices in the US market, Finage Indices API also functions globally. You can get data on stock prices in different indices around the world. You can make daily adjustments in your financial statements with the historical price data you can get with simple commands and integrate the data you get into Excel. Being able to follow the data flow from your current trading application makes it easier for you to gain an overview of the changes in your investment plans and to follow the changes.
Indices as is
Access to all stock exchanges in the world, with a single API - sharing the same format for all data.
US
Some of the largest indices in the United States with thousands more available in Finage APIs.
S&P 500 (GSPC)
Dow Jones Industrial Average (DJI)
CBOE Volatility Index (VIX)
Wilshire 5000 Total Market Index (W5000)
Russell 2000 (RUT)
Global
International indices coming from North & South America, Asia, Europe, Africa, and Australia - all updated in real-time.
S&P/TSX Composite index (GSPTSE, Canada)
FTSE 100 (FTSE, United Kingdom)
Nifty 50 (NSE, India)
CAC 40 (FCHI, France)
EGX 30 Price Return Index (CASE30, Egypt)
Nikkei 225 (N225, Japan)
KOSPI Composite Index (KS11, Korea)
STI Index (STI, Singapore)
S&P/ASX 200 (AXJO, Australia)
ESTX 50 PR.EUR (STOXX50E, Europe)
Conclusion:
Based on all these explanations, we can say that the financial world has undergone a technological revolution. While these revolutions make things easier for individual and corporate finance players, they also increase competition between players. This competition can be seen both between active players in the financial market and data providers. In this environment with a large number of players and data providers, it is very important to reach accurate and reliable data.
For this reason, individuals and institutions should be very careful when choosing their data providers. Careful selection must be made to have a real-time web service or a more regularly updated service. Nowadays to have the easiest and fastest currency , stock and cryptocurrency API with the lowest latency is the key factor in the financial world.