Finage, a leading real-time stock, forex, and cryptocurrency data provider, will be launching our own official Chainlink oracle node. Through the Finage Chainlink node, we plan to make our complete suite of APIs available to smart contract applications running across a variety of blockchain environments, as well as cryptographically sign that data via our node's private key to prove that it originated from our API.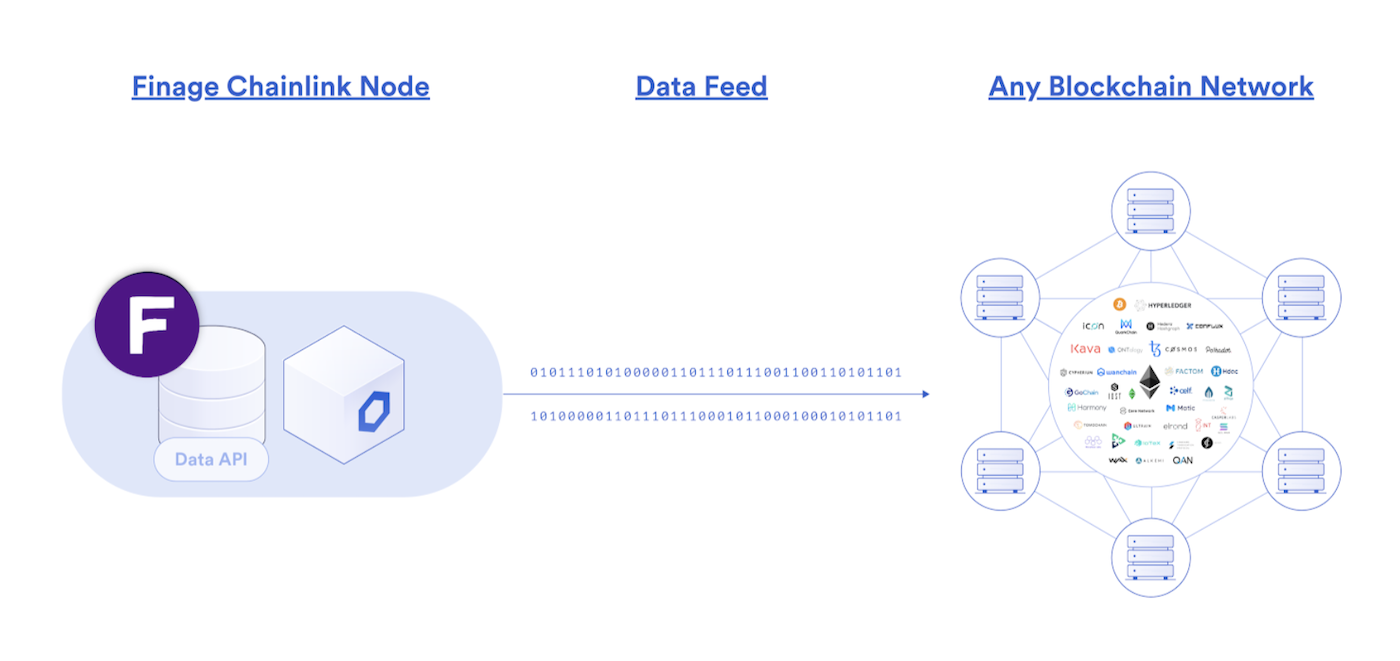 As the blockchain industry's most widely adopted oracle solution, we will use Chainlink to sell data into the many emerging blockchain ecosystems, which are increasingly demanding access to high-quality data. This greatly expands our customer base as a data provider, as well as directly supports the development of new data-driven financial products built on the blockchain, such as derivatives, synthetic assets, and automated trading strategies that automate their execution based on stock prices, foreign exchange rates, and cryptocurrency market data.
Making Finage Data Available on Numerous Blockchains
Finage provides market data for 28,000+ assets, which includes 25,000 stock prices, 1,300 Forex rates, and 1,500 cryptocurrency trading pairs. Not only do we provide real-time data from all three asset classes, but we also offer historical datasets such as the last price, historical end of day data, historical order books (L1 & L2), aggregates, market status updates, and more.
Given the large selection of assets offered by the Finage API, we look forward to expanding the types of financial products that developers can build on the blockchain. Outside of supporting more commonly built Decentralized Financial (DeFi) instruments using aggregated cryptocurrency data, we can also empower developers building more novel use cases, such as synthetic assets pegged to precious metals like palladium and platinum, prediction markets determined by end-of-day stock data, or derivatives products based on commodities like corn or sugar.
However, to build any of these financial products on a blockchain, we need to make use of a blockchain oracle to bring our API data onto the blockchain. The reason being is that smart contracts operating on blockchains cannot natively make API calls to external systems (off-chain) without the use of an oracle. Oracles are middleware that retrieves external data on behalf of the smart contract, attest to its accuracy (through digital signatures), aggregate it (when using multiple sources/nodes), and broadcast it onto the blockchain so smart contracts can use the data in their execution.
Being the most widely used oracle solution throughout DeFi, we identified the Chainlink Network as presenting the best opportunity to monetize our financial data for the smart contract economy. Some of the unique features available to node operators like us on the Chainlink Network, which we did not find on other oracle solutions, include:
Data Signing - Chainlink nodes allow us to cryptographically sign our API data on the blockchain, giving applications consuming it proof that it originated from Finage.

Blockchain Agnostic - Chainlink nodes can integrate with any blockchain, providing us with a single, future-proof framework to sell our data to any/all blockchains.

Large Addressable Market - The Chainlink Network is the industry leader in adoption across the blockchain industry, presenting us with a large addressable market of potential users already familiar with and confident in Chainlink.

Time-Tested Infrastructure - Chainlink is thoroughly audited open-source software that collectively secures billions of dollars in value on mainnet for leading blockchain applications, proving it can be relied on to trigger the movement of real economic value.
We look forward to leveraging these built-in Chainlink node capabilities to grow our market as a data provider, both increasing our revenue and directly supporting a new wave of developers building decentralized applications on various blockchains. By having a single gateway to all blockchain ecosystems, we can immediately launch on leading chains like Ethereum while also scaling to support future chains as they emerge.
"As a premier financial data provider across numerous asset classes, we are always looking for opportunities to expand into additional markets and spawn the creation of new financial products and tools," said Finage CEO Alper San. "Running a Chainlink node will provide us with easy-to-run infrastructure that can immediately connect to various leading blockchains through a single framework, making it easy to support the growing pool of developers building DeFi applications. Not only does it provide us with a universal bridge to on-chain systems, but it allows us to bootstrap security onto our existing datasets by signing it at the origin, further adding to its reliability as a trigger for high-value automated applications like smart contracts."
About the Chainlink Network:
The Chainlink Network is the most widely used and secure way to power universal smart contracts. With the Chainlink Network, developers can connect any blockchain with high-quality data sources from other blockchains as well as real-world data. Managed by a global, decentralized community of hundreds of thousands of people, the Chainlink Network is introducing a fairer model for contracts. Its network currently secures billions of dollars in value for smart contracts across the decentralized finance (DeFi), insurance and gaming ecosystems, among others.
The Chainlink Network is trusted to deliver definitive truth by hundreds of organizations to provide continuous, reliable data feeds. To learn more, visit chain.link and follow @chainlink on Twitter.
Docs | Discord | Reddit | YouTube | Telegram | Events | GitHub | Price Feeds | DeFi | VRF
About Finage:
Finage is a global stock, forex, and cryptocurrency real-time & historical data provider company in the UK. We're a bunch of innovators and user driven individuals who want to change the financial data industry. Finage has a postmodern website, dashboard and user driven approach, with all these, we are calling ourselves a new generation financial data provider. We would like to expand Finage to all over the world, with increasing data coverage and marketing capability.
We create a transparent environment that allows us to deliver critical information to our clients. Our most important principle is to earn users trust by keeping our promises. We built a reliable service with modern technology.
Our goal is to break out of the expensive, complicated and slower alternatives and replace them with modern services. We are ready to connect you to Real-Time Data powered by Finage.
We're on a mission to simplify financial data and computing so developers and their teams can spend more time building software that changes the api services forever. Knowledge is power when you understand it - we believe financial data should be understandable and accessible for everyone.
Simplicity is wise and beautiful. Finage was built by entrepreneurs in London with a passion. We are software engineers working for over 10 years of developing financial applications and platforms with clean, intuitive usability.
Creating and innovating is the key to our vision and beliefs. We believe in the simplicity of clean and affordable financial services for individuals and businesses. We have developed the easiest and fastest currency, stock, and cryptocurrency API with the lowest latency.
We create an environment where we are transparent and deliver critical information to everybody. Information is the lifeblood of the people. Earning your trust and keeping our promises to you is our most important philosophy for us. We must build trust between you and ourselves because the opportunity to serve you is larger than any one of us. We built an uninterrupted and reliable service with modern technology. Our aim is to break out of the existing expensive, complicated, and slow services and replace them with modern AI services. We are ready to connect you to Real-Time Data powered by Artificial Intelligence.