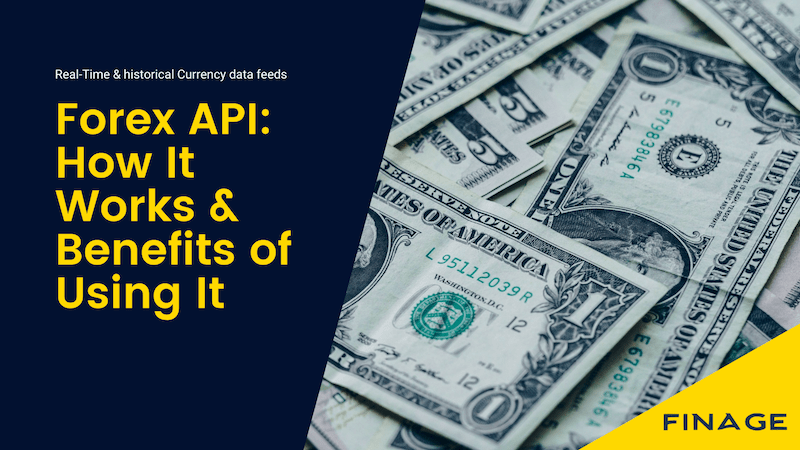 Forex API: How It Works & Benefits of Using It
Do you want to know how APIs work for Forex? How do businesses benefit from FX API? To rock it, startups definitely need high-quality real-time and historical Forex data to know the past behavior, including a good understanding of where and how to get it. Let's learn about Forex trading and find out the main advantages of using API.
Contents:
API: What Is It?
Examples of Using API
Forex API: How Does It Work?
Main Benefits of Using API
API: What Is It?
API changed the process of synchronizing data between different software. API or Application Programming Interface is a set of programming code that queries data, parses responses, and sends instructions between one software platform and another. In programming, an interface means a contract that the program provides. The contract includes:
The operation that you can perform

The data that comes to the input

The data that ends up in the output
Users work with and see the graphical user interface. Programs work with the application programming interface. If we speak about the trading market, it is a collection of different tools and functions implemented as an interface so users can create new apps thanks to which one program can interact with another and provide a suitable connection between the trading brokers, showing information and automating a set of trading algorithms.
Examples of Using API
What processes can be simplified by API? Let's see a good example of using the API: a quick registration at any site or application by using a social network account. When creating a new account, you can do it through a special API of a social network (for example, Facebook). With one click, users can quickly create a profile by automatically integrating their basic information from Facebook to a new service. The third-party companies are able to use a special code and API to provide you with prompt and simplified access to their product.
Another great example is Google APIs that provide a potential opportunity for developers of various applications to use the integration of information from their services on their platforms. Thanks to this, users can watch the video taken from the YouTube video hosting right inside the application.
A large number of companies offer APIs as a ready-to-use product. For example, the Weather companies make money by selling access to their API for promptly obtaining meteorological data anywhere in the world.
Forex API: How Does It Work?
Forex or FX is a trading market that works in the form of exchanges, purchases, and sales of foreign currency. In the context of Forex trading, API simplifies many things for developers and helps to create various applications by using ready-made code (any standard function, procedure, structure, or constant value). It shows reliable data in the final foreign currencies trading product.
Forex API provides users with the real-time and historical data of any currency. Users can also use a currency converter and can quickly convert any currency to check rates before exchanging. Traders can also get a candle chart to see the analyzed market data for a day/week/month/year. By using Forex API, you can get the technical data and know pivot points that help to learn about market trends.
For example, when you buy a car, you get a contract where you write down all the points that are important to you. When we talk about Forex API, there should be a contract made between programs. The contract indicates how a particular program can be accessed to provide trading data.
Main Benefits of Using API
The API can help you ease your work and get current and historical data, exchange rates, and other useful indicators. For example, by using the Finage documentation, users can get a basic API and add it into servers just by copy and pasting the URLs. The Finage service provides all information related to Forex trading, so startups and traders can always:
Check the currency exchange rates which are running on the market.

The API collaboration provides an acknowledgment of the historical and the current exchange rates of the different currencies.

You can get reliable and up-to-date information in one click.

Users can automatically get the Forex data and see its latest updates.

Forex exchange rate API helps grow the business by saving time.
Summing up, it is hard to create high-quality and useful trading products or services without using API libraries. The solution is great for programmers to write software, for various services to provide customer support, for startups to create trading applications and for traders to get reliable data. Every year the role of API applications is only expanding. Now, we can see that it plays a huge part in Forex trading. It quickly provides information to developers and traders, including plenty of other advantages.

You can get your Real-Time and Historical Forex Data with Finage free Currency Data API key.
Build with us today!