by Finage at November 30, 2021 4 MIN READ
---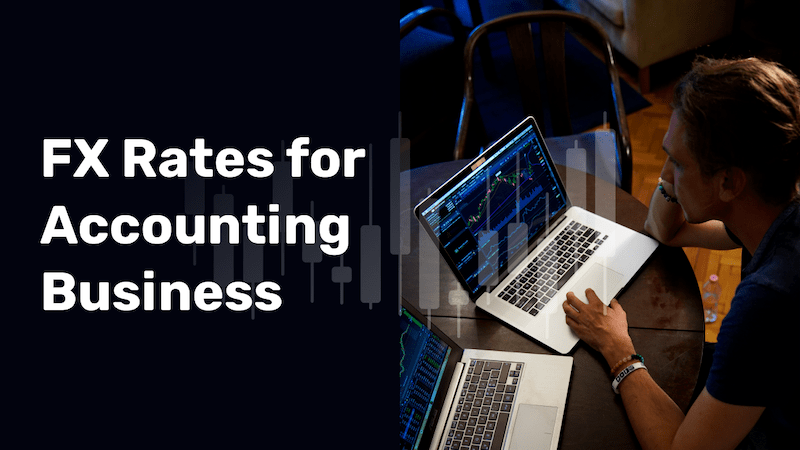 FX Rates for Accounting | Forex Data APIs usage area
When it comes to currency, it is wise to be careful with accounting. This is especially the case when dealing with multiple currencies. So, how does one go about it? Let's jump into FX rates for accounting.
Contents:
Accounting in Multi-currency
Transaction Conversion
The Period End Revaluation of Balances
Translating Balances for Reporting & Consolidation
Exchanging Currency Without Paying Huge Fees
Integrating the Most Precise and Reliable FX Data
Final Thoughts
Accounting in Multi-currency
It is important to emphasize the importance of making no accounting mistakes when dealing with many currencies. If you are based in one location, it is crucial to report to your home country's currency. This applies to multinationals that have subsidiaries in foreign countries.
It would only be right for your accounting system to possess a quality multi-currency functionality. This means that any FX gain, loss, or another aspect of the exchange is automatically calculated for you.
One would be remiss not to mention that FX rates used in multi-currency accounting are not fixed. This ambiguity means that an auditor has to guide you through it all. Having said that, it is wise for you to understand how multinational organizations are normally set up.
Transaction Conversion
When you think of the common accounting transactions or entries, your mind often goes to the following:
Issuing customer invoices

Receiving supplier invoices

Paying suppliers and

Receiving payment from customers
The large-scale nature of foreign exchange requires essentially the same things. The major difference, however, is that an exchange rate is applied to the home currency equivalent.
The previous day's closing exchange rate is used by most organizations to help current proceedings. This is because it is the most recent rate that is in play for the day any of these transactions are entered.
Another thing to remember is that the FX gain or loss is determined by subtracting the converted customer invoice from the customer payment.
The Period End Revaluation of Balances
At the end of every accounting period, it is standard that open currency balances are revalued. This is important because there is a constant devaluation of invoices occurring.
An invoice that had not been paid at the time it was issued may be worth much less currently. The opposite can be true, however, which means that it can either benefit or lose out in the home currency. For this reason, an up-to-date FX rate is valuable in order to gain the most accurate position.
Translating Balances for Reporting & Consolidation
When a subsidiary reports all balances in its base currency, multinationals will require translation. Any local country reporting is sent further to the global scale or the parent. Of course, all balances will need to be converted to the parent's global reporting currency.
For every type of account, there is a different exchange rate. The following are some examples:
The closing rate of the accounting period's final day is used for balance sheet accounts

Profit and loss accounts normally use an average rate taken between the beginning and the end of the accounting period
Any client of a provider is certain to find that our rates are capable of automatically loading them into ERP. Let's see now how you can exchange currency without paying huge fees.
Exchanging Currency Without Paying Huge Fees
Every accounting trick or knowledge eventually ends with you having to actually get on the floor. There are certain places that will require fairly lower fees. This is opposed to the hidden avenues built for your hour of desperation.
Some of the best places for foreign exchange especially for the public. These places include banks and credit unions of the countries you are currently in. These places usually offer the fairest rates. If you are looking for a branch of a credit union abroad, this can be done online or via mobile phone.
When all the information is mentioned, the foreign branch of your credit union will be ready to exchange currency at a fair rate. If ever you choose to travel, it will be easy for you to make the exchange. Banks work in a similar way, with similar rates.
Airport kiosks are apparently some of the worst places to make an exchange. This is because for the most part, the rates are poor and the fees are unnecessarily high.
Integrating the Most Precise and Reliable FX Data
It is easy to get from professionals and integrate the data and exchange rates API into your platform. This will give you among many things, a massive data bank of FX data and thousands of currency pairs.
The rates of almost every country will be at your disposal and this applies to more than just currency. Precious metals such as gold and silver are covered in the service and are suited for everyone.
Final Thoughts
It's easy to talk about the generalities of the world of foreign exchange. The complexity of this topic is such that for the most part, experts want to group them under one heading. However, experience has shown that separating these aspects and analyzing each carefully is best. The topic of accounting and FX rates is not only fascinating but helpful in the long run.

You can get your Real-Time and Historical Forex Data with Finage free FX Data API key.
Build with us today!