by Finage at July 5, 2021 4 MIN READ
---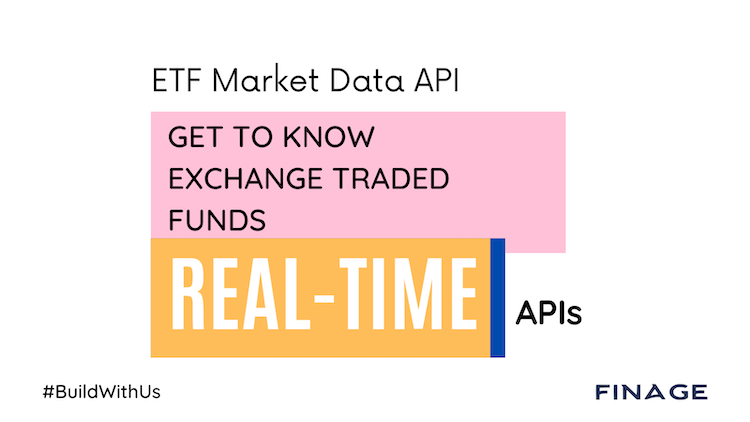 Get to Know Exchange-traded Funds
Table of Contents
Getting to Know Exchange-traded Funds
Types of ETFs
Different Structures
ETFs
Some important details
Final Thoughts
Getting to Know Exchange-traded Funds
As many of us know, more and more investors are using exchange-traded funds (ETFs) to build diversified portfolios. We would like to begin by briefly telling you what an ETF is. An ETF is a basket of securities whose shares are sold on an exchange. ETFs combine the characteristics and potential benefits of stocks, mutual funds, or bonds. ETF shares are traded at prices that change during the day based on supply and demand like individual stocks. ETF shares are used to represent partial ownership of a portfolio put together by professional managers like mutual fund shares.
Types of ETFs
There are several ETF types, each with a different investment focus. Below are some of the most common ETFs.
Diversified passive equity ETFs are designed to reflect the performance of widely tracked stock market benchmarks such as the S&P 500, the Dow Jones Industrial Average, and the MSCI Europe Australasian Far East (EAFE) indexes.
Active equity ETFs let their managers use their own judgment while selecting investments, rather than being rigidly fixed on a benchmark index. Active ETFs may propose the potential to outperform a market benchmark, however, they can also carry greater risk and higher costs.
Niche passive equity ETFs such as those that reflect S&P 500's industry subsets or Russell 2000's small companies, can offer investors focused exposure to help them fine-tune their portfolio strategies. As with various inactive funds, these niche portfolio funds often consist of the same stocks used to calculate reference indices.
Fixed-income ETFs focus on bonds rather than stocks. Major fixed income ETFs tend to be actively conducted but have relatively low turnover and generally constant portfolios.
Different Structures
Initially, ETFs were organized as unit investment trusts. In a UIT, an investment firm buys a portfolio of fixed securities and then vends shares of that portfolio to investors. This kind of structure ends up with dividends being held in an interest-bearing account, where they are usually deposited into the ETF every quarter. The tardiness in dividend investing may have a slightly negative impact on the ETF's overall return because dividends are held in cash rather than invested.
ETFs
Pros
- Potential tax efficiency time
- Transactions on an exchange
- Low expense amounts
- Can be vented short and bought on margin
- No minimum investment dollar total
Cons
- Fund gains distributed from time to time.
- Brokerage commissions made.
- Flexibility can encourage frequent trade and potentially eliminate the tax efficiency advantage.
Evaluating ETFs
Tax efficiency: ETFs can be more tax-efficient rather than some traditional mutual funds. A mutual fund director may trade stocks to meet investor paybacks or to track the fund's goals. The sale of shares can create taxable gains for fund shareholders. Since ETFs are like stocks, redemptions are not a problem. Additionally, managers of index-based ETFs only trade to match changes in their index, which can mean greater tax efficiency.
Low expenses: Passively conducted ETFs may have lower annual expenses than actively managed funds.
Flexible trading: Like stocks, ETFs are vented at real-time prices and traded during the day. Mutual funds do not have this flexibility. Pricing is based on end-of-day transaction prices.

Can be sold short and bought on margin: Since ETFs trade like stocks, investors can utilize them in certain investment strategies, for instance; short selling and margin buying.
No minimum investment: While most mutual funds require minimal investment, an investor can usually buy as few shares as most ETFs would like.
Diversification - An ETF can be a great way to add diversification to your portfolio. For example, buying shares of a tech industry ETF may be potentially less risky than buying shares of a tech stock. An ETF can own shares of many different technology companies.
Some important details
There are a lot of web resources you can refer to for more information on ETFs.
NASDAQ ® - Updated frequently and includes trading prices on select ETFs
ETF MarketPro — Education, prices, search, and other tools specifically for ETFs
Of course, like all investments, ETFs can involve risks and other potential disadvantages. You should definitely consider the following factors before investing:
The trading flexibility of ETFs can encourage frequent trading. This can lead to the possibility of timing the market incorrectly.
There may be capital gains distributions. At times, some ETFs have distributed taxable capital gains just because directors often had to buy or vend stocks to meet their main criteria. Also, government bond ETFs are subject to federal income tax.
Brokerage commissions are accrued. Therefore, ETFs may be more appropriate for a buy-and-hold investor, or someone who buys many shares at once, rather than an investor who uses a systematic investment program.
You should carefully think about the risks of various ETFs. For example, many industry ETFs will tend to be more volatile than an ETF that monitors the broader market. Before investing in an ETF, consult a financial professional to make sure you comprehend the risks and have the most current information.
Final Thoughts
To summarize briefly, ETF shares are traded throughout the day at prices that vary according to supply and demand. There are a number of ETF types, each with a different investment focus. ETFs also have significant pros and cons. In this respect, it is necessary to know every detail very well. When evaluating an ETF, certain issues should be considered. These topics are; It is examined under important headings such as tax efficiency, Low expenses, and Flexible trade. As with all investments, you should remember that there is a risk ratio.
We hope that this blog post will be beneficial for you. We will continue to create useful works in order to get inspired by everyone. We are sure that we will achieve splendid things altogether. Keep on following Finage for the best and more.