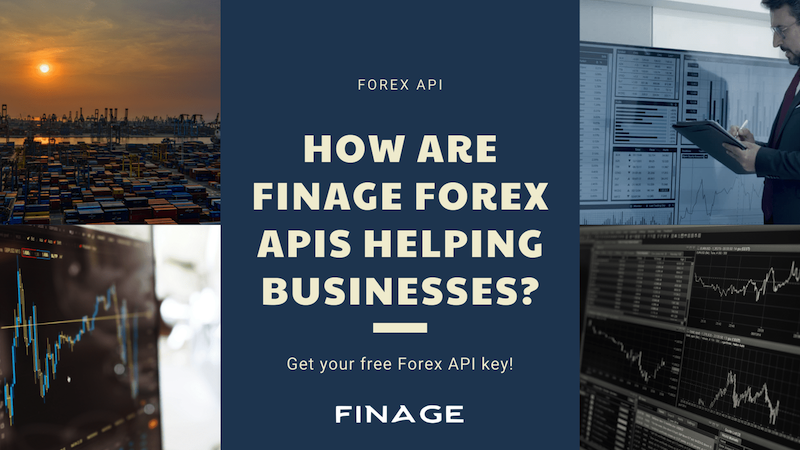 You can easily reach our article on how we have served you since the year we were founded and all the details about our services as Finage by reading our blog post.
How the Finage Forex API Is Helping Businesses?
At Finage, we have been providing award-winning graphics, research, and data products, and services to financial institutions, funds, fintech, and start-ups for decades. In recent years, we have witnessed an increasing demand from our clients for Forex data and other asset classes including Commodities, Stock Indices, and Cryptocurrencies through our multiple API delivery options.
When the markets move according to the situations we have encountered so far, it brings opportunities and risks for all financial market participants. This is particularly the case with how businesses position themselves so that unnecessary money is not lost when trading abroad. Even for individuals, fluctuations in exchange rates e.g., house, etc. It can even have a huge impact on purchasing assets from abroad or choosing resort budgets.
As the number of financial instruments and assets available often rises, it is imperative for Finage to ensure that our trading clients receive exactly the information they need to manage their risk. After all, our mission is to provide financial products. It is also to provide services that enable all market participants to excel.
As businesses constantly trade internationally, this move towards flexible API distribution and fully meeting the needs of our commercial customers means that our customers are kept fully up to date with currency fluctuations that could adversely affect company profits through no fault of their own. Our Currency Spot rates are compiled from multiple corporate banks. This allows us to provide the most reliable and skew-free results available in the Forex industry.
Finage API allows our commercial customers to request live real-time rates and historical data directly from multiple available endpoints. Our API is also available for Enterprise customers who want to quickly query a large number of previous transactions and is also available in timeframes of high transaction volumes for fast and efficient analysis. Our APIs can also be integrated into existing Treasury systems and ERPs, thus allowing automated hedging to happen.
The Finage database has been capturing and storing live rates from enterprise providers since its inception. We have one of the largest and richest Forex repositories available, all fully vetable via the REST API. Our documentation is pretty easy to understand. We are always with you in the incomprehensible points. After enterprise customers register with us to use the data API, customers can access their individual Dashboards through their own unique API keys generated. From here, subscribers can directly manage their subscriptions and act on different plans. They need change and development. Corporate customers can be directly informed about how many data requests are made in real-time and are fully supported by our customer support team through the Live Chat service.
Finage provides GMT timestamps and fully redundant servers, as well as private internet connection and HTTPS security. Based on the API endpoint used, Quote/Investigation and Intermediate rates are given for live and historical approval data. We also provide Open, High, Low, and Close data for any past-minute query. Thanks to our experienced customer support team, we are always with our customers. They are here to assist with any API integration and therefore make the process as smooth and easy as possible.
Conclusion
As Finage, we have been working for you, our valued customers, since our establishment. We are expanding our business network day by day thanks to your support. In today's article, we wanted to thank you and tell you a little about ourselves. Know that we are here whenever you need any support.
We hope that this blog post will be beneficial for you. We will continue to create useful works in order to get inspired by everyone. We are sure that we will achieve splendid things altogether. Keep on following Finage for the best and more.

You can build your own Forex Trading platform with Finage free Forex API key.
Build with us today!