by Finage at June 2, 2022 5 MIN READ
---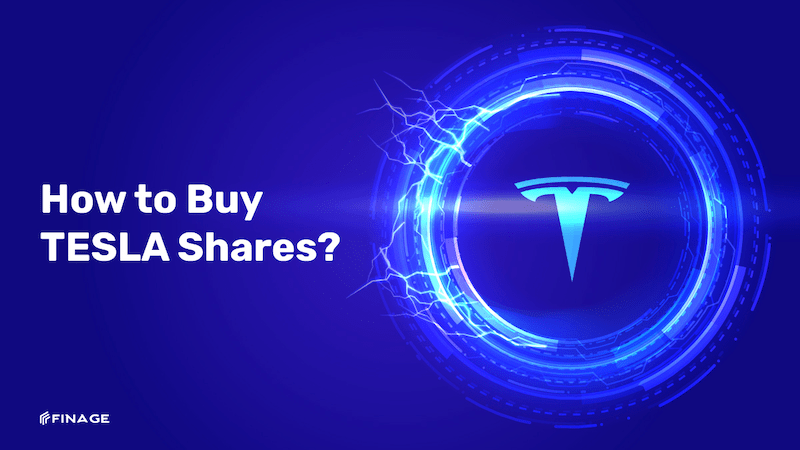 How to Buy TESLA Shares?
There are several ways to purchase Tesla shares, but the easiest is through a brokerage account or with the assistance of a financial advisor. Tesla is one of the most well-known and inventive electric vehicle manufacturers in the United States. The company, which is led by CEO Elon Musk, designs, develops, manufactures, and distributes a variety of electric vehicles and vehicle powertrain components. It also offers energy storage and generation solutions. Many investors are interested in buying Tesla stock because of its success and global product offers. However, how do you buy Tesla stock? Below, we go over your options. Consider using a financial advisor matching service to connect with local advisers in your area if you'd like expert advice on your financial decisions.
How to Buy Tesla Stock with a Brokerage Account
Tesla is a publicly traded firm, which means that anyone of legal age can buy stock in the company. You'll need to open a brokerage account to become a shareholder. You'll be able to choose from a number of brokers, but it's important to go with the one that best fits your financial circumstances. Brokers have different account minimums and trading commissions, so examine your alternatives carefully before deciding.
If you're concerned that you won't be able to afford a complete share of Tesla, alternative firms, such as Motif Investing, allow you to acquire partial shares. You'll be ready to place an order once you've chosen your broker and established how many shares you want to buy. To continue, you'll need to utilize Tesla's Nasdaq ticker symbol, TSLA. After that, you'll have the choice of placing a market or limit order. A market order, for example, permits you to buy a company's stock at whatever the current price is. A limit order, on the other hand, allows you to specify the highest or minimum price at which you're willing to buy or sell.
How to Buy Tesla Stock with a Financial Advisor
Alternatives to contacting a brokerage may be worth considering. A financial advisor could be a wonderful alternative for you if you're seeking expert advice on your investment portfolio. Financial advisors can provide a holistic strategy to altering your finances, whether you're new to investing or have some expertise. Financial advisors can help you accomplish your long-term savings objectives by designing your portfolio and selecting which investment kinds to use.
How to Invest in Tesla Stock: An Overview
Tesla, located in Palo Alto, California, was founded in 2003 and designs, manufactures, and sells innovative electric automobiles, energy-producing equipment, and storage solutions. Global sales are possible. In fact, the company's products are sold in China, Europe, and Australia.
Automotive and energy generation and storage are the company's two main segments. Electric vehicles and electric vehicle powertrain components are the main emphases of the automotive segment. Tesla Leasing and Tesla Lending are two of the segment's automobile services and perks. On the other side, the energy generation and storage section sell solar systems and renewable energy, as well as energy storage technologies.
Aside from unique items, Tesla may eventually collect payments in an unusual manner. Tesla announced in February 2021 that it would start accepting "bitcoin as a means of payment for our products in the near future, subject to applicable legislation and initially on a limited basis, which we may or may not liquidate upon receipt," according to the company.
Three months later, on Twitter, Musk stated, "Tesla will not be selling any Bitcoin, and we want to utilize it for transactions as soon as mining shifts to more sustainable energy." In its Q2 2021 report, the corporation also revealed that it lost $23 million on its original Bitcoin bet. Though, during a virtual panel discussion, Musk mentioned something that sparked new curiosity.
Financial Profile of Tesla
Despite its enormous popularity, Tesla's stock does not have blue-chip status. When a corporation achieves blue-chip status, it has a long track record of profitability and achievement in its field. Because of its rough profitability history, Tesla does not keep the classification.
Tesla shares soared above $800 in early January 2021, setting a new 52-week high. $70.10 was the 52-week low. The corporation reached another milestone in Q2 of 2021, with profits of $1.1 billion announced. Only about a third ($354 million) of Tesla's revenue came from regulatory credit sales, marking the first time the company has made more money from vehicle and energy storage sales.
Tesla shares surpassed $1,200 in November 2021, marking another milestone. However, investors were once again concerned in April 2022, when Tesla stock plunged 12% after Twitter accepted CEO Elon Musk's $44 billion purchase plan. If the merger is approved, Musk could be in command of Tesla, SpaceX, and Twitter.
Should You Invest in Tesla?

It's a good idea to analyze your financial condition and long-term savings goals before determining whether or not to buy Tesla shares. Despite the fact that Tesla is a well-known and popular firm, its stock is subject to volatility.
Elon Musk has surpassed Amazon's Jeff Bezos as the world's richest person, thanks to the company's soaring shares at the end of 2020 and the beginning of 2021. Despite the fact that Tesla's back-to-back record highs have outperformed many Wall Street projections, prominent investors are split. Some believe the stock could be worth even more in the future, while others are prepared to bet against it.
Michael Burry, the hedge-fund manager who made his name in the book and film "The Big Short" for shorting the housing market in 2007 by purchasing credit default swaps against subprime mortgages, stated on Twitter in December 2020 that he was betting against Tesla. Short sellers, on the other hand, lost money due to Tesla's continuous surge, and Burry's tweet has now been removed.
Buying Tesla shares at such a high valuation may be too hazardous depending on how much risk you are ready to take on your investments. Investors with a higher risk tolerance may be interested in purchasing the stock and keeping it for several years while anticipating volatility. Others who wish to diversify their portfolios may want to reduce their Tesla holdings so that they don't outweigh other investments.
We hope that this blog post will be beneficial for you. We will continue to create useful works in order to get inspired by everyone. We are sure that we will achieve splendid things altogether. Keep on following Finage for the best and more.

You can get your Real-Time and Historical Stock Data with Finage free Stocks Data API key.
Build with us today!