by Finage at November 22, 2021 5 MIN READ
---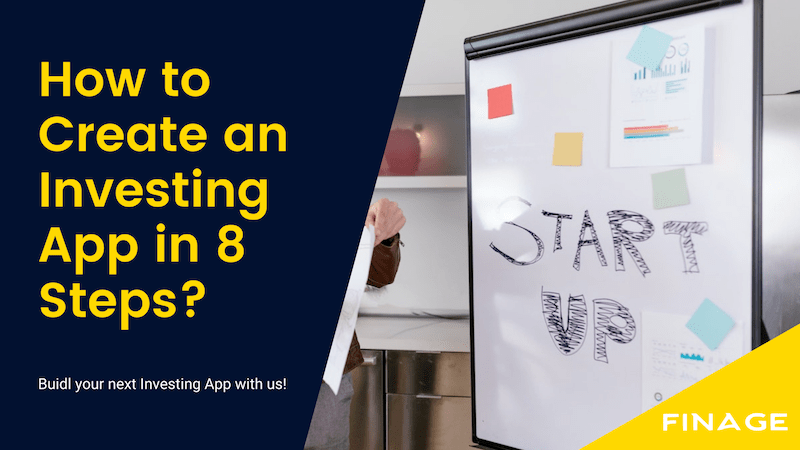 How to Create an Investing App in 8 Steps?
Nowadays, there are several apps created to invest in stocks and earn money sitting at home. If this was something we were to do 10 years ago, it would be almost impossible unless you are part of Wall Street or if you have done a special course to learn the tips and tricks of investing your money in stocks. You had to rely on a broker to make the deal and, of course, you would have to pay the broker some extra amount. Now it is as easy as going on WhatsApp or Instagram. Even teenagers and people over 65 years old can use new solutions and succeed in investing their money through the app.
At the same time, if you are looking for new startup ideas or you want to create an investing app, it is also possible to start online. You can do research and find out what steps you need to take to start your own financial business. Let's check top tips on how you can create your investing app.
Contents:
Do Your Homework

Comply with Regulations

Cooperate with a Qualified Development Team

Draw Up a List of Features

Create an Attractive UI/UX Design

Choose the Right Tech Stack

Create an Investment App

Release Your Solution
Cost of Investment App Development
Final Thoughts
1. Do Your Homework
It is important to go through the current market overview of the investment apps that are being used. Before you develop your own app, it is better you go through the current trends.
Also, while doing your homework, you should be able to find out the target audience, the goal of the investment app, address the client's needs and pains, features to solve the problems and monetize the solutions you are providing.
2. Comply with Regulations
The investment market is webbed through rules and regulations, especially the ones concerning the client's data and credit card details. While you are developing an app, those regulations must be followed, otherwise, the app might run into grave issues.
The app should follow the General Data Protection Regulation. It has to prove that your business has its legal regulations in place and has no financial loopholes.
3. Cooperate with a Qualified Development Team
Here you have got 2 options to develop the investment app. Either you can find freelance software engineers and have an in-house team to build your app, otherwise, you can use an outsourcing company that will take all the responsibility of the app development and maintenance.
Choosing an in-house team or hiring an outsourcing company depends on several factors like money to invest, reliability, and quality of the final product. Over the years it has become clear that an outsourcing company works better as they usually have a competent team, and you can always get your changes incorporated. You can also use the service of professional teams who offer ready-made solutions, for example, data API with financial real-time and historical information. You can also use widgets and other add-ons that will be useful for your customers.
4. Draw Up a List of Features
The investment app you will create needs to have features that support numerous functions. These features can be divided into basic and advanced. The basic features of the app like registration of clients, payments, linking bank accounts, selling and buying stocks, and building a personal profile must be present.
You might want to include some advanced features too. If you do not go with a pre-prepared list beforehand, it might be overwhelming for you.
5. Create an Attractive UI/UX Design
When clients download the app and open it, their experience and interaction must be smooth and soothing. An attractive UI/UX design of the app is quite crucial.
Make sure the hired software engineer you hired creates a proper landing webpage with an optimized design. Also, make sure your app is optimized for iOS and Android.
6. Choose the Right Tech Stack
Depending on the platform for your investment application, choose the right tech stack. These help to provide stability and increase the scale of your business. The technologies you use also depend on whether you want to make changes later on.
For example, for iOS, you need Swift as the programming language and Alamofire for networking. Similarly, there are other tech stacks for Android too. The right combination of tech is quite crucial.
7. Create an Investment App
Finally, after researching the market, finding a qualified team, and the right tech stack, it is time to create the investment app. This process is the longest, and it might take around 10 or more days. Development of the app is usually divided into several parts, like:
Programming

Designing

Security check and

Implementation
Also, the engineers typically carry out small periods of sprints with the quality assurance and security teams, where they try to find bugs and improve the app.
8. Release Your Solution
After the development of the product, all you require to do is release it for everyone to download and use the product. The app has to be released into the Google Play Store and Apple Store.
In case you have the app ready for only one platform, you might want to release it only for that one and slowly release the other one. Make sure the customers give comments and ratings, and you respond to all of them.
Cost of Investment App Development
App or website development can cost anywhere between 1000 and 10,000 USD depending on the team, the outsourcing company, solutions you are looking for, and the time the experts need to prepare the app.
The total time required for app development is anywhere between 1226 hours to 1820 hours. Also, based on the wage per hour, the engineers have to be paid. Moreover, the administration team plays an important role and has to be paid accordingly. To save money and earn a profit, you can use ready-made solutions that can ease your tasks.
Final Thoughts
There you go, your investment app is ready to go. It requires a good source of funding, a strong plan, and determination for app development. If you need an API to empower your system, you can get all of the solutions and reliable data from Finage. Once you have everything in the plan, a good app is not far away. Start building your own investment app and start earning soon!

You can get your Real-Time and Historical Market Data with Finage free Data API key.
Build with us today!