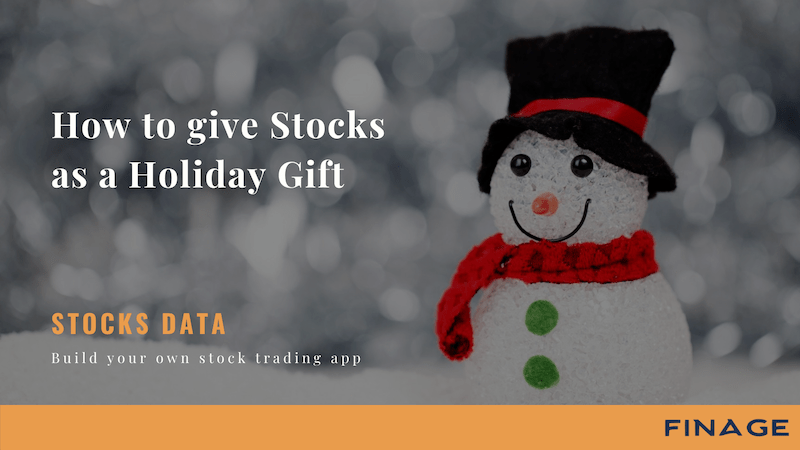 It's not always easy to come up with thoughtful gift ideas. Younger children typically desire the latest fad (which they will almost certainly outgrow), whereas older generations typically purchase what they require and are notoriously difficult to satisfy.
In many ways, gifting stock in a company is a no-brainer. True, it may not generate the initial excitement generated by, say, the latest PlayStation console or smartphone. However, it is one of the few items that has a reasonable chance of increasing in value, converting money into more money, and there are few gifts in stores that include this as an attribute.

Stocks make wonderful gifts for any recipient, regardless of their age or the occasion.
Consider the recipient's hobbies and interests when selecting a stock, and then look for a company operating in that area that has a reasonable chance of appreciating in value.

Shares can be gifted through brokerage accounts, through specialized online apps, or directly from the company in some cases.
If the price of the stock you wish to purchase exceeds your budget, consider purchasing fractional shares instead.
Gifting stock may be subject to gift tax and will result in a taxable event if the recipient decides to sell at some point.
Purchasing gifts that adults actually want without breaking the bank is not easy, but stock may one day enable them to acquire that one thing they don't have but have always desired. For children, it's a slightly more difficult sell, as they're unlikely to have any long-term goals for which they're saving. However, that is certain to change in the future, and early exposure to money management and investing should benefit them later in life.
Which Stock Should I Consider Purchasing?

There are numerous companies, and selecting the appropriate stock(s) requires careful consideration. Because the objective is to make this gift as compelling and profitable as possible, you'll want to consider both the interests of the recipient and the growth potential.
Consider the recipient's preferences and seek out a business that specializes in that area. Then, examine its financial statements, apply some valuation metrics, or consult with an advisor to determine whether it would be a good investment. Your best course of action would be to compile a shortlist of several companies and then analyze each one until you identify one that is reasonably priced and poised to grow in value for years to come.
If you're looking for some inspiration, here are the top ten stocks to gift loved ones:
Company of Walt Disney (DIS)
Apple Computer, Inc. (AAPL)
United Manchester Plc (MANU)
Coca-Cola Bottling Company (KO)
Virgin Galactic Holdings, Inc. Virgin Galactic Holdings, Inc. (SPCE)
Nike, Incorporated (NKE)
Co., Ltd. Nintendo Co., Ltd. (NTDOY)
Inc. Pfizer Inc. (PFE)
GameStop Corporation (GME)
Starbucks Coffee Company (SBUX)

Percentage Shares

You may discover that purchasing even a single share in a company exceeds your financial means. If fractional shares are available in this case, they may be your best option.
When a company goes public, it issues a fixed number of shares, each representing a portion of ownership. However, it is occasionally possible to purchase a fraction of a share of stock, referred to as a fractional share, and thus invest a dollar amount of your choosing in a particular company. Unless you're feeling particularly generous, this may be necessary, as some shares, such as those of Amazon.com (AMZN) and Google parent Alphabet (GOOG, GOOGL), are valued at more than $2,000 per share.

ESG

If you or the stock's recipient is concerned about how companies behave and conduct business, environmental, social, and governance (ESG) investments should likely be at the top of your shopping list. ESG investing entails purchasing only stocks in companies that prioritize environmental and societal responsibility, as determined by independent third parties. Three boxes must be checked before a business can be classified as ESG:
Environmental: The E in ESG refers to a company's approach to environmental stewardship. This can include the manner in which it generates energy and disposes of waste, as well as how it treats animals.
The S in ESG refers to the way a business manages its relationships with its stakeholders, which include employees, suppliers, customers, and the communities in which it operates.

Governance: The G in ESG refers to how a business is run. Important considerations include equitable executive compensation, shareholder participation, a diverse board of directors, and the use of accurate and transparent accounting methods.
In a nutshell, the objective is to maximize profits by investing in companies deemed to be beneficial to society. Obviously, adopting an ESG approach means limiting your investment options. However, there is a counter-argument that using an ESG-based screening process to select stocks results in investments in companies that are less likely to be hit by major scandals that harm their stock prices.
Where to Purchase Corporate Gifts

Gifting stocks has never been easier and can be accomplished fairly quickly from the comfort of your own home. You have several options. Among the most prevalent are the following:
Brokerage account transfer: Using your brokerage account, purchase the stock and then transfer it to the recipient, assuming they have one as well. For children, you'll likely want to establish a custodial account, which will keep you in control until they reach a certain age.
According to the source: Certain businesses permit you to purchase their products directly from their website.
Online application: There are numerous apps dedicated to gifting stock. GiveAshare, UniqueStockGift.com, SparkGift, and Stockpile are all examples.

Consider the Tax Implications of Gifted Stock

Before you take the plunge and purchase wonderful stock gifts for your loved ones, it's critical to be aware of any current or future tax bills. If the gift is substantial, the Internal Revenue Service (IRS) may assess a fee. If everything goes according to plan, the recipient will also be required to pay capital gains tax on the value of your gift when they eventually decide to cash it in.
Tax on gifts

For the majority of people, the gift tax, which is a federal tax on gifts, will be irrelevant. Donors are not taxed on stock gifts unless they exceed $15,000 in value — or $30,000 in value for couples — and exceed the lifetime gift tax exemption, which is set at $11.7 million in 2021. Spouses are also exempt from this tax, so there is no need to worry if you are gifting stock to your husband or wife.
Gains in capital

When a stock is eventually sold, the IRS must be notified, and the investor (in this case, the recipient) will be taxed appropriately based on the holding period, their tax bracket, and the gain realized relative to the purchase price.
If the recipient sells the investment for a profit within one year, they have realized a short-term capital gain, which is taxed as ordinary income. Generally, waiting longer than a year to sell results in a better outcome, as long-term gains are taxed at lower capital gains rates. 5
As with ordinary income tax, capital gains rates increase in direct proportion to an individual's income for the tax year.
Additionally, gift-givers should be aware that the recipient's capital gain is determined by the original cost of the investment. In other words, if the stock was purchased for $100 and sold for $1,000 several years later, the recipient would be taxed on a $900.65 profit.
Of course, there is a chance that the gift will prove ineffective. If events take a turn for the worse and the stock is eventually sold at a loss, it must still be reported. Fortunately, capital losses can be deducted from an investor's tax return, reducing total capital gains or, in the absence of capital gains, shaving up to $3,000 per year from regular taxable income. Capital losses may also be carried forward for use in subsequent years, up to the point at which the loss is exhausted.

You can get your Real-Time and Historical Stocks Data with Finage free Stock Data API key.
Build with us today!