by Finage at July 25, 2022 5 MIN READ
---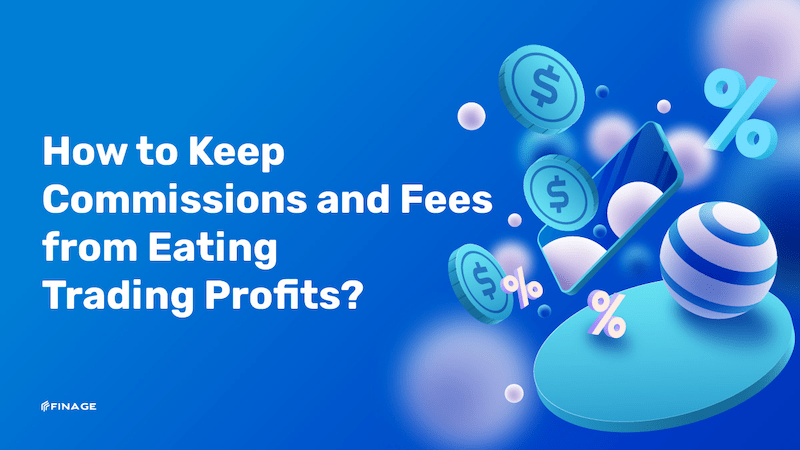 How to Keep Commissions and Fees from Eating Trading Profits?
Money is earned via hard labour. And you ought to be able to keep the majority of it in your pocket. However, there are some considerations you should make if you're considering investing your hard-earned money in order to raise your net worth. Investing has a price. There is risk involved, and that risk can reduce your returns. The cost, including fees and commissions, is another factor that may affect your bottom line. And anything can add up. So, is it possible to save money while controlling your spending? Yes is the quick response. Continue reading to learn more about how to prevent these expenses from reducing your revenues.
The majority of investments have some kind of fee. It is one of the only methods for banks and other businesses to generate revenue. These organizations can continue to operate and provide you with their services only if you pay a fee. Even the most basic investment vehicle has some kind of service fee. For example, the majority of savings accounts have minimum balance requirements and charge a fee if you withdraw money more than once each month. Why are you being charged a fee when it is your money? After all, you are supposed to save money in the account.
This idea—of charging a fee—applies relatively uniformly everywhere. Companies charge you money to manage and maintain your accounts. However, they also follow the same procedure if you want to transfer money. You could occasionally feel as though you are paying more than you are putting in. There must be a method to reduce that as little as possible, right? There is, of course. Before we go into ways to avoid paying exorbitant fees and keep your money in your account, let's take a brief look at some of the most typical costs associated with investing.
Brokerage Fee
Many various financial services providers, such as brokerage firms, real estate agencies, and financial institutions, impose a brokerage fee. This charge is often made once a year to keep client accounts up to date, cover subscriptions and/or research costs, and provide access to investment platforms. These costs might also apply in cases where an account becomes inactive. A flat fee or a certain percentage of the balance in a client's account may be charged as brokerage fees.
Commissions
Customers frequently pay commissions to brokers and financial advisors for using their services. Trading fees are another name for them. Commodities, options, or exchange-traded funds are all basically paid for by them, as are any investment advice or instructions to sell or buy equities like stocks (ETFs). Before deciding to use a brokerage's services, it's critical to confirm their cost schedule because commission rates differ amongst companies.
Advisory or Management Fees
Companies that manage investment funds charge management or advisory fees. These fees are used to pay fund managers for their expertise. The majority of these fees are determined by a proportion of the assets under management (AUM) in each fund, though they can differ between funds.
The Foundations of Trading Costs
Regarding trading commissions or other fees imposed by brokerage firms and other investment houses, there is no standard procedure. Depending on the quality of service they offer, some charge quite high fees for each exchange while others charge relatively little. A full-service broker can easily charge $100 or more each trade, but a cheap brokerage business may charge as little as $10 or even less for a regular stock trade.
Therefore, rather than how frequently you trade, how much you pay actually depends more on how much money you invest in each deal. When you first join your position, the commission fee will take away 2% of the value of your trade if you have only $1,000 to invest and are using a discount broker who charges $20 each trade. When you ultimately decide to exit your deal, you will probably have to pay a $20 commission fee, making the total cost of the transaction $40, or 4% of your initial cash investment. This means that before you break even and can start to profit from your trade, you must generate a return on your investment of at least 4%.
It truly makes no difference how frequently you trade with this kind of charge structure, which is extremely prevalent. The only thing that counts is that your transactions generate a percentage gain large enough to offset the expense of your commission fees. There is one restriction, though: certain brokerage companies offer commission breaks to traders. For instance, a brokerage house might charge $20 per trade for regular clients, but $10 per trade for clients that execute 50 or more trades each month.
Reduce Your Expenses
Although fees are a necessary component of the financial system, you are not obligated to pay them. There is a way for you to continue investing while keeping your expenses low.
Think about investing your money with a company that doesn't charge commissions or fees for trading stocks and ETFs. This structure is being used by more businesses to draw in and keep customers, particularly small businesses and new players. You can start off with a modest amount at no extra charge because some of these companies also waive the minimum deposit requirement. However, you should examine their fee schedule for other investment vehicles and any additional fees they may impose to determine whether it is balanced.
Automated investment platforms could potentially reduce your costs. Due to their minimal fees, robo-advisors, a relatively recent trend in the financial sector, can be excellent for small investors. More money will be in your pocket as a result. Since they are automated, they don't need a physical manager to oversee client accounts, so they can afford to do this. Robotic advisors, on the other hand, employ algorithms to keep track of and redistribute your holdings in accordance with your risk tolerance and investing objectives.
We hope that this blog post will be beneficial for you. We will continue to create useful works in order to get inspired by everyone. We are sure that we will achieve splendid things altogether. Keep on following Finage for the best and more.

You can get your Real-Time and Historical Data with Finage free Data API key.
Build with us today!