by Finage at May 17, 2021 6 MIN READ
---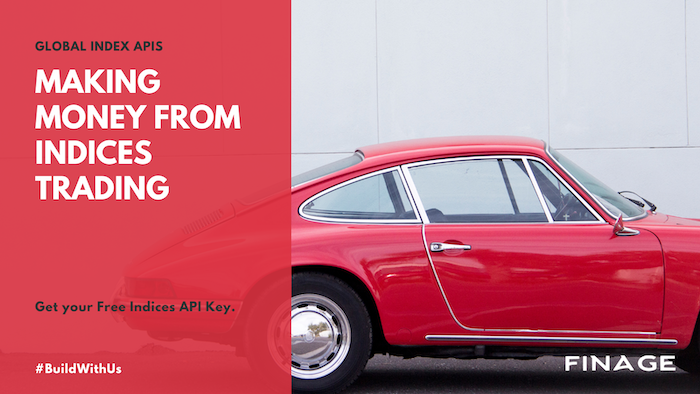 Making Money From Indices Trading | Global Index APIs
Humanity has gone through many processes in order to make a living since it existed. Many processes, from hunter-gatherer to barter system, from the discovery of money to cryptocurrencies, have been overcome. And at the core of these processes has always been trade, which sometimes included basic consumables and sometimes durable daily use items. However, one of the most important trading products of today is stocks and indices.The financial world has hosted many innovations along with the technological developments. With every innovation, new products that can be used in the field of finance have emerged. These products have made it easier for both corporate finance giants and individual investors.
Indices are an indicator of the price performance of a group of stocks in an exchange. For example, when it comes to S&P 500, this is the performance indicator of the top 500 companies in the US. Trading indices allow you to be exposed to an entire economy or industry at the same time. Indices show a very liquid market feature with long trading hours, and this gives investors an advantage over other markets.
Finage is one of the data providers that offers the most detailed services on APIs. This is because, in addition to cryptocurrency and forex APIs, real-time, delayed, end-of-day and historical pricing data for exchange traded funds (ETFs), mutual funds, closed end funds, separate accounts / collective investment trusts, variable annuity It also provides detailed services in areas such as underlying funds, and hedge funds.
How are stock market indices calculated?
Stock indices are generally calculated according to the market value of component companies, and therefore, the weight of large companies affects the upward or downward movements of the index more.
On the other hand, some popular indices are price-weighted. Dow Jones Industrial Average (DJIA) is one of these indices. In this method, more weight is given to companies with higher share prices rather than market value. This means that price changes in these securities will have a greater impact on the current price of the index.
Finage offers the Finage Index API so that you can manage your trading strategies by tracking the changes in the indices. Finage has more than 1600+ index market data in real-time. You can get the last price for a symbol that you want. In addition, you can get the tick bars of the index market with the Index Market Aggregates API.
One of the services offered is the Volatility Index. Thanks to this index, you can see the volatility and its future trend. The more than 25000 stock data included in the Finage Index API is divided into many databases, each covering a separate topic.
Finage Indices API currently offers real-time data processed from the highest quality, accurate and raw data on the market at the most affordable price. In addition, you can access it via Websocket or Web API. No other company offers this data via the Websocket, which is particularly supportive as you only need some lines of code.
What are the most traded indices?
DJIA (Wall Street) – measures the value of the 30 largest blue-chip stocks in the US
DAX (Germany 30) – tracks the performance of the 30 largest companies listed on the Frankfurt Stock Exchange
NASDAQ 100 (US Tech 100) – reports the market value of the 100 largest non-financial companies in the US
FTSE 100 – measures the performance of 100 blue-chip companies listed on the London Stock Exchange
S&P 500 (US 500) – tracks the value of 500 large cap companies in the US
CAC 40, represents the best 40 French companies.
NIKKEI 225, it's the index from Japan. It contains the 225 biggest companies in the country.
How to identify what moves an index's price
Factors affecting the price of an index can be listed as follows:
Economic news : Central bank announcements, investor sentiment, payroll reports are the leading news affecting the price movements of an index.
Company financial results : Another factor affecting the price movements of an index can be shown as individual company profits and losses.
Company announcements : Changes in the leadership of the company or possible mergers may affect both the stock prices and the price of the index.
Changes to an index's composition : Addition or exclusion of companies may have an impact on index prices.
Commodity prices : Some indices such as the FTSE 100 include commodities in addition to stocks. For this reason, fluctuations in commodity prices may also affect the index price.
How to trade indices
Here are the steps for trading:
Best way to trade indices: CFDs are very suitable for that.CFDs which is the financial derivatives can be used to trade indices. CFDs are generally used to speculate on indices that are rising in value, as well as falling.
Trading cash indices or index futures: When you trade with Finage, there are two ways to take advantage of an index price: with cash indices or index futures.
Cash indices: Cash indices are preferred by short-term traders like day traders because they have tighter spreads than index futures.
Index futures: Index futures, which are generally preferred by traders with a long-term market target, have wider spreads than cash indices, but differ in the inclusion of an overnight funding fee.
ETFs and shares: Finage allows trading in cash indices and index futures, as well as index ETFs and individual stocks.
Create an account and log in to Finage: By opening an account with Finage, you can start trading indices on CFDs today. Using our experienced technical team and advanced trading tools, you can trade CFDs on various exchanges around the world
Select the index you want to trade: It is very important to determine which index fits your trading strategy. Your choice of index depends on your risk tolerance, capital and choice of long or short term position. Finage has index markets in many different indices around the world and it is very easy to choose the market that suits your trading style.
Long or short choice:

Going long in an index means speculating about the index value, going short means you think its value will decrease.If the status of a sector is better than the index performance of the companies, long positions can make you profit if the index increases. But if the outlook is weak, you can go short and wait for the index value to decrease.
Adjust your stops and limits: During index trading, you should use the stop and limit tools to manage and minimize risks. In this way, if your position falls below the current market value, your position will be closed automatically thanks to the stop order.
Open and watch your trade: At last step when you decide to trade indices, first go to the market you want on a trading platform where you decide to trade. Then decide whether you want to trade cash or futures. If you think the price will increase, choose the buy option, if you think the price will decrease, choose the sell option.
Conclusion:
Developing technology has brought many innovations in the finance sector, so Fintech applications have become one of the most important and biggest innovations in the finance industry. While these revolutions make things easier for individual and corporate finance players, they also increase competition between players.
This competition can be seen both between active players in the financial market and data providers. In this environment with a large number of players and data providers, it is very important to reach accurate and reliable data. For this reason, individuals and institutions should be very careful when choosing their data providers. Careful selection must be made to have a real-time web service or a more regularly updated service. Nowadays to have the easiest and fastest indices, currency , stock and cryptocurrency API with the lowest latency is the key factor in the financial world.