by Finage at October 11, 2021 5 MIN READ
---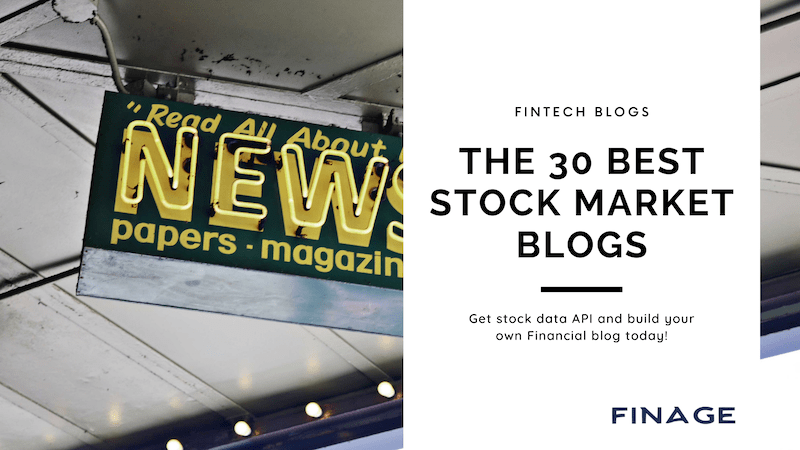 The 30 Best Stock Market Blogs
For those who want to have detailed information about the stock market and want to access the information from the right sources, here are the 30 best stock market blogs.
In today's article, we will recommend you the 30 best stock market blogs. You can access these blogs where you will get the answers to all the questions in your mind and get the right information, and you can have important ideas that will be useful to you. Here are the top 50 stock market blogs:
1-) Seeking Alpha
Seeking Alpha is an investment community that includes millions of passionate investors who connect every day to discuss the latest news, the value of stocks, and their investment decisions.
Rank: 1
Mentions: 7013
2-) MarketWatch
MarketWatch is a blog that shares breaking industry news and in-depth analysis to ensure investors get the most important and critical information they need.
Rank: 2
Mentions: 5500
3-) Calculated Risk
The Calculated Risk blog posts very regular updates covering the latest market news and industry analysis, helping its readers make informed stock decisions later.
Rank: 3
Mentions: 427
4-) The Motley Fool
Motley Fool is dedicated to making the world smarter, happier and richer. Founded in 1993 in the USA by brothers Tom and David Gardner, it allows people to gain financial freedom through their website.
Rank: 4
Mentions: 309
5-) Timothy Sykes
Timothy Sykes became a self-made millionaire at the age of 21, trading thousands of penny stocks. The blog provides the latest industry news and advice on how to invest in penny stocks.
Rank: 5
Mentions: 159
6-) StockCharts
StockCharts provides a daily blog that creates insights into the markets from an expert's perspective, as well as providing advice and analyzing the latest industry news.
Rank: 6
Mentions: 120
7-) The Big Picture
The Big Picture was revealed by Barry Ritholtz. A long-standing focus has been on how the intersection of behavioral economics and data analytics impacts investors.
Rank: 7
Mentions: 117
8-) Value Walk
Value Walk's mission is to provide a framework that allows people to improve their investment processes while collecting newsworthy information about market trends.
Rank: 8
Mentions: 112
9-) A Wealth of Common Sense
Common Sense Wealth is a blog that covers wealth management, investments, financial markets and investor psychology. Created by Ben Carlson.
Rank: 9
Mentions: 97
10-) Market Chess
Market Chess features chessNwine, a popular trader and financial blogger since 2009. It offers consistent, actionable, educational, and entertaining analysis and commentary on markets.
Rank: 10
Mentions: 61
11-) Bulls on Wall Street
The Bulls on Wall Street blog aims to provide world-class trading education and actionable trading ideas to enable its readers to make more informed investment decisions.
Rank: 11
Mentions: 54
12-) Day Trade Review
The Day Trade Review blog covers industry news and analysis, as well as the latest reviews of stockbrokers, chat rooms, and various courses.
Rank: 12
Mentions: 46
13-) Vantage Point Trading
Vantage Point Trading is a forex, futures and stock trading resource that has been around since 2007. The purpose of this site is to help those who want to trade succeed.
Rank: 13
Mentions: 38
14-) Meb Faber Research
Meb Faber is the co-founder and Chief Investment Officer of Cambria Investment Management and the author of multiple books. His blog provides regular stock market and investment news.
Rank: 14
Mentions: 20
15-) INO.com
The INO.com blog provides expert industry analysis, including chart reviews, various trading tips and videos, all aimed at supporting its readers to make more informed investments.
Rank: 15
Mentions: 15
16-) Flirting With Models
Newfound Research's research library is Flirting with Models. The information provided is aimed at supporting investors in managing drama risk.
Rank: 16
Mentions: 10
17-) The Irrelevant Investor
Written by Michael Batnick, director of research at Ritholtz Wealth Management, Irrelevant Investor, this blog brings you the best news and latest trends in the industry.
Rank: 17
Mentions: 10
18-) TradingSim
TradingSim's mission is to create profitable retail traders by providing tools and educational resources dedicated to trading professionals.
Rank: 18
Mentions: 10
19-) Daily Reckoning
The Daily Reckoning blog provides readers with up-to-date financial market news and analysis that the Australian investor audience should know.
Rank: 19
Mentions: 9
20-) European Dividend Growth Investor
The European Dividend Growth Investor shares his journey to early retirement in Europe through dividend investing. It is among the few blog pages that focus on European investors.
Rank: 20
Mentions: 7
21-) Dragonfly Capital
Dragonfly Capital provides its readers with regular information on the current state of the stock market and what valuable information they can see from the charts.
Rank: 21
Mentions: 7
22-) Bullish Bears
Bull Bears is a blog page where new traders can attend free stock market courses and learn all about stocks, options and futures at their own pace.
Rank: 22
Mentions: 7
23-) Trade Brains
Trading minds is a financial education blog focused on teaching DIY investors about stock market investing and personal finance.
Rank: 23
Mentions: 5
24-) SG Wealth Builder
SG Wealth Builder was founded by Gerald to create a blog that will benefit people on their wealth-building journey. The motto of this blog is to make money, build wealth and protect wealth.
Rank: 24
Mentions: 4
25-) NinjaTrader
The NinjaTrader futures and forex trading blog creates the latest news, industry updates, and exclusive commentary for the NinjaTrader community.
Rank: 25
Mentions: 2
26-) Factor Trading
Peter Brandt is a respected name in the industry and his public trade blog posts market reviews and future opportunities.
Rank: 26
Mentions: 2
27-) Liberated Stock Trader
Liberated Stock Trader helps readers understand the basic concepts of the stock market and always make informed decisions about where their money will go.
Rank: 27
Mentions: 2
28-) TraderFeed
The goal of the TraderFeed blog is to take advantage of trading from historical market patterns, so providing their audience with balanced analysis that they can move forward for their own investment.
Rank: 28
Mentions: 2
29-) Engineer my Freedom
Engineermyfreedom is a personal finance blog that documents my path to financial freedom mainly through dividend investing.
Rank: 29
Mentions: 2
30-) Crossing Wall Street
Crossing Wall Street, created by Eddy Effenbein, provides investors with free of charge valuable lessons and unbiased views of the stock market.
Rank: 30
Mentions: 1
We hope that this blog post will be beneficial for you. We will continue to create useful works in order to get inspired by everyone. We are sure that we will achieve splendid things altogether. Keep on following Finage for the best and more.

You can build your financial news page with Real-Time and Historical Market Data get your free API key.
Build with us today!