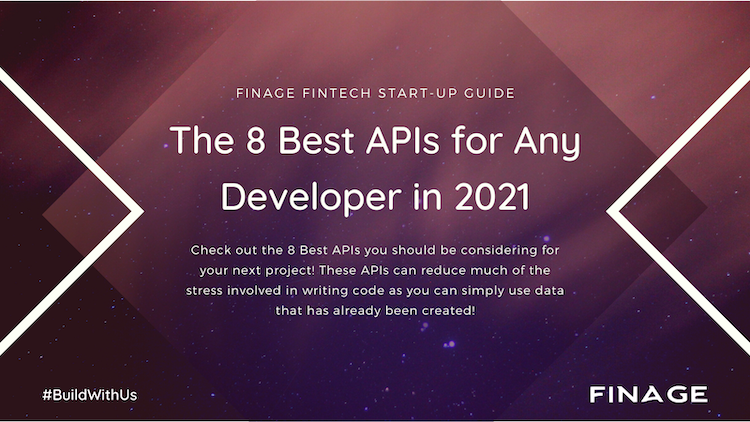 Developing an app or program that can communicate with others is in high demand from different types of businesses. One of the biggest parts of development is writing the code. Doing so for every aspect of the app can be exhausting and time-consuming.
An API reduces much of the stress involved as you can simply use data that has already been created. You probably know how important APIs have become. So let's look at the 8 Best APIs you should be considering for your next project!
Contents:
#1. The NASA APIs
#2. Finage
#3. The MealDB APIs
#4. MovieDB API
#5. Frankfurter
#6. Responsive Voice
#7. FreeToGame
#8. Count
#1. The NASA APIs
If you are an application developer, you will not go wrong with the NASA API. With this software, you'll get constant access to important data which include:
Facts about the moon and other planets in the solar system

The weather in space

Astronomy

Detailed images of celestial bodies
Additionally, they provide various usable APIs. You can easily access this data to find out which ones are a perfect fit for your project.
#2. Finage
Finage is a great solution for those who are looking for stock, forex, cryptocurrency, indices, ETFs and Financial Statements real-time and historical data providers. This financial solution offers market data using real-time APIs and WebSockets. So everything that is required to build financial apps and needs Real-Time Global Stock, forex, etc. via APIs is present on the platform.
#3. The MealDB APIs
Is your next project culinary-based? If you do, the best API for you is MealDB. This API allows you to access any data about food without any delays. This can include facts about food or specific recipes. This data is quite extensive. You can access all the information regarding individual ingredients and meal plans. Apart from this, you can also look at various formats of data including video.
#4. MovieDB API
If you are trying to create a movie app, you'll find the MovieDB API more than useful. With this program, you can collect all the important data to create an app dedicated to films and tv series. This data includes:
The actors in various movies

Random information

Data on Television programs

Any important imagery
This API is probably the most popular amongst developers who are building movie-based platforms. You can find more information about what they provide in regards to your project by doing more detailed research about their API.
#5. Frankfurter
This is one of the best APIs for anything related to foreign exchange. Creating an app dedicated to banking rates and currency can be a daunting task. A lot of data is required to keep the numbers up-to-date and without this data, the developer cannot create a functional app. The data available (historical data included) is reliable as it is made public by the European Central bank.
If you decide to choose the Frankfurter API, you'll be impressed to find out that it is also absolutely free and does not require any special keys to access the much-required data.
#6. Responsive Voice
Text to speech has provided a lot of opportunities to people who might have some issues understanding the written word. Nowadays, many apps and website developers are adding this feature to their projects and it's becoming quite mainstream. The responsive Voice API serves one purpose: creating speech from any text presented to it. The features don't end there.
This API will also enable users to influence the accent, gender of the speaking voice, level of volume, and most importantly, the language. You can find more about this API on their website.
#7. FreeToGame
This API is dedicated to helping you find all the games you can access for free in an extensive database. With multiple search filters, you will be able to find out a particular genre of your interest. Additionally, all the data on any game is at your fingertips. One of the best aspects of this API is that it is also completely free for developers to use.
#8. Count
As an owner of a website, keeping track of user activity will influence any business decisions you choose to make. One of these important parameters to keep track of is the number of page visits for a certain period of time. The count is an API that is designed to enable you to get this information in real-time.
Apart from providing this data, you can also see the keys of the site that get the most attention from users. After reading the important details about this API, you'll understand why it's important to have it in your arsenal.
Final Thoughts
As you can see, APIs are a developer's best friend. With them, you can focus on certain aspects of your projects which will save you a lot of time in the long run. Making important decisions is not a major issue anymore, especially if such decisions require a lot of data.
Although there are a lot of APIs out there, we have picked the 7 best. Depending on the nature of your project, you can pick one (or several) from the list and you won't be disappointed by the results.

You can start building your own Fintech Business with Finage free Market API key.
Build with us today!