by Finage at March 29, 2022 4 MIN READ
---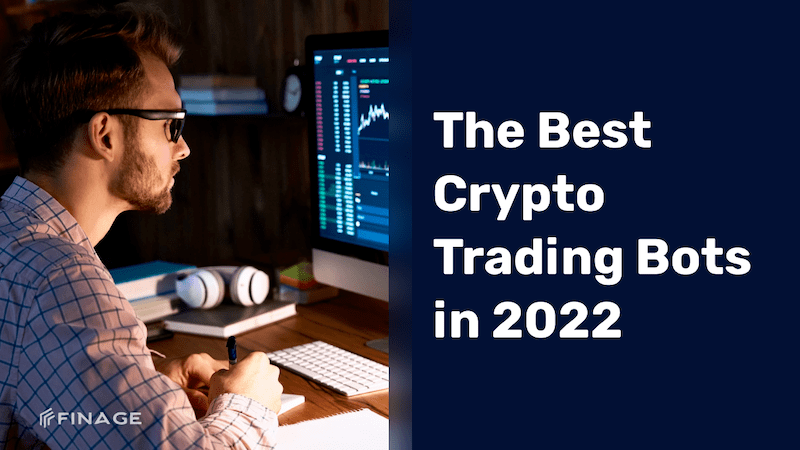 The Best Crypto Trading Bots in 2022
Trading bots, which attract more attention especially for those who are new to crypto money investment, are software tools that allow investors to adjust their portfolios and engage with their other work instead of being online all the time. In other words, instead of being locked to the screen in single or double transactions, the trading bot you will use will trade for you.
How Does the Trading Bot Work?
Cryptocurrencies, which are widely used all over the world and are almost the financial center of our lives, are full of people who make serious money every day as well as people who make serious money. However, the dream of every new crypto money investor is to make easy money in a short time, of course, to make high money... Let's say from the beginning; Cryptocurrency trading is no different from real trading. This is not a world where you can invest in the evening and wake up as a millionaire in the morning. Of course, this can happen at times, but you should definitely not think that this is different from a real trade. Trading bot is software with lifesaving features for many big traders.
Why is a Trading Bot Necessary?
Every day of our life is important to people. For example, if you are planning a nature camp, you cannot camp without looking at the weather conditions, or you cannot set up a camp by looking at the first day during a 3-day camp. For this reason, you do not want to check whether it will rain for hours at the top of the mountain. Mobile phones now have weather apps and they show us the weather forecasts clearly. Trading bot can actually be likened to a kind of weather application. Instead of waiting for a long time at the screen while making an investment, you can automatically perform all the transactions you need to do with an order given to the bot, via the bot.
Manual trades have more losses. This is because it is not tied to any particular automatic algorithm. However, the trading bot calculates the most precise results because it acts on a certain algorithm and performs the buying and selling transactions in this way. So, there is no margin of error.
Which are the Best Trading Bots?
After cryptocurrencies became the center of our lives, serious changes began to occur in this sector. Instead of manually starting trades, trading bots that provide more accurate profits and do not contain any risk have started to be written. Of course, the trading bot is both much easier and more accurate than manual trading. However, especially those who have just started trading in the crypto money market often ask the question of which is the best trading bot, and they are right. In this part of our article, we wanted to give you information about the 5 most frequently used and most reliable trading bots. Here are the details…
1. Bitsgap
The most known and preferred bot among trading bot services is Bitsgap. Bitsgap, which supports more than 25 exchanges and gives an additional 14-day free trial period, allows users to collect cryptocurrencies from different exchanges under one roof. When this aspect and other features it offers are combined, we can say that it is an ideal bot software.
Bitsgap, which you can register in a much simpler way than registering to crypto currency exchanges, after confirming the verification e-mail, all that remains is to make API connections, and when you do this successfully, you can now start using your trading bot.
2. Paratica
Developed by Turkish software developers, Paratica is one of the other types of trading bots you can use. The fact that it is in Turkish makes it especially easy to use, and the 7-day trial period is offered to its users completely free of charge. You can buy the full version entry package of Paratica for $ 39.95, where you can link your assets on Huobi, OKEx and Binance exchanges. With the entry package, 150 positions, 10 simultaneous transactions, 50 parities are limited. However, when you buy the $99.95 package, you can access a wider range of trading options.
3. 3Commas
One of the most widely used bots among the trading bot options is the 3Commas bot. The biggest feature that distinguishes this automatic trading bot developed by Russian software developers is that it supports a large number of exchanges. Supporting Bitfinex, BitMEX, Bittrex, Bitstamp, Gate.io, Coinbase Pro, HitBTC, Huobi, OKEx, Kraken, Poloniex and Binance platforms, 3Commas is also extremely useful with its safety net.
4. Cryptohopper
It supports 8 exchanges in total, as well as major platforms such as Cryptohopper, Binance, KuCoin, which also has iOS and Android applications. The bot software, which appeals to more expert investors, offers many privileges from candlestick charts to formations, from signaling to security features. Although it is a little more complicated to use than others, we still have to say that it is one of the preferred bot software.
5. Zignaly
Although it was created much later than other trading bots, it is a bot with a monthly trading volume of over $40 million, according to the company's statement. In addition to supporting exchanges such as Binance, KuCoin, VCC Exchange and BitMex, its seamless operation with TradingWiev is another noteworthy feature of the software. Although it may seem complicated at first in terms of use, it can be used easily after a few processes.
We hope that this blog post will be beneficial for you. We will continue to create useful works in order to get inspired by everyone. We are sure that we will achieve splendid things altogether. Keep on following Finage for the best and more.

You can get Real-Time Cryptocurrency Data to build your own crypto trading bot with Finage free API key.
Build with us today!