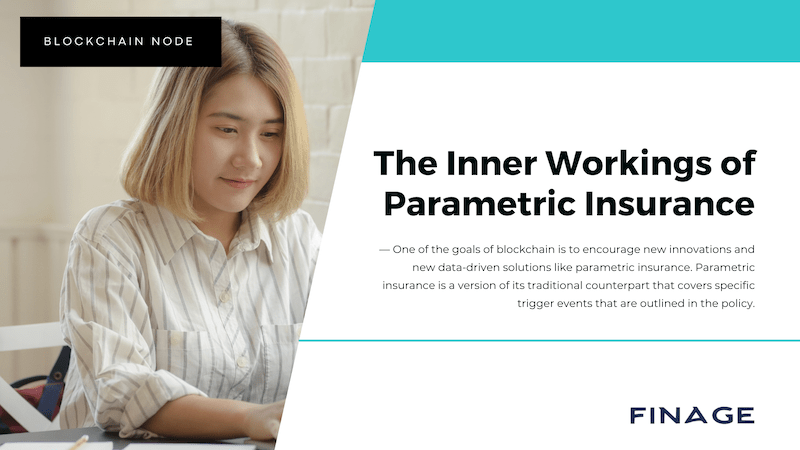 The Inner Workings of Parametric Insurance
One of the goals of blockchain is to encourage new innovations and new data-driven solutions like parametric insurance. Parametric insurance is a version of its traditional counterpart that covers specific trigger events that are outlined in the policy.
The very nature of parametric insurance is that it does not require any claim adjusters, instead it depends on trusted third party data sources. For example, parametric insurance for earthquakes work as follows: you pay a premium, then depending upon intensity of earthquake even if your house is intact, you receive a certain amount as it is triggered by an event not the asset lost. Let's discover how parametric insurance could be realized on blockchain.
Contents:
The Parametric Insurance & Blockchain Pairing
The Advantages of Parametric Insurance
Speedy pay-outs
It is customizable
It can be used to cover any economic loss
The Disadvantages of Parametric Insurance
Basic risk
The possibility of taxation
Final Takeaway
The Parametric Insurance & Blockchain Pairing
While traditional insurance bases itself on the use of claim adjusters when investigating the event that causes damages, parametric insurance decides to take another approach. It is a modern approach that could be used in blockchain technology.
A blockchain is essentially a preventative recording measure that ensures that all transactions and data are easily tracked and implemented without the possibility of tampering and hacking. This data will give a clear outline of what the payout will be.
Blockchain technology could be an essential part to parametric insurance as it can eliminate the possibility of human error, relying solely on the magnitude of the trigger events. A blockchain will also ensure that the payouts are made immediate. This is done from the moment a smart contract is signed where any delay with covering the damages can quickly be sorted.
Parametric insurance operates in more of a streamlined way and this means that its stages are predictable and easily tracked. These stages are as follows:
The event that causes the loss (also known as the trigger) occurs and a claim is made.

The insurance company asks for an unambiguous third party source to provide data automatically.

After the data is assessed, including the intensity of the insured event.

The pay-out is made based on whether or not the claim falls within the parameters of the insurance policy.
The swiftness of parametric insurance in comparison with its traditional insurance is attractive to people because of how efficient the whole process is. One does need to note that it only covers specific situations and the efficient verification process can also result in a claim quickly deemed as not viable.
The Advantages of Parametric Insurance
After the above definition and general overview of parametric insurance and some of its inner workings, we can now look at its benefits. The advantages of parametric insurance are based on how streamlined it is. If we are to give a few advantages, the following would be the main ones:
Speedy pay-outs
Parametric insurance, unlike its traditional counterpart, offers quicker payouts relative to the claim. This is because of the lack of a claim adjuster and the availability of various trusted third parties and databases, thus shortening the process.
It is customizable
The nature of a parametric insurance policy is such that it can be customized in order to fit the needs of the insured party. The trigger and its intensity can be discussed in order to form a pay-out plan that will be beneficial for all parties.
It can be used to cover any economic loss
This is of course only if it falls under the covered trigger event. This means that the insurance will be able to cover multiple risks. This also allows for the insured party to allocate funds to wherever they are needed. This especially applies to the many possible risks that are not insured against or do not exist yet in traditional insurance policies.
The Disadvantages of Parametric Insurance
Like most things, parametric insurance has its flaws and these issues can deter any from acquiring such a policy. These problems are as follows:
Basic risk
Basic risk simply means that there is a chance that the payout will not fully cover the incurred losses. The nature of a parametric insurance policy means that the value of the loss is not considered.
So though the data will help bring a fast pay-out, it may not be enough as the loss itself would not be investigated. If one wishes to acquire a parametric insurance policy, they would need to understand the trigger design.
The possibility of taxation
A taxable event is one that presents a situation in which the payout is significantly more than the damages. This is of course dependent on the regulatory context.
Despite their many upsides, parametric insurance policies are not commonly used by the average homeowner because of the risks they pose. It would seemingly be easier to have the damages be investigated so as to reach a payout that will be able to cover the entire cost. Traditional insurance will provide this even with the threat of deductibles
Final Takeaway
Parametric insurance isn't used by the average homeowner. Instead, it is used to cover risks on a larger scale, mainly agriculture and natural disasters. This is especially common in developing countries, where they are most prevalent.
The best way to think about parametric insurance is that it is simply a healthy alternative to its traditional counterpart. It has its flaws, but it is just as useful. One only needs to be knowledgeable of its inner workings to best take advantage of all that it offers.

You can get your Real-Time and Historical Cryptocurrency Data with Finage free Crypto Data API key.
Build with us today!