by Finage at December 25, 2021 5 MIN READ
---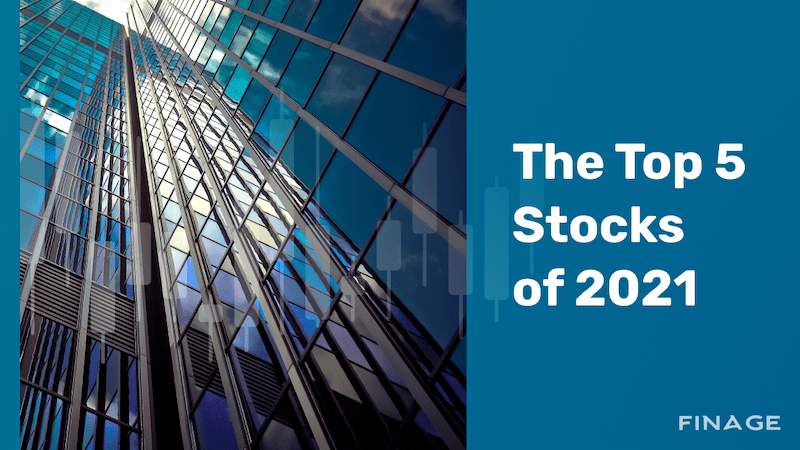 The Top 5 Stocks of 2021
The first and last five stocks in the Russell 1000 Index were selected by finding the stocks with the highest and lowest total returns to date, with the market closing on December 3, 2021. The Russell 1000 Index is an index that consists of the top 1000 companies whose stocks are traded in the USA by market capitalization, and by the same measure, it constitutes approximately 92% of the total US stock market. Therefore, it can be seen as a useful proxy for the entire US stock market, especially for large-cap stocks.
The biggest stake in 2021 is video game retailer GameStop Corp. (GME), whose shares are yielding a total of 815.0% YTD through December 3. The worst-performing stock this year is fintech firm StoneCo. Ltd. ( STNE ) delivered YTD total return - 81.8% over the same period. For comparison, the Russell 1000's YTD total return was 20.5%.
Top stocks have been driven by a number of different themes this year. The "meme stock" craze earlier in the year led to the rise of many short-circuited stocks like GameStop. AI and COVID-19 vaccines helped boost two of the other top five stocks, and rebounding oil prices led shares in the last two of the top five. As for the bottom five stocks, two were payment processors that had suffered significant declines in their business during the pandemic, two were relatively recently IPOs and never met expectations, and one, Peloton, was suffering from pandemic conditions that had boosted their stocks. started to decline. All five suffered from disappointing earnings results.
Top 5 Stocks of 2021
1-) GameStop Corp. (GME)
GameStop is a retailer of video games and other entertainment products. In the US, Canada, Australia and Europe, GameStop operates both e-commerce and brick-and-mortar stores under the names EB Games and Micromania. Its products include video game hardware and accessories, software and collectables. GameStop reported a net loss of $61.6 million on net sales of $1.2 billion in the second quarter of the fiscal year 2021 (FY), the quarter ending July 31, 2021. The loss was $111.3 million.
Shares of GameStop skyrocketed earlier in the year when Reddit users on the r/wallstreetbets subreddit forum encouraged retail traders to start a short squeeze on the stock. A short-term squeeze occurs when a very shorted stock unexpectedly rises, forcing short sellers to cut losses and close their positions by buying the stock, pushing the price higher. AMC Entertainment Holdings Inc. (AMC ) and Blackberry Ltd. Shares of other severely shorted stocks such as (BB) have also risen sharply among the so-called "meme stock" phenomenon. While GameStop's stock retreated from its highs reached earlier in the year, it has still risen significantly since the beginning of the year, and It made it the highest stock of 2021.
2-) UpStart Holdings Inc. (UPST)
Upstart Holdings is a lending platform that uses AI to assess the creditworthiness of potential borrowers. Upstart uses machine learning to look at more variables than regular credit risk assessments and says this will enable banks to lend to more borrowers with less risk due to the increased accuracy of this method. Upstart reported a net income of $29.1 million on revenue of $228.5 million for fiscal 2021, which ended September 30, 2021. This was a 201% increase in net income and a 249.5% increase in year-over-year (YY) revenue.
Shares of Upstart have exploded since they began trading on the Nasdaq following the company's December 2020 IPO. One of the main factors driving the sharp rise is the company's strong fundamentals: it is profitable and growing fast. But another factor is that the business model is focused on AI, one of the most important investment themes of recent times.
3-) Moderna Inc. (MRNA)
Moderna is a clinical-stage biotechnology company focused on the discovery and development of messenger RNA (mRNA) therapeutics and vaccines. Develops mRNA drugs for infectious, immuno-oncology, rare diseases, cardiovascular diseases and autoimmune diseases. The development line has 23 current programs, 15 of which have entered clinical trials. Moderna reported net income of $3.3 billion on revenue of $5.0 billion for fiscal 2021, which ended September 30, 2021. Net income was a significant improvement over the $233 million net loss reported a year ago. Revenue increased nearly 32 times over the previous year.
Moderna's soaring sales and shares last year were driven by the success of its vaccine against COVID-19. The vaccine received an emergency use authorization (EUA) from the US Food and Drug Administration (FDA) in December 2020. Pfizer Inc. and BioNTech SE, the second COVID-19 vaccine to be approved, following the vaccine. EUA approval earlier the same month. The company made its first profit in early 2021 as revenue grew from sales of the vaccine, its first product to receive FDA approval.
4-) Devon Energy Corp. (DVN)
Devon Energy is an oil and gas exploration and production (E&P) company. It has a portfolio of assets based in the USA and is primarily engaged in the research, development and production of oil, natural gas and natural gas liquids (NGLs). Devon Energy reported net income of $839 million on revenue of $3.5 billion for fiscal 2021, which ended September 30, 2021. Net income improved significantly from a net loss of $91 million in the same quarter last year and revenue was up 224.8% year over year. Shares of Devon Energy have been greatly boosted this year by investor optimism over the entire energy sector, amid rising oil prices rebounding from last year's pandemic lows. The rise in oil prices increased the profits of oil producers.
5-) Continental Resources Inc. (CLR)
Continental Resources is an oil and gas E&P company. It is the largest homeowner and among the largest oil producers in the Bakken oil field region of North Dakota and Montana. The company operates in the North, South and East regions of the USA. Continental Resources reported a net income of $369.3 million on revenue of $1.3 billion for fiscal 2021, which ended September 30, 2021. A significant improvement from the net loss was revenue of $79.4 million in the prior quarter, up 93.7% year-on-year. Like Devon Energy, Continental Resources is benefiting from soaring oil prices this year, reaching the highest levels not seen since 2014, as the global economy recovered from last year's pandemic shock and suffered abundant supply shortages. Not all oil companies have benefited to the same extent.

You can get your Real-Time and Historical Stocks Data with Finage free Stock Data API key.
Build with us today!