by Finage at June 9, 2022 5 MIN READ
---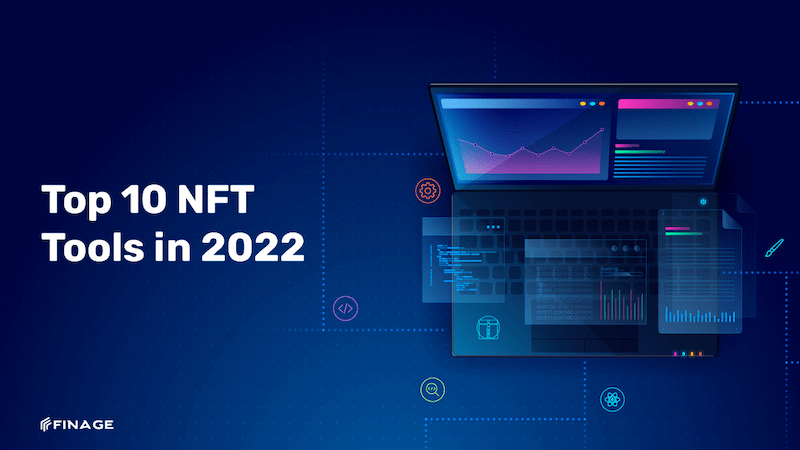 Top 10 NFT Tools in 2022
1. Rarity.tools
Website: https://rarity.tools/
With 96K Twitter followers, Rarity.tools is frequently chosen as the most popular platform for researching premium NFT gems.
Rarity.
Allen Hena (@0xAllen_) is the creator of Tools. His company excels at sorting NFTs by volume, average price, and listing collections for sale. Every collection, including BAYC, Azuki, and others, has its own dedicated page with every piece from that collection and its analysis. Each NFT has detailed specifications outlining various aspects of the item, as well as a validated rarity score.
With the NFT project's simple Twitter, website, and discord links, the website also gives a thorough list of the newest collections uploaded and planned projects.
To assure the quality of projects, the platform has a listing charge of 2 ETH and a set of standards that must be completed for successful listing. Users do point out, however, that the platform does not feature all collections and that the listing cost can be prohibitive for many NFT artists.
2. Nansen
Website: https://www.nansen.ai/
Nansen is a blockchain analytics platform founded by Alex Svanevik, Evgeny Medvedev, and Lars Bakke Krogvig with major seed phase investors such as Andreessen Horowitz. It integrates on-chain data with a huge and continually growing database including millions of wallet labels.
This allows NFT fans to see a leaderboard of NFT wallets ranked by profits, minting fees, secondary market fees, and other factors.
Despite the fact that Nansen was launched in 2019, it is still a top provider of Ethereum analytics and statistics and has become a mainstay in the armory of many NFT enthusiasts.
3. Trait Sniper
Website: https://app.traitsniper.com/
Son Nguyen is the creator of Trait Sniper, a popular NFT tool for sniping and flipping with over 28k Twitter followers.
Trait Sniper gives you an inside look at rarity and keeps you up to date on impending NFT projects. When a new project is released, Trait Sniper's bot calculates its rarity in 30 seconds, with real-time updates available in the subscription edition. Users may corner the market before the crowds with the commercial version's adjustable gas setting and MetaMask and OpenSea features. Users can also request reveal requests and receive alerts, as well as filter their results by trait, rank, and price. Users, on the other hand, complain about the 'congested' user interface, which is moderately inconvenient.
4. Rarity Sniper
Website: https://raritysniper.com/nft-collections
One of the most promising utility NFT tools is Rarity Sniper. On this list, it boasts one of the friendliest and sleekest user interfaces. It supports Ethereum, Solana, Polygon, Binance, and a slew of other blockchains, as well as over 1250 approved collections. It gives NFT rarity ratings, ranks, and attributes, as well as having 300K and 389K Discord and Twitter communities, respectively.
It also features sections containing NFT news, a calendar, a chrome plugin, and a stats function that will be introduced shortly.
5. NFTHelpr
Website: https://www.nfthelperbot.com/
NFTHelpr is a new tool on the block that will launch in May 2022, although it is more of a curator of the best out there than a tool.
Founder @stojjee designed a curated platform to access the greatest tools out there, including traditionally powerful products as well as formidable tools recently entering the market, due to growing market competitiveness of NFT trading and analytics tools.
The NFTHelpr staff has carefully selected each tool to ensure that NFTHelpr's 200 Value Pass holders may trade quickly, easily, and without fuss.
6. NFT Stats
Website: https://www.nft-stats.com/
NFT Stats is a popular website since it provides basic information about NFT collections to enable consumers buy and mint them. Its home page shows the amount of NFTs sold and the trading volume in the previous 24 hours. NFT Sales, NFT Collections, and Rarity Explorer are the three primary functions of the website.
'NFT rankings,' which includes tracking of top trending collections, new collections, and the top collections in the last 30 days, is the most requested feature. NFT Stats provides a brief summary of top collections sold throughout various time periods (24 hours, 7 days, and 30 days) to determine how much and when an item was sold for. Each collection has its own page with information on the collection and a price table.
7. Icy.Tools
Website: https://icy.tools/
The user-friendly interface of Icy.tools simplifies NFT analysis for hobbyists. The website starts with featured "Trending Collections" for the previous day, and it also has a "Discover tab" where you can check top minting NFTs in the last hour, as well as top selling in the last 6 hours, 1 day, and much more. If you're searching for a quick flip, you may also narrow the ranking of trending collections down to 15 to 30 minutes.
Icy.tools also gives basic statistics for each collection, such as the floor price, average price, and volume. Under the buyer and seller window, its premium subscription allows access to full market research of each collection and trading history of any wallet address.
8. NFTBank
Website: https://nftbank.ai/
Daniel Minsu is the company's founder. NFTBank was founded in 2021 by Kim and significant seed round investors such as the Digital Currency Group and #Hashed.
NFTBank equips investors with services such as calculated ROI, activity, expenditure, tax filing, and even automatically chosen 'Deals of the Day' through a gorgeous and intuitive user interface. Users of their platform, they claim, find NFT investment prospects 10 times faster than non-users. It's also a popular NFT portfolio service because it supports all NFT projects and blockchains.
9. CryptoSlam
Website: https://cryptoslam.io/
With a $9 million strategic seed round, CryptoSlam is a newcomer to the NFT tools industry. This tool, created by Clay Coffman, monitors the NFT market and organizes collections by trading volume, with each collection having its own dedicated page that covers live sales, marketplace, and minting.
Similarly, each NFT within a collection has a website that lists the pricing, special features, and rarity. It assigns a volume ranking to NFTs based on worldwide indexes, fan tokens, and NFT collectibles sales.
10. Moby.gg
Website: https://moby.gg/
Moby Insight's Moby.gg combines real-time NFT monitoring and analytics with one of the most slick user experiences and interface designs.
It provides real-time information on sales, whales, mints, and wallet activities. It also offers rankings on markets and mints, as well as 'Smart Alerts,' which alert users when a new NFT is released.
The platform's services, as well as a library of historical data and live graphs, are all available for 0.1 ETH. Moby.gg also gives information on transactions that are taking place, especially during pre-sales, to help users gauge the popularity of the NFT.

You can get your Real-Time and Historical Cryptocurrency Data with Finage free Crypto Data API key.
Build with us today!