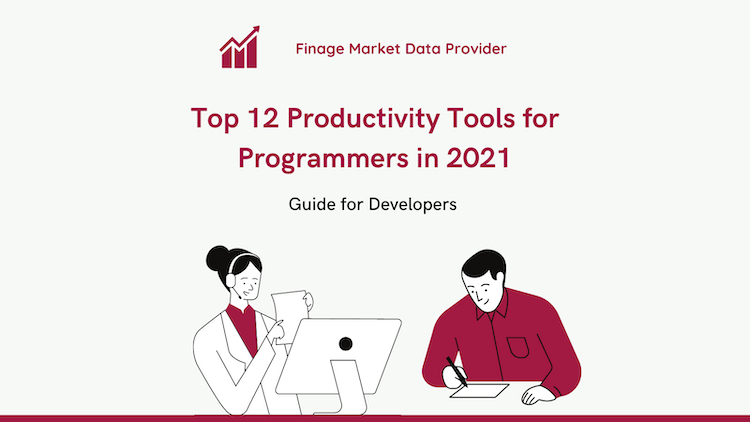 Note to programmers: it's not the time to create new tools that optimize productivity. Just think about the tools that already exist and can optimize your well-being during the hard-working time. Don't burn out and see the top 12 productivity tools for developers and programmers in 2021!
Developers play a key role in creating and developing new software. The entire process can be challenging and developers are likely to face a lot of difficulties from ideation to development. So providing software that can optimize the work of developers is of utmost importance.
The software is designed to reduce the burden that comes with certain tasks and automation of most activities. This promotes productivity and innovation from the development team. These solutions are perfect for overcoming unpredictable challenges. Here are the top 12 productivity tools for developers!
Contents:
Codeanywhere

Sublime Text

F.lux

4.Tuple
Habitica
The Silver Searcher
Codestream
Walrus.ai
Codeship
Uppy
Codeshare
AWS cloud9
1. Codeanywhere
Codeanywhere is a solution that provides an efficient way for developers to collaborate. It offers a cloud-integrated environment with real-time collaboration between you and your team. Developers also have access to smart editing tools. Codes are also analyzed regularly. With Codeanywhere, you can work from anywhere and edit code on the server of your choice.
2. Sublime Text
Sublime Text is an editing tool that works on several platforms. Developers can use it to edit code in different programming languages. You can easily go through files and switch from one project to another. Sublime Text is flexible, so users can customize it to suit their specific needs. Make quick changes to files through the great API that Sublime Text provides.
3. F.lux
The long hours spent in front of a screen can damage the eyes. F.lux is designed to reduce the light on the screen, which reduces the risk of you damaging your eyes. It works across all devices and can be adapted to suit the display on your device.
4. Tuple
Are you tired of using Zoom to work with other developers? Then you can opt for Tuple. This is a pair programming tool. It offers screen sharing. You also can control remote machines on low latency connections. Improve collaboration with remote developers through high-quality videos, audio, and UI.
All you have to do is tap on the list of other developers and you can start collaborating. There is no need for invites as you can connect with other developers directly on Tuple.
5. Habitica
Staying motivated is important especially for long projects. Habitica is a solution that gives developers points when they complete daily tasks. It uses gamification to reward developers. The benefits of Habitica include:
Motivates users to complete real-life tasks

Allows users to track goals

Provides users with rewards

Makes work fun
6. The Silver Searcher
Instead of spending countless hours sifting through code, use the Silver Searcher. This solution provides developers with a quick way of searching for code. It ignores certain files so that you have results that will be more relevant to your search. It works well with Windows and Linux.
7. Codestream
Sharing code is important in programming. Codestream is a great option for streamlining workflow and sharing code with team members. It supports all types of coding languages. You can discuss your code language with other developers without a pull request.
8. Walrus.ai
This solution is for those searching for a cheaper way of testing code. Walrus.ai provides developers with testing through just one API call. Additionally, you have access to automated testing which provides more efficiency. It is also easy to use. All you have to do is send your test to Walrus.ai and you will get results within minutes. Avoid spending a lot on in-house or manual testing by using this cost-effective solution.
9. Codeship
Codeship is a great choice if you want a secure way of launching applications. Codeship tests applications before you launch them. It runs tests on applications. If the tests are successful, the application will be launched automatically to the desired server.
10. Uppy
Uppy is the way to go if you are looking for an efficient method of uploading files on all projects. It allows you to upload your files where you need them. Also, a puppy can be integrated with different frameworks, which means you can easily access your files from anywhere.
11. Codeshare
If you want to share different concepts about coding and programming with your team then use Codeshare. With this solution, you can create a room online through videos. The best part is that anyone who joins the online room will have real-time access to your code.
12. AWS cloud9
AWS cloud9 is the perfect tool if you want something that doesn't require installation. You can use this solution to write and run code on a browser. Users have access to Code from anywhere, be it at home or the office. Also, it is possible to code regardless of the type of system that a developer has. Being a cloud service, this solution makes it easier for developers to share code with others on the team.
Conclusion
Using solutions has many benefits for developers, especially when you have to build your own platform. It increases efficiency and reduces the amount of time it takes to complete tasks. Several solutions are available that increase productivity for developers. Some are aimed at facilitating coding while others provide a more convenient way for developers to collaborate. Also, others increase motivation and offer faster means to search and edit code. Streamline workflow, keep your team motivated, and promote productivity by automating some tasks.
Some of these solutions are free while others require you to pay for a subscription. The solution that you pick will depend on your goals and budget. Hopefully, the above-mentioned tools will help you get started!

You can start building your own Platform with Finage free Market Data API key.
Build with us today!