by Finage at December 9, 2021 4 MIN READ
---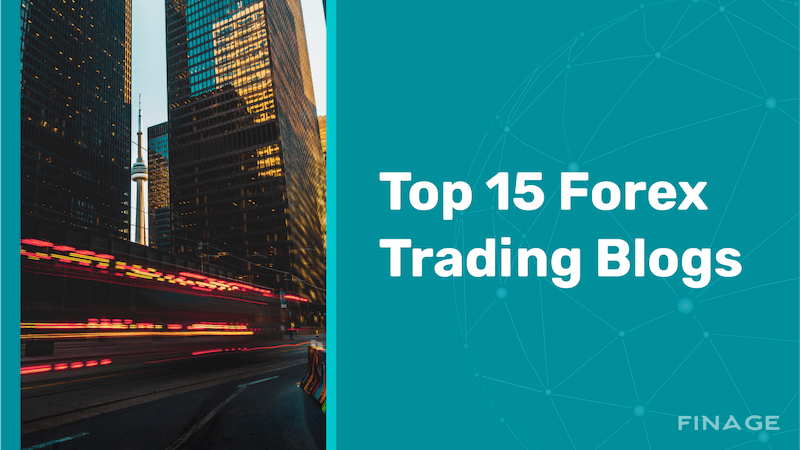 Top 15 Forex Trading Blogs You Should Start Following Right Now
Are you looking for a forex trading blog? Here are the top 15 picks which can provide you with proper information on how to trade.
Did you know that Forex markets had a daily turnover of about $6.6 trillion in 2019? The 2021 market has made approximately $2.4 quadrillion. These numbers suggest that the Forex market's worth is increasing by the day and right now the best thing will be to know how to invest successfully.
You can decide to invest in stocks from huge multinational companies like Apple or Tesla to small startups. But we are going to explore some of the best Forex trading blogs to get an insight into the world of stocks and investments, so you can choose the right options!
Contents:
Daily FX

HotForex Analysis

FXStreet

ForexLive

BabyPips

Lite Forex

Forex MT4 Indicators

Learn to Trade the Market

Tradeciety

Forex Crunch

Investing

MQL5

Official InstaForex Blog

NinjaTrader Blog

RoboForex Blog
Conclusion
The Best Trading Websites to Follow
When you want to know where to invest, when to invest and which is the best website to go to so that you can receive authentic information. Here is a list of the top 15 trading blogs.
1. Daily FX
The source is one of the best trading websites to get detailed information on the daily charting of stocks, news, indicators and analysis. It has every tool on the website that you need to invest in the foreign exchange market.
2. HotForex Analysis
It is a part of internationally-licensed entities (HF Markets groups) and gives one of the best and authentic information. If you want to know which way the market is shifting towards, this is the best blog to read.
3. FXStreet
If you are looking for real-time analysis in the foreign exchange market, this is your go-to website. Whenever you are in doubt regarding economic decisions, trading and investing stocks, check out FXStreet.
4. ForexLive
The website originated in Ontario, Canada and had authentic information regarding live trading news, analysis, live quotes, headlines and webinars by renowned stocks specialists. There are about 30 posts every day, and you can get updated news the second it is released.
5. BabyPips
If you are just starting to keep your foot in the trading industry, this website is the best way to start. It stays with you as you embark on this journey slowly. BabyPips helps you trade money safely and makes sure your journey is enjoyable.
6. Lite Forex
Interested in getting data about cryptocurrency trading? Then this is your one-stop destination. Along with technical and fundamental forex analysis, conventional trading analysis, updated charts and financial news, it also provides news on cryptocurrency.
7. Forex MT4 Indicators
Originated in Singapore, the website is special since it helps traders who are here for short-term wins as well as long-term returns. There are separate sections for them. Also, this website has a goal to provide free resources about every forex trading technique apart from other fundamental technical information about trading stocks.
8. Learn to Trade the Market
The blog was started by Nial Fuller, who is one of the most followed trading specialists. This blog has videos, articles, and Forex trading commentary which makes your trading fun and definitely not boring. You can learn here from the best and trade the stocks in the best manner.
9. Tradeciety
This website offers transparent trading information, inclusive of trading psychology and how the people inside the trading society think and work. This can be really helpful while investing a huge amount of money. Tradeciety helps other people to trade with some amazing results.
10. Forex Crunch
Whether you are a beginner or an experienced Forex trader, the website provides information for traders of every level. They also contain tutorials for beginners that provide step-by-step information on trading, stocks, and cryptocurrency. It is all about the foreign exchange markets, news, opinions and commentary by trading specialists.
11. Investing
The site is specifically about Forex, and it covers the latest updates on currency markets and financial news stories. If you are looking for something specific on the Forex, this is the place to turn to.
12. MQL5
The MQL5 website started in Cyprus and has grown tremendously ever since. This blog talks about how to create a trading platform, the language used to create it, and the creation of trading bots. Also, it provides tips for automated trading and how to use it for your profit. You can get tips regarding technical indicators, scripts and libraries of functions.
13. Official InstaForex Blog
The Official InstaForex blog helps in getting online trading services. They usually help in receiving authentic fundamental Forex updates, news, charts, and analysis. It is one of the best in Asia. InstaForex as the name suggests provides you with instant changes which can help you make huge profits.
14. NinjaTrader Blog
NinjaTrader is one of the recent websites that started in the US, and it has had amazing growth with over 40,000 members since 2003. In-class technology, discounted commissions, and round-the-clock support are just some features of NinjaTrader.
15. RoboForex Blog
The blog is created by an international broker with offers to trade over 5 types of assets and 10,000 instruments. This website provides easy access to complicated techniques and products for investments. The content on this site is picked by specialist traders and experienced stocks investors. Therefore, it is deemed as a trustworthy Forex site.
Conclusion
To finalize, we can say that Forex websites are plenty on the internet and you might get overwhelmed. Therefore, these blogs have been handpicked by content, increasing members and daily activity. By using these Forex trading blogs, you can receive an authentic and updated analysis of the market so that you can invest in stocks appropriately.

You can build your Forex Trading platform with Finage FX Data Feeds.
Build with us today!