by Finage at January 5, 2022 4 MIN READ
---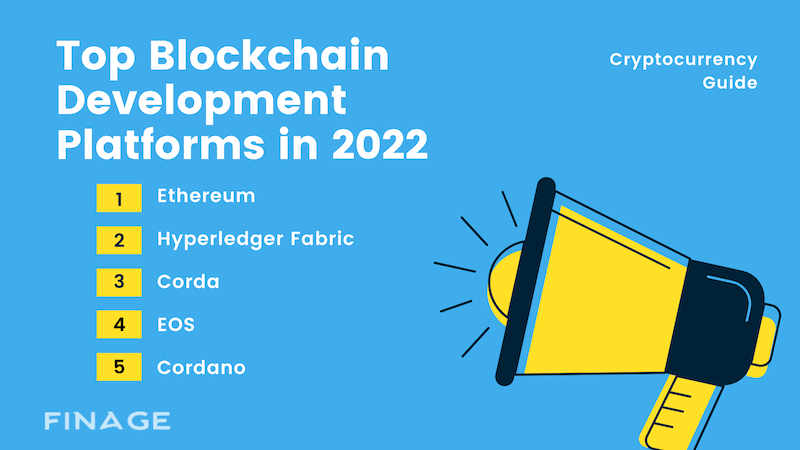 Top Blockchain Development Platforms in 2022
The Blockchain industry has been growing at a rapid rate. This is mainly because more people are turning to blockchain solutions. According to Statista, the Blockchain industry will be worth 163 billion USD by 2021. This includes banking companies, smart contracts and cyber security.
Blockchain payment solutions are promising to provide more security which makes this technology attractive for many. Governments are also turning to this technology to provide security. Developers can make better solutions using this technology. Because of this, there is an ever-growing need for Blockchain platforms. So what are the best platforms for Blockchain technology?
Contents:
Ethereum

Hyperledger Fabric

Corda

EOS

Cordano
1. Ethereum
Ethereum is one of the oldest blockchain development platforms that has been around since 2013. It uses a proof-of-work basis which makes it a favourite among developers. One of the biggest advantages is that it can be used by anyone. Developers can design decentralized applications through the Ethereum Virtual Machine. This is a computer that supports smart contracts.
The EVM allows developers to build decentralized apps called DApps. These apps are used in the finance, legal, health and real estate industries.
Pros:
Provides high security

Low idle time

Vast functionalities

A huge community of developers
Cons:
Turnaround speed is slow

Expensive

Not scalable
2. Hyperledger Fabric
Hyperledger Fabric originated in 2016 and is maintained by the Linux Foundation. This platform promotes transparency. It helps developers maximize time and effort on tasks. It is a good platform for companies that want sophisticated projects.
Hyperledger uses a modular design to create a wide range of applications. This also allows architects to choose approaches and smart contracts. Applications can be built using JavaScript and Java. This platform is easy to use and the latest version of Hyperledger Fabric offers improved privacy for users.
Pros:
Offers advanced protection

Highly scalable

Works well with non-crypto organizations
Cons:
Transparency is questionable

Few user cases
3. Corda
Corda was initially created for monetary functions in 2015. But currently, its functions extend to creating permissions. It now covers the health, banking, agricultural and insurance sectors. Developers can use smart contracts on Corda while maintaining maximum security.
One thing that makes this platform stand out is how all procedures are optimized. This reduces overall expenses. Smart contracts can be developed using Java and Kotlin. All transactions are in real-time. This improves performance by a significant margin. Apps created with Corda are called CrDapps. These apps are decentralized and very scalable.
Pros:
Highly Scalable

Very reliable

Highly adaptable

Cost-effective
Cons:
Lacks mining capabilities

Operations are not available for all nodes

Doesn't provide cryptocurrency
4. EOS
EOS is one of the newer blockchain platforms. It was launched in 2018. It is considered one of the best platforms mainly because it provides increased security. It uses a Proof-of-stake basis to provide efficiency. Developers can create reliable financial apps at lower costs.
Designers are also capable of designing their networks which they can use to implement smart contracts. Another advantage of EOS is the fact that developers have access to a document that outlines how to use smart contracts. Users can create multiple apps seamlessly. EOS makes sure that its users are up to date with the latest changes in the blockchain sector.
Pros:
Provides fast speeds

High customization

Very reliable

Developer Friendly
Cons:
Limited capacity to renew contracts

Not highly decentralized

Price fluctuations
5. Cordano
Since being launched in 2014, Corsano has become one of the best blockchain development platforms out there. When it comes to cryptocurrency, Cordano comes third, with Ethereum and bitcoin being the top contenders. Currently, this platform is completely decentralized. Like the other platforms, Cordano uses smart contracts. The chief goal is to create highly scalable decentralized apps that are very fast.
Apps on Cordano offer maximum visibility and interoperability. This platform is currently working on decentralization that will make monetary transactions more secure. Cordana is also working on NFTs and stable coins. It is constantly looking for ways to create new ventures for anyone looking to blockchain technology.
Pros:
Low operation costs

Emphasis on security

Highly sustainable
Cons:
Slow maturity

Requires extensive testing
Final Thoughts
Blockchain technology is taking the world by storm. It is being used by various sectors because of high decentralization, scalability, and security. There are so many Blockchain development platforms for developers. Some of the top ones include Etheruem, Hyperledger Fabric, Corda, EOS and Cordana. Each has advantages that make them attractive for developers.
With so many options for Blockchain development platforms, making a decision is crucial. Make sure you have your needs in mind. This helps you to choose something that will help you to achieve your goals. Also, look at the market and what functionalities a platform will offer. The market reputation will guide you as well. It shows whether other users are satisfied with a platform. Working with a professional can help you determine the platform that will work best for you.

You can get your Real-Time and Historical Cryptocurrency Data with Finage free Crypto Data API key.
Build with us today!