by Finage at January 7, 2022 5 MIN READ
---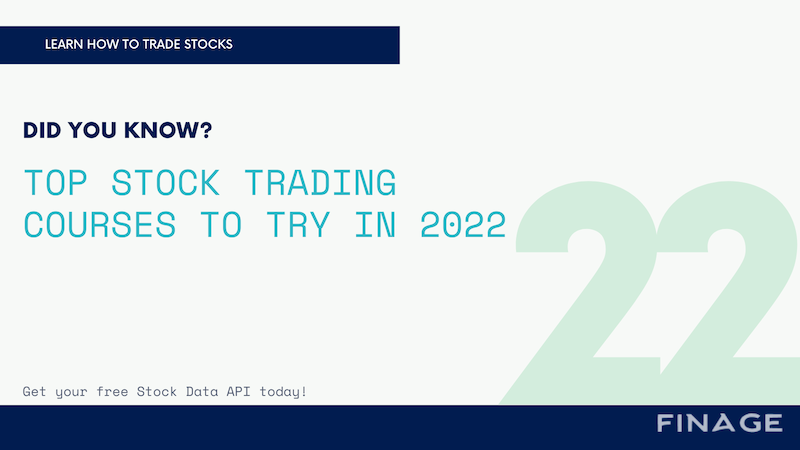 Top Stock Trading Courses to Try in 2022
Happy and excited to start stock trading and investment courses this year? If you want to learn how to trade stocks and check your options where and how to invest, let's check the best trading educational and online courses for beginners and pros. As you know, trading is an activity that involves a lot of risks. If you are not prepared, you might suffer huge financial losses. You might feel like it is similar to gambling, but it is the exact opposite.
There are some news, updates and assessments that you have to read and take into consideration before you invest your money. Therefore, if you are a newbie, we advise you to take up some stock trading courses. The classes can help you understand the basics of trading, find amazing investment opportunities, know the return revenue, interpret the data and finally execute trading flawlessly. If you are an expert in the field, you can upgrade your skills and learn new methodologies.
Contents:
Basics to Advanced & Upgrade Your Learning in the Industry
Learning Style
Tutor
Topics
Support
What Are the Best Trading Courses to Consider in 2022?
1. Thomas Krakow
Asia Forex Mentor

eToro Trading School
Additional Short List with Popular Stock Trading Courses
Basics to Advanced & Upgrade Your Learning in the Industry
If you do not have self-discipline and could not manage your risks, you are setting yourself a costly trap. Before you choose a trading course and make plans on investment, there are various things you need to look at and choose from. Based on the vast and long research, we have come up with the criteria that will help you choose the perfect trading course.
Learning Style
People can start their learning process in a varied manner like through books, videos or by doing practical style. Based on that concept, you have to pick the course that follows your learning style and the one that fits your schedule.
Nowadays, most of the courses have a mix of videos along with PDFs and charts to cover all aspects. Besides, you can find useful materials online and find a convenient way of learning with trial subscriptions.
Tutor
Just because someone had little success in trading in the past does not make them a good tutor. A good teacher has had long experience, including both success and failure. This helps them to analyze and provide you with amazing tips.
Therefore, check the courses with the teachers that have positive and honest feedback. You can find as much information as you can if your potential couch is legitimate or not.
Topics
Yes, you are a beginner, but you can learn the advanced topics too after covering the basics. Make sure the course encompasses the basics and also certain advanced topics of trading.
Also, the course should include a lot of learning materials because that can provide a strong foundation. Before you decide to pay, read the whole course's curriculum and make sure it is perfect for you.
Support
It is not enough to just provide the course materials, the classes have to include some extra classes, for example:
Online webinars,

Trading simulator,

Real-time analysis with a professional,

Forums and chat rooms, etc.
This support features help to put a foot into the real trading world while getting support from your tutor and colleagues. Try to manage to practice as much as you can and do workshops. Now let's check the top courses and workshops you can take into account.
What Are the Best Trading Courses to Consider in 2022?
After going through the above-mentioned criteria, we have picked several trading courses to try in 2022. Let's go through the list.
1. Thomas Krakow
This is one of the best courses present on the internet. They have created 2 courses, one suitable for both the beginners and advanced, while the other one is only for the experienced traders. It is good if you are looking for personal support and help from one of the well-known traders, Thomas Krakow.
Tutor: Thomas Krakow has been in the trading world since the last 7 years and has made a total profit of $9 million.

Suitable for: Beginners and Experience.

List of Topics:
Understanding the Basics of Trading

Trading Psychology

Indicator Trading

Key Market Level Identification and Trading

Depth of Market analysis

Complete Thomas Kralow Strategy Explained

Market Behavior

How to choose the right trading approach, and many more.
Time Period: 150 days + 60 days (202 video lessons)

Tests:
82 interactive tests

145+ quizzes

1 final exam
Standard - $1280

Assisted - $2980

Assisted plus - $19980
2. Asia Forex Mentor
This insightful program called One Core Program focuses on teaching you to trade stocks, cryptocurrencies and commodities. It is best for anyone ready to dive into the trading industry whether you are a beginner, slightly experienced or have an advanced level of trading background and want to learn more. Let's check a few details of the course.
Tutor: Ezekiel Chew who is a well-known financial expert and his words influence the way people trade.

Suitable for: Beginner and Advanced

List of Topics:
MT4 Setup

The Basics

Price Action

Entries and Exits

Business behind trading

Chart Reading

Road to millions formula

Strategies and more
Period: approximately 120-140 days (64 video lessons)

Price: $997 with the first 7 days free (you will be charged on the 7th day)
3. eToro Trading School
Covering all aspects of trading, eToro trading school has been deemed as one of the best in teaching newbies as well some quite experienced traders on how to trade better. Their lessons cover forex, crypto, stocks and many others. It is apt for getting an overview of the market and building strategies for investing properly. Also, several webinars and podcasts can help you grow.
Tutor: Henry Ward who has a 10 years experience of trading and performs deep analysis of the market.

Suitable for: Beginners

List of Topics:
Stocks

Crypto

Trading

Risk management

Building strategies

Investing and more
Period: It is open for an unlimited amount of time.

Price: Free access to videos and guides for beginners.

For an advanced level, one has to sign in.
Additional Short List with Popular Stock Trading Courses
There you go, those are the top 3 best schools and courses to learn stock trading from. There are countless more programs you can get started with. Let's check the shortlist with over thousands of enrollments each month:
If you are scared of investing or trading, this is your chance to upgrade your skills and learn more. Education and knowledge remove all fear, so you can start learning and investing in the right field.

You can get your Real-Time and Historical Stock Data with Finage free Stock Data API key.
Build with us today!