by Finage at April 21, 2022 4 MIN READ
---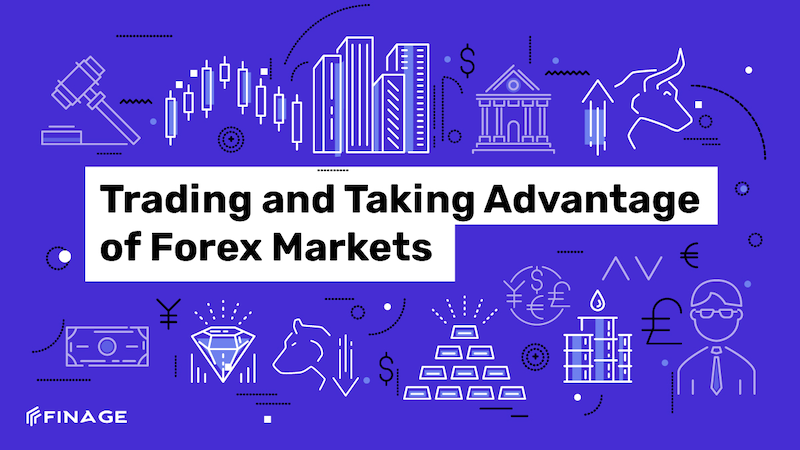 Trading and Taking Advantage of Forex Markets
What is Forex?
FOREX consists of the first syllables of the words "Foreign Exchange". In the simplest definition, Forex is the general name of the market where the currency of one country is exchanged with the currency of another country.
Although this definition is very suitable for the period when the foundations of the markets were laid, today many commodities such as stocks, CFDs, international indices, gold, silver, oil, and cotton, especially parities, are traded in the Forex market.
Forex, which is the fastest developing and most liquid market in the world, started with foreign exchange transactions between banks in the 1970s, and with the introduction of various institutions into the system over time and the widespread development of internet technologies, investment instruments diversified and became popular in the world markets in terms of being shaped according to the demands of investors. has been an important building block.
The Forex market, which is accepted as an international over-the-counter derivatives market, is constantly developing by preserving its dynamic structure, unlike other financial markets, since it is not connected to a single center.
What Are the Instruments Traded In The Forex Market?
Although currency pairs form the roof of the Forex market, precious metals such as gold and platinum; metals such as aluminum, copper; agricultural commodities such as cotton, soybean, corn; energy commodities such as oil, gas; a wide variety of commodities with different characteristics; Shares of very powerful companies in global markets such as Facebook, Alibaba.com, Twitter; world stock market indices such as S&P, Dow Jones, Dax; In summary, hundreds of financial instruments with different return and risk levels are traded at attractive terms.
The Forex Market's Benefits
The world's largest financial market is the largest because it offers some benefits to its players. The following are some of the primary benefits:
Flexibility
The forex market offers traders a great deal of flexibility. This is due to the fact that there is no limit to the amount of money that may be traded. Furthermore, there is essentially no market regulation. This, combined with the fact that the market is open 24 hours a day, makes for an extremely flexible trading environment. On the weekends or late at night, people with regular occupations can engage in Forex trading. They cannot, however, do the same if they are investing in their own country's stock or bond markets! As a result, part-time traders prefer Forex trading since it allows them to have a flexible schedule without interfering with their full-time jobs.
The Forex market is enormous in size and spans multiple time zones! Despite this, Forex market information is readily available. Furthermore, no government or central bank has the power to corner the market or fix prices for an extended period of time on its own. Because of the time lag in transferring information, some entities may get short-term benefits. This advantage, however, cannot be maintained over time.
Trading Options
Traders can choose from a wide range of trading alternatives on the forex markets. Traders can choose from hundreds of different currency pairings to trade. They also have the option of engaging in spot trade or entering into a long-term deal. Futures contracts are also available in a variety of sizes and maturities to fit the demands of Forex traders. As a result, the Forex market offers a solution for any budget and investor with a different risk appetite.
It's also important to remember that the Forex markets have a huge trading volume. The Forex market sees more trade than any other market in the globe. As a result, Forex offers unrivaled liquidity to anyone who wishes to participate.
Costs of Transactions
In comparison to other marketplaces, the forex market offers a low-cost transaction environment. Trading in Forex has extremely low transaction costs when compared to trading in other markets on a percentage point basis. This is due to the fact that the Forex market is dominated by dealers who issue a two-way quote after reserving a spread to cover their risks. In the Forex market, pure-play brokerage is quite low.
Leverage
Among all financial asset markets, forex markets offer the largest leverage. The Forex market's arrangements allow investors to leverage their initial investment by up to 30 times and trade in the market! Profits and earnings are amplified as a result. As a result, even if the changes in the Forex market are typically tiny, leverage allows traders to win or lose a large amount of money!
Conclusion
Trading in the Forex market is very easy, but the success of the transaction, depends on financial literacy, keeping up-to-date with analysis and reports, trading experience, effective collateral management, and the right investor psychology.
With the mission of a conscious investor, GCM Investment customers can benefit from all training, seminars, webinars, and publications for the correct recognition of the Forex market and the development of financial literacy, free of charge.
We hope that this blog post will be beneficial for you. We will continue to create useful works in order to get inspired by everyone. We are sure that we will achieve splendid things altogether. Keep on following Finage for the best and more.

You can get your Real-Time and Historical Forex Data with Finage free FX Data API key.
Build with us today!