by Finage at January 20, 2022 4 MIN READ
---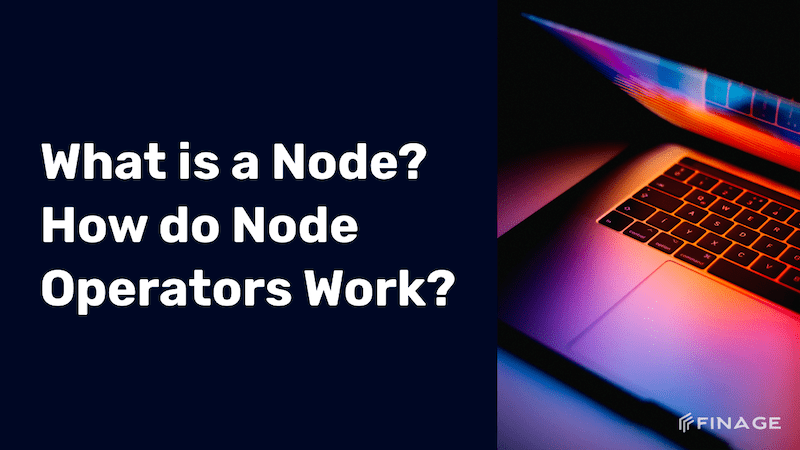 What Is a Node & How the Node Operators Work?
The crypto world is a very interesting and lucrative industry. But there are so many things about cryptocurrency that are complex. One such thing is a node.
Node is a link or connection within a network. It can also be defined as a system that is connected to a network. It has several functions including creating, sending and receiving information. The definition of a node varies with the protocol layer. So what are nodes? What is their importance in the blockchain? Let's continue reading and find out about nodes and how they operate.
Contents:
What Are Blockchain Nodes?
Types of Nodes
Examples of Blockchain Nodes
Bitcoin
Ethereum
Monero
Final Thoughts
What Are Blockchain Nodes?
When the term node is used, it usually refers to blockchains. Blockchains offer decentralized transactions. The decentralized transactions can make multiple copies of themselves within a network. This makes it easier to track every transaction within a network. Nodes are devices that are responsible for tracking and keeping transactions in chronological order.
Aside from that, nodes also provide security within a blockchain. In a blockchain, a node refers to the stakeholders or devices within a network. In a blockchain, nodes refer to the stakeholders or devices within a network. These act as communication points between different networks. Nodes have unique identifiers that allow networks to differentiate between different types. The functions may differ. For instance, there is something known as full nodes.
These have the permission to keep all transactions. These can also validate transactions. Another type is light nodes. These have low storage requirements and thus verifying transactions only requires them to download block headers. However, none of these provides rewards.
Types of Nodes
So what is a node in a blockchain and what types can you find? As mentioned above, there are several types of nodes. One way to classify them is according to function. With this classification, you can have full and lightweight nodes.
Another way to divide nodes is according to availability. Types include online and offline nodes. Online nodes offer continuous updates. Offline nodes on the other hand will only download updates each time they connect to a network.
Examples of Blockchain Nodes
Running blockchain nodes is probably the best option to ensure you have complete control of your nodes. Let's check the examples of blockchain nodes:
Bitcoin
Running nodes on bitcoin requires users to have additional computing resources. This allows you to send transactions and access more notifications. Running bitcoin nodes and mining is not the same thing. For nodes, you will not receive any rewards.
To use notes, you can check the official website. Once there, download the software. Users need to meet certain requirements before using full bitcoin nodes. Before one of the requirements to run a node was for users to download the blockchain. You don't have to have massive storage. The storage you need is as low as 7 GB.
Bitcoin nodes are accessible on Mac, Linux and Windows. You are likely to encounter security issues with these nodes. Also, you may encounter additional costs since running this type of node can be more expensive. Some countries have prohibited users from accessing bitcoin nodes. So check local requirements and regulations before you use these nodes.
Ethereum
Ethereum provides different types of nodes including lightweight, archive, and full nodes. These each provides different synchronizing speeds within a blockchain network. Users have several options for running Ethereum nodes. A popular hardware option is DApp Node. Unlike bitcoin, Ethereum nodes require less computing which makes them favourable. One thing that can prevent your nodes from providing the maximum function is bandwidth usage. Make sure your bandwidth limitations meet the requirements. Some advantages include:
Security

Reliability

Availability
Everyone on a network can view Ethereum nodes because it is secure. Users can also view performance through Etherscan, a node tracker. Etherum gives users the chance to win rewards. You can only win a reward by running a staking node on Ethereum.
Monero
Monero is run by a programming system called daemon. It offers users full nodes. Monero nodes are compatible with Linux, Mac, and Windows. The full node comes with more storage requirements. The bandwidth is also higher as compared to bitcoin.
Monero provides 30 GB of storage space. However, users can expect an increase in storage space in the years to come. Synchronization will also require faster internet in the future. This is especially true if you want to synchronize transactions without any delays. Users can access Monero nodes from their website. Before signing up for Monero nodes remember that they differ from mining regards.
Final Thoughts
Nodes make a blockchain safer. They ensure that all transactions are kept honest. Some blockchains provide incentives as a way of encouraging users to run full nodes. Other users may opt for full nodes depending on their projects. If a user has a big project, opting for full nodes is the best way to guarantee security.
The main disadvantage of running a full node is the overall costs. Also settling up a node can be time-consuming and complex especially if you are not into the blockchain niche. At the end of the day, your success will depend on time, money, and expertise.

You can get your Real-Time and Historical Cryptocurrency Data with Finage free Crypto Data API key.
Build with us today!