by Finage at April 28, 2022 4 MIN READ
---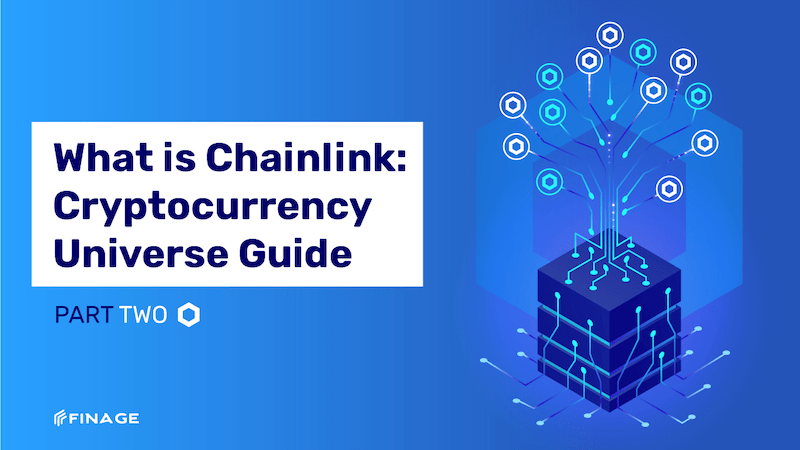 What is Chainlink: Cryptocurrency Universe Guide Part Two
The financial technology company in San Francisco, SmartContract launched ERC-20-Based Chainlink, which is the LINK of Chainlink abbreviation in June 2017. By allowing intelligent contracts by developers to access data streams, web APIs, and traditional bank account payments, it is defined as a safe BlockChain tool that aims to provide the connection between smart contracts and BlockChain.
The ChainLink (LINK) developers have been able to change the need for traditional legal agreements to traditional legal agreements, a bridge with non-blockchain systems as they believe that the basic consensus protocols of BlockChain technology cannot be established with other traditional systems with other conventional systems. indicating what they want to see.
The ChainLink ecosystem is shaped around the LINK Token and the LINK network. With the release of APIs and other platforms, developers aim to increase the applicability and availability of smart contracts in the business world. The ChainLink Network will allow people with a data supply or other API to provide direct intelligent contracts in exchange for ChainLink tokens. Such people integrate API-based services to a smart contract and the BlockChain system in exchange for a direct LINK token.
What does LINK mean?
The word LINK means "link" meaning. It refers to the clickable hypertipplable bridge text or a picture that allows the internet user to be directed to another web page or application using Hypertext.
The cryptocurrency coin LINK was a technology with the potential to serve the whole world and was not available to many sectors in the world. It is fully running with the help of ChainLink users and is involved in the process of data pools and other resources that are similar to non-chain application programs.
ChainLink is a non-center "Oracle (expert)" network as network. It is possible to qualify ChainLink as a "representative" running between the real world and the blockchain. Another utterances ChainLink integrates BlockChain by taking the data in the world and allowing these data to be used in smart contracts.
It's All Features
ChainLink is a mechanism in which real-world data is processed thanks to different NDEs. It allows the data transferred to intelligent contracts as safe and transparent as possible.
The biggest difference in ChainLink is the flow of data from different sources. Thus, it is a table with high accuracy share and smart contracts are protected against possible attacks that may take place.
With the growth of the centralized financial sector, the need for Oracle technology began to increase. Therefore, the use of ChainLink against Flash Loan-type attacks is becoming widespread.
Some projects prefer the central oracle for data flow, and this may cause security deficits. ChainLink is an Oracle without centralization.
The three different intelligent contract types of the ChainLink project are available. Thanks to these contracts, the connection between the chain and non-chain data are provided. At this point, Oracles such as Chainlink are effective in the transmission of non-chain data.
Chainlink Smart Contracts
ChainLink Reputation Convention - Thanks to this Agreement, the process history performance of the Oracle provider is followed. Thus, the performance history and reliability are approved. Then, as a result of the reviews, the reputation is less than nodes.
ChainLink Order Matching Agreement - As stated in the above visual, transfers the processing demands through the request contract to nodes. In addition, it is completed due to the correct number and type of nodes.
ChainLink Clustering Agreement - Thanks to this Agreement, all data is taken from selected oracles, approvals are taken and it is made into a whole. Thus, more accurate results are obtained.
Chainlink's Objectives
Chainlink wants to enhance its support for blockchain settings and make new use cases for hybrid smart contracts possible. Chainlink may have a plethora of potential to connect blockchain networks with off-chain information because large amounts of data and records are not yet maintained within blockchains.
The Chainlink network, which now includes over 1,000 projects, secured more than $75 billion in value in 2021. 15 Chainlink has a total quantity of 1 billion tokens, of which about 467 million have been distributed as of February 2022.
What Can I Buy With LINK?
Instead of being developed for ordinary purchases, the LINK cryptocurrency is utilized to incentivize Chainlink node operators. These network participants are compensated in LINK for securely transporting data to and from blockchains. To get chainlink, you can use Cryptocurrency API.
Final Thoughts
We hope that this blog post will be beneficial for you. We will continue to create useful works to get inspired by everyone. We are sure that we will achieve splendid things altogether. Keep on following Finage for the best and more.

You can get your Real-Time and Historical Cryptocurrency Data with Finage free Crypto Data API key.
Build with us today!