by Finage at July 3, 2021 4 MIN READ
---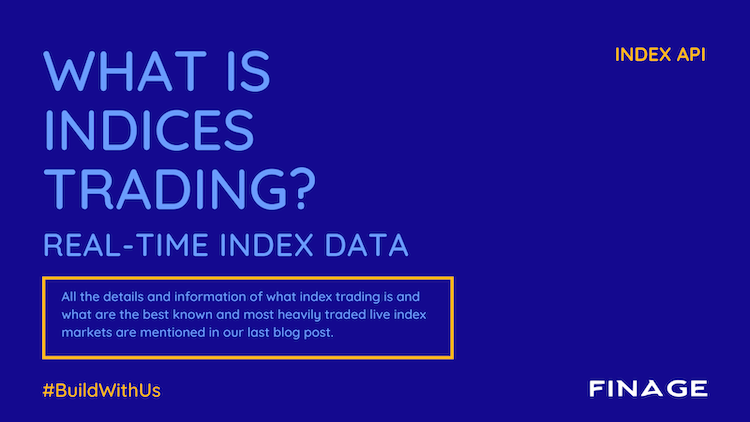 What is Indices Trading?
All the details and information of what index trading is and what are the best known and most heavily traded live index markets are mentioned in our last blog post.
Table of Contents
What is Indices Trading?
Which Indices can I trade on ETX?
Are Indices trading for me?
Final Thoughts
It is known that index investors speculate on price movements in stock indices such as FTSE 100, Dow Jones, and DAX. These most well-known indices are baskets of individual stocks ranked by independent institutions such as large banks, specialized companies. It is also worth knowing that large changes in the wealth of the large company that is part of the larger index may disproportionately affect its performance.
Global Index markets are sometimes referred to as 'benchmark Indices'. These are stock Indices that have a significant impact on the economy and are often held as safe indicators of the economic health of a particular country or region.
Here are some of the most heavily traded live Index markets:
The FTSE 100:

It is sometimes referred to as the 'UK 100'. It also symbolizes the UK's one hundred largest companies by market capitalization.
DAX: Known as the 'Germany 30', this index consists of 30 large German companies.
Dow Jones: Generally known simply as 'Wall Street', it includes the 30 largest publicly owned companies in the USA.
NASDAQ 100: The 'US Tech 100' is a capitalization-weighted index of more than 100 technology companies in the US.
CAC 40: Simply referred to as France 40, it encompasses the 40 largest companies in France by capitalization.
Nikkei 225: It is Japan's largest price-weighted index and consists of the country's 225 largest companies.
Which Indices can I trade on ETX?
Anyone can trade all of our listed Indices using a Difference Bet or CFD trading account. Below are three more popular Index markets.
UK 100
The UK 100 is one of our most popular Index markets, operating since 1984. The UK 100 index is managed by the FTSE Group, a subsidiary of the London Stock Exchange. It also includes stocks of some of the country's most beloved companies. Companies from a wide range of industries such as Barclays, Burberry, Experian, Glencore, HSBC, Just Eat, Royal Mail, Tesco, and Vodafone Group are among the household names that make up the UK 100.
Because of the fact that the UK 100 is made up of a wide variety of companies in different industries, it is less sensitive to factors that could disproportionately affect individual stocks. For instance, a sudden change in the value of sterling or a large economic data release may immediately negatively affect the prices of companies in sectors such as banking, while the same situation may not affect companies such as exports. Therefore, it is less likely when trading Indices like the UK 100 than trading individual stocks.
Wall Street
Wall Street is actually the colloquial name given to the Dow Jones Industrial Average, which was started in 1885. The Wall Street index is currently run by Standard & Poors and Dow Jones. It remains incredibly popular with investors due to its rich trading opportunities. Some of the iconic brands and companies that make up the Wall Street index; Apple, Boeing, Caterpillar, Coca-Cola, Intel, McDonald's, Microsoft, Nike, Visa, and Walt Disney. As with the UK 100, the wide variety of sectors represented in the Wall Street index means that the index is less susceptible to extreme volatility that could affect the price movements of a single stock.
NASDAQ
The NASDAQ index was first introduced in 1971 and is the third-largest US stock index. It consists of 100 large companies in a wide range of industries with a focus on technology. The NASDAQ index includes big names like Apple, Tesla, Cisco, Seagate, Intel, Adobe, Activision Blizzard, NVIDIA, Netflix, and more. While the NASDAQ is principally controlled by the technology sector, there are also companies from industries such as aerospace, consumer services, and healthcare.
Germany 30
The Germany 30 is a popular European index. It is actually popular among investors due to the historically powerful performance of companies on the Frankfurt Stock Exchange. Germany 30 was founded in 1988 and is ranked by market value. It is also managed by Deutsche Börse. Among the companies that make up the Germany 30 index are Germany's largest companies and brands such as Adidas, Allianz, BMW, Daimler, Deutsche Bank, Lufthansa, E.ON, SAP, Siemens, and Volkswagen Group.
As with other major global Indices, it is easy to see the diversity in the different stocks that make up the Germany 30. This is good news for investors looking for medium and long-term trading opportunities with less risk of extreme volatility.
Are Indices trading for me?
Trading global Indices with ETX lets you move both long and short on price movements in main Indices from the UK, USA, Asia, Australia, and Europe.
You will also take advantage of market movement not only in a single industry but also in a wide range of various companies, which provides more opportunities and potentially reduces the risk of exposure to excessive volatility.
Final Thoughts
To summarize, Index price movements and volatility are influenced by factors such as political events, important factors affecting companies in a particular industry, economic data such as employment figures, and major changes in money markets. To learn more about this market, read my article more than once and stay tuned for future blog posts. In today's article, we tried to inspire you and share tips on which indices and how you can trade. We hope that we have been able to achieve the targeted goals. We will continue to do better for you.
We hope that this blog post will be beneficial for you. We will continue to create useful works in order to get inspired by everyone. We are sure that we will achieve splendid things altogether. Keep on following Finage for the best and more.

You can start building your own Index Trade Platform with Finage free Indices API key.
Build with us today!