by Finage at January 17, 2022 4 MIN READ
---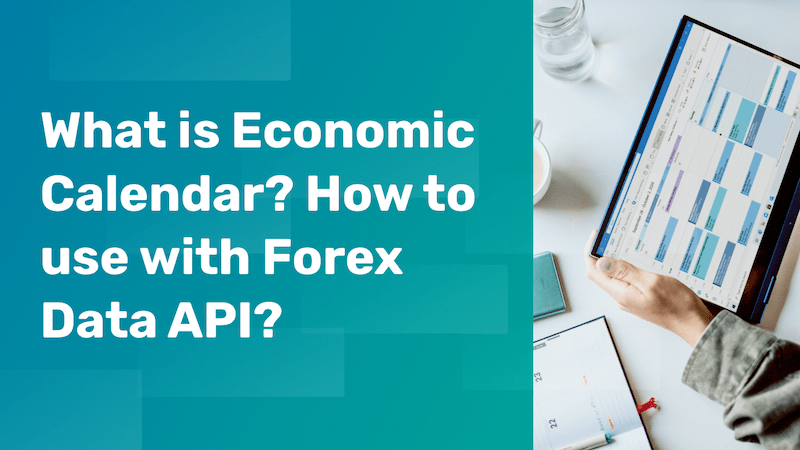 What Is the Economic Calendar? How to Use It with Forex Data API?
An economic calendar refers to a release of scheduled events or dates that might have an effect on the stock market and Forex in general. These dates might make the market go up or down, leading to serious variations in the prices.
If you are creating a portfolio, assessments or chart patterns, this economic calendar is going to be helpful for you. It is quite commonly used by traders and investors to alert the market to tread their steps cautiously. In several countries, this economic calendar is available on financial websites for everyone freely.
Contents:
Basics of the Economic Calendar
How to Use the Calendar
Risks Associated with Calendar
Final Thoughts
Basics of the Economic Calendar
The idea of the economic calendar is to provide significant events in the future that might have an impact on the financial market. This forecast is usually based on recent activities and past events which had a significant influence on the market. Those events might be new home start reports, jobless claims, scheduled changes in the interest rates by the bank, reports from the Federal Reserve and other central banks.
The events can be categorized into mainly a few groups:
Future events projections and

Reports on recent financial events that had an effect
This calendar is quite useful for traders and investors to get an idea of trading opportunities or the misses that should be avoided. Based on the announcement of some trading events, investors put in their money or withdraw. It is definitely a plus if you already have an idea of that event even before it is announced officially.
The economic calendar can be used as a huge profit by short-term traders or newbies. If you can understand the event and interpret it properly, you can open that position and invest your stocks and immediately close afterwards. This can help you to avoid future risks by not trading and earning huge profits based on this investment.
How to Use the Calendar
You may find this calendar on various financial or trading websites. Usually, the listed events are similar, but you might find some variations based on what kind of events the website and its users are interested in. For example, you might be interested in cryptocurrency as you are investing in them while someone else might be looking for significant events affecting the corporate world since individuals are trading stocks in Apple or Samsung.
Some websites also let you filter events based on your focus. Additionally, it also depends on the country where you are trading. While most websites will have their focus on the United States Exchange rates, there are others that provide information about regional events that can have a significant influence over the market.
It is especially beneficial when combined with the Forex Data API. Forex Data API provides the traders and investors with information related to different currencies and their position in the market. As an example, we can mention that the USD has a stronghold over the market whereas the Euro and Canadian dollar is vulnerable as a result of COVID.
As a trader, the data about live exchange rates and economic events can open several doors of opportunities. You can know when to invest and when to withdraw and avoid huge losses. The best thing about using the economic calendar tells you exactly when to put in the money and get amazing returns. If you are looking forward to trading for a short-term period, using both the Forex API information and the important economic events can provide you with the essential data required to know when to invest.
Risks Associated with Calendar
Yes, you might receive the necessary information from the economic calendar but the economy and trading comprise numerous categories like cryptocurrency, corporate, financial and others. The free calendars are limited in that section, and they might just provide the events of only one category. Consequently, the traders like to create their own calendar in which they can mark the events that are crucial to their area of trading and avoid misunderstandings in the future.
Most of the free calendar mentions the events by the central banks and the government, but there are countless private events that can influence the market. If you create a calendar of your own, you may note those events too and trade accordingly. If you are a trader interested in oil stocks, you might find an economic calendar that just mentions the events related to the US Energy Information Administration.
You, on the other hand, need the dates of major releases from all regions that majorly produce and export oil in addition to the information in the US. You would also benefit from quarterly filing dates of both private and public companies dealing with oil. All this data might not be present in the generic calendars present on the websites for free. It is advisable to customize your calendar based on exactly what you require and cover all the sections of that market.
Final Thoughts
2022 has brought in new resolutions related to making profits and decreasing losses. With every new year comes a new economic calendar with different kinds of events listed. Our advice would be to use those free or premium calendars and take in the information useful for your sector of trading. You may even create your own calendar wherein you put data from private sectors and customize it as you want. This will help to increase double your profits in no time.

You can get your Real-Time and Historical Forex Data with Finage free FX Data API key.
Build with us today!