by Finage at September 26, 2021 5 MIN READ
---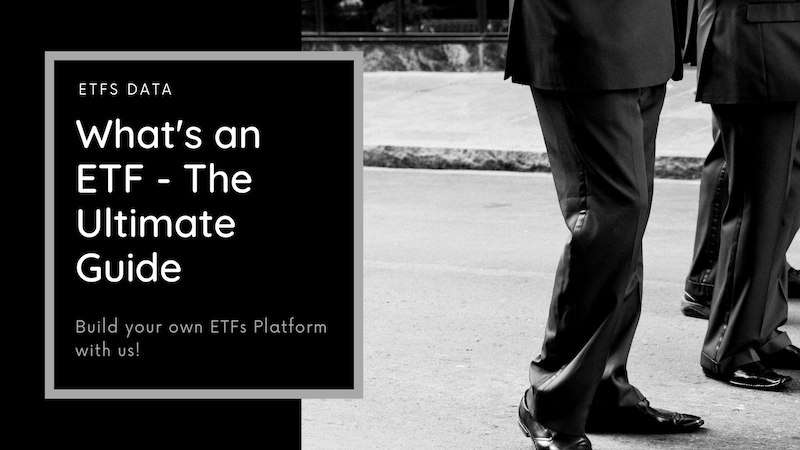 What's an ETF - The Ultimate Guide
You can read our blog post on our page where you can find answers to questions about ETFs called a stock or bond collection that can be purchased at a single price.


Table of Contents
What is an ETF?
ETF Types
Stock Market Tracking ETFs
Sector Tracking ETFs
International ETFs
ETFs that focus on all economies outside the US
ETFs that focus on developed markets
ETFs that focus on emerging markets
Complex ETFs
An exchange-traded fund is a mutual fund that allows you to buy a large basket of individual stocks or government and corporate bonds in a single purchase. Picture ETFs in your head like a tortilla that holds the constituent ingredients of a burrito together, and instead of tomatoes, rice, lettuce, and cheese, these burritos are investment wrappers stuffed with stocks or bonds and far less flavourful to eat with salsa. Let's go into a little more detail on this subject now!
What is an ETF?
An ETF is a collection of stocks or bonds that can be purchased for a single price. Unlike mutual funds, ETFs can be traded throughout the entire trading day, just like stocks on an exchange. A lot of popular ETFs track well-known stock indices such as the S&P 500. You probably can say that the ETF is a relative of the mutual fund, which is another way to buy many stocks at once. However, there are a few key differences between ETFs and mutual funds. While mutual funds tend to have human mutual fund managers who actively trade stocks in and out of the fund based on what they predict will go up or down, the vast majority of ETFs are not run by humans.
On the contrary, many ETFs are programmed with an algorithm that simply tracks an entire economic sector or index, such as the S&P 500 or the US bond market. This is why mutual funds are often grouped as "actively managed" and ETFs as "passively managed," although there are many exceptions to this rule. Unlike mutual funds, which are priced only once a day, ETFs can be traded throughout the entire trading day, just like individual stocks. This also explains why they are called "exchange-traded" funds.
ETF Types
While the range of ETFs isn't as limitless as space, they are surprisingly numerous and diverse. However, their numbers are increasing day by day. Here are the major asset classes and investment products included in the largest ETF categories.
Stock Market Tracking ETFs
ETFs that reflect indices such as the stock or bond market have attracted the most investment to date from individual investors. They are also known as index ETFs or bond ETFs. They are a popular choice for investors to own a small stake in the American economy because they track a particular market index. It is investing in ETFs that try to mirror the S&P 500. It is known as one of the 500 publicly traded American companies with the highest market capitalization. Those looking to diversify their shares with smaller companies like the S&P 400 or Russell may consider ETFs, as other major indices such as the S&P 500 or the Dow Jones Industrial Average or NASDAQ-100 naturally favor the largest companies. 2000, following medium-sized and small-scale publicly traded companies, respectively.
Sector Tracking ETFs
If you want to focus on a specific sector of the economy rather than the entire economy, you may want to invest in a sector-tracking ETF. Two financial research giants, MSC and Standard & Poor's (S&P), developed a global economy classification that could place all publicly traded companies in one of 11 main sectors and called it the Global Industry Classification Standard (GICS).
The sectors included in the GICS are as follows:
Communication Services
Consumer Discretionary
Consumer Staples
Energy
Financials
Health Care
Industrials
Information Technology
Materials
Real Estate
Utilities
International ETFs
Those seeking exposure to international stocks can choose to invest in one of the various types of international ETFs and the ones they think are best suited to them.
ETFs that focus on all economies outside the US
The purpose of an ETF, such as Vanguard's Total International Stock ETF (VXUS), is: to monitor the performance of stocks issued by companies in developed and emerging markets, excluding the United States. So, a single price will give you exposure to most of all non-US economies. You can also invest in ETFs that track certain countries' stock exchanges, such as the Toronto Stock Exchange (TSX) or the Tokyo Stock Exchange (TYO).
ETFs that focus on developed markets
Developed markets include the markets of countries that have well-established economies, generally an established rule of law, and are technologically advanced relative to other countries in the world. If we give an example of these countries; Australia, Japan and Germany. An advanced market ETF will provide broad coverage to all developed markets. BlackRock's iShares MSCI EAFE ETF (EFA) is a prominent example.
ETFs that focus on emerging markets
The term "emerging markets" was coined by economist Antoine van Agtmael in 1981 as an alternative to the negative connotations suggested by the term "third world" while working for the World Bank's International Finance Corporation. Emerging economies such as Brazil, China, Russia, and Turkey are countries with relatively low average salaries per capita, less politically stable than developed markets, but open to international investment. While investing in emerging markets may seem riskier than developed markets, the risk is somewhat mitigated when an ETF invests in many emerging markets.
Complex ETFs
There are many, many ETFs on the stock market that is not necessarily wagered on. There are more complex funds, such as leveraged ETFs and reverse-traded funds. Unless you have a good idea of what you're doing and can't explain to a third-year student how derivatives work, you should steer clear of these ETFs as if you were poisoning ivy at a picnic. But do not be afraid of spiders. Spiders simply refer to Standard and Poor's Depositary Receipts (SPDR), some of the first ETFs. The SPDR S&P 500 has, in fact, been the world's largest ETF for years.
We hope that this blog post will be beneficial for you. We will continue to create useful works in order to get inspired by everyone. We are sure that we will achieve splendid things altogether. Keep on following Finage for the best and more.

You can build your own ETFs platform Finage free ETFs API key.
Build with us today!