by Finage at December 19, 2021 4 MIN READ
---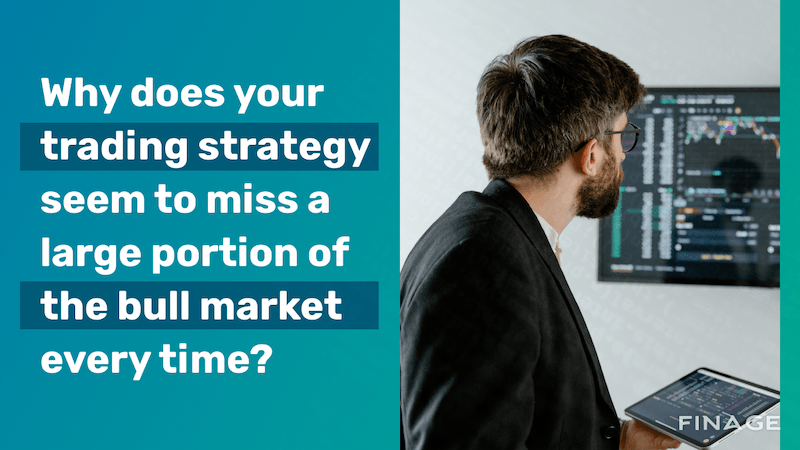 Why Your Trading Strategy Always Seems to Miss a Large Portion of the Bull Market
It would appear as though bull markets are to be a staple of the market cycle. This leads to the fact that they are volatile and subject to quick and drastic changes. They may have a lasting impact on the stock market and its prices.
Now that it is a given that bull markets are a fixture in market cycles, people can take advantage of them (but the opposite is also true). For many people in the business of stock trading, it is hard to benefit from the bull market. Why? First of all, you have to deep dive into the bull market research and create a proper strategy. Let's see other important points.
Contents:
What Is a Bull Market?
Main Characteristics of a Bull Market
Why Do People Fail to Take Advantage of Bull Markets?
Uncertainty

Lack of capital

Lack of understanding of the stock market

Refusal to take risks
Final Thoughts
What Is a Bull Market?
A bull market is described as the state of a financial market where prices are expected to rise and inevitably do so. It is almost synonymous with the stock exchange, however, it can apply to anything that can be traded like currencies and real estate.
A major characteristic of bull treading is that it tends to last for extended periods of time. The constant rise and fall of security prices in the stock market can cause it to last for years. It becomes a bull market when prices keep rising over a long time.
A bull market will require a level of optimism from an investor. However, the belief that the market will flourish and become profitable can be misplaced. The ever-changing landscapes of the business world births and kill trends. A failing trend may result in the investments not doing well. This unpredictability brings a lot of uncertainty, especially in the stock market, where speculation about investment opportunities could be present.
Main Characteristics of a Bull Market
A bull market is often characterized by its appearance during times of great gross domestic product (GDP). At the same time, usually, there is a drop in the unemployment rate and this, in turn, will inspire investor confidence.
Unlike bear markets, bull markets seem to occur during long stretches of domestic prosperity. Despite this, they somehow operate in the same economic cycle.
Why Do People Fail to Take Advantage of Bull Markets?
Some stocks that most benefit from the multi-year bull markets are undervalued. You can actually benefit from the cheapest valuations, lowest declines, longest reserve lives and best free cash flow profiles for juicy dividends and buybacks. However, let's see the following list and main reasons why people do not take advantage of bull markets:
1. Uncertainty
When you consider how profitable bull markets can be, it is hard to forget that they come with a lot of risks. Losing your investment is a scary thing for most people.
This is in fact the main reason bull markets tend to be avoided. It is difficult to gauge whether or not a particular startup will be worth your while because of how many busts there have been.
2. Lack of capital
Often, when people are asked about their investments, many say that they do not have them. A reason for this is that they lack the capital to actually purchase the stock of lucrative companies. This is why some individuals (as far as earning is concerned) do not have put investments in the stock market.
3. Lack of understanding of the stock market
Most people trying to get into the stock market don't understand it for the most part. Buying and selling stock is a skill that can be taught and learned.
Figuring out which stock to buy and sell is difficult and requires knowledge, perception and luck. A speedy, but comprehensive and detailed review of available stocks can help you reach a decision before it is too late.
4. Refusal to take risks
This harkens back to the first point, except that the offence is buying a stock that can be called safe. This refers to the fact that most people will buy a stock that is bound to work and follow a trend that is ongoing. This often means that a vast majority of people will have entered that space, leaving it crowded.
When the trend eventually passes, that stock will fade just as well as its value. It is easy to say that you must invest in a venture that is unorthodox and leaves a lasting impression, but that is easier said than done.
Final Thoughts
The one thing that is certain about bull markets is that they may last long, but they will eventually come to an end. In times of economic prosperity, they bring with them a great deal of substance. This ranges from the common trend to the hidden gem looking to be given a chance.
This period of time is usually the best to buy stock and hopefully profit from it. This can be done by selling that which has a high value and keeping that which might have it in the future. Unfortunately, most of the world does not have the funding nor the knowledge to make such a business venture. This leaves people in the dark in present times and could cause them to regret missing the opportunity in the future. What we can say for sure, to benefit from a bull market you should have stocks in hand and properly plan the next phase.

You can get your Real-Time and Historical Stocks Data with the Finage Data API key.
Build with us today!