by Finage at April 26, 2022 4 MIN READ
---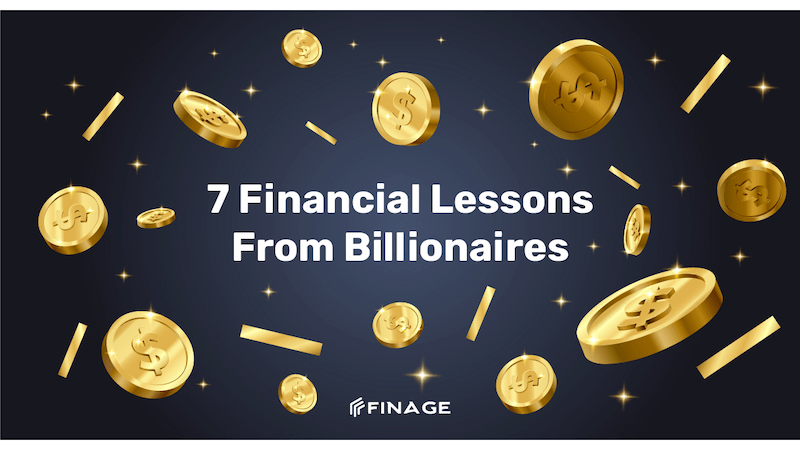 7 Financial Lessons from Billionaires
If you want to be wealthy and successful, remember these 7 Financial Freedom lessons acquired from millionaires. These minor details will significantly impact your ability to achieve tremendous success in the future. To raise your personal income and financial independence, follow one rule: Listen to billionaires instead of "becoming rich" advice from individuals who fail.
Understandably, given their spending, saving, and investment habits, they have amassed a sizable fortune. As a result, their guidance is unquestionably successful in reaching Financial Freedom. Here are a few financial freedom tips to consider. These teachings will improve your life in a positive way.
Preparation opportunities = Luck
It is not by chance that you are wealthy. It is the result of pursuing an opportunity and securing the best possible position within that opportunity. "Becoming a millionaire takes a lot of luck and opportunity," Mark Cuban famously said. Opportunities do not appear anywhere. It's illogical to believe that viewing Netflix will earn you a lot of money unless you're compensated for it.
Luckily comes your way only when you actively seek possibilities to get wealthy and succeed in your career. If you want to do something that no one else has done before, you must first prepare things that no one else has considered. Take chances and believe in your ability to succeed.
Recognize that failure is an unavoidable component of achieving tremendous achievement.
You must find a cause to get up as soon as possible when you fall. Things may not go as planned at first. Accept failures as a valuable life lesson and treasure them. Take, for example, Elon Musk. To bring SpaceX to where it is now, he had to go through many trials and failures (and even explosions). Elon, on the other hand, did not give up easily. He never viewed his efforts to be in vain, but rather as a lesson to better future product tests.
Make a concerted effort to accomplish your best.
Make an effort to exercise. Eating well is important. Every morning, make your bed. Spend time with your loved ones. Do your best, no matter how small it is. Everything you do in the present reflects what you can achieve in the future. Mohammad Dewji, Africa's youngest billionaire, once said:
"Always strive for excellence and never settle for mediocrity. Set ambitious goals for yourself and your efforts will be rewarded."
Every day, work on improving your finances. Effort in the workplace. Make excellence your characteristic. These minor details will significantly impact your ability to achieve tremendous success in the future.
Having a long-term financial strategy
If you want to build up an emergency consumption fund in a year, all you have to do is adjust your living expenditures so that you can save a set amount each month. If you want to increase your stock investment income, you must first determine an income target and then create a timeframe for achieving that goal.
Taking stock of your situation
We should be self-sufficient. "Live frugally to invest the leftover resources in possibilities," as Mark Cuban famously said. If you have a habit of spending more than you earn, you should be prepared for the impending financial crisis. You'll struggle to pay rent, vehicle payments, and a slew of other bills while never living a complete life.
Keep a close eye on your monthly statement and learn how to save and invest. If I had a coffee maker at home, for example, I wouldn't go to Starbucks to save $200 per month (or $6.60 per day). Every month, the money you save will be paid straight to your investment account.
Attempting to stay one step ahead of the competition
Watching YouTube videos that demonstrate how to get more money. Learning about economics and the money management tactics employed by the wealthy.
Don't be discouraged if your financial prospects aren't as promising as they were the first time. Concentrating on your long-term strategy. You may make significant gains in the long run by putting in just a little effort each day. As Warren Buffett famously put it:
Making decisions that allow you to spend more time doing things you enjoy.
Life expectancy is short. It's depressing to consider and accept that reality. You have the potential to earn more money. However, you are unable to do so due to a lack of time. As a result, you should always endeavor to make the most of the time you have.
Finding new methods to spend more time doing what makes you happy. That has a significant bearing on your life.
Conclusion
We hope that this blog post will be beneficial for you. We will continue to create useful works in order to get inspired by everyone. We are sure that we will achieve splendid things altogether. Keep on following Finage for the best and more.

You can get your Real-Time and Historical Market Data Feeds with Finage free API key.
Build with us today!