by Finage at June 8, 2021 4 MIN READ
---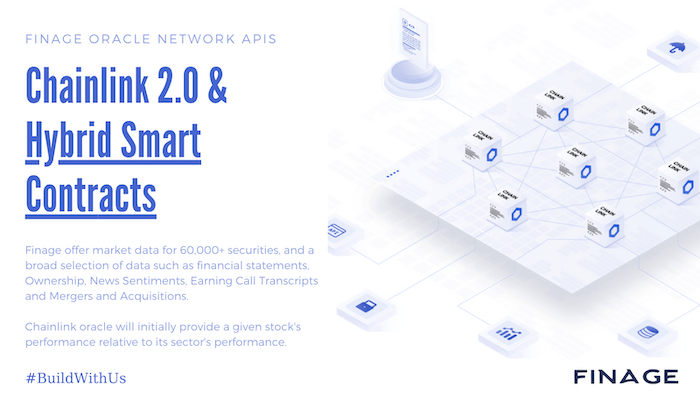 Chainlink 2.0 & Hybrid Smart Contracts
Hybrid smart contracts have been gaining popularity over the past few years. Many smart contracts are turning to chain links to provide a more decentralized way of work. The best part about the chain-link network is that it can be used for all oracle-based solutions. This includes insurance, gaming, finance, and non-fungible tokens.
With the chain link technology, there are more innovations. Developers have more leverage to create better and smarter solutions on the oracle platform now. The key oracle functions that the Chain Link Network improves are as follows, let's check.
1. Chainlink Price Feeds
Developers have access to a wide range of accurate and real-time data about the financial market and current trends which increases profits made.
2. Chainlink VRF
With this function, developers can work on projects that require verification and random selection. This works best for selecting winners in lotteries and NFTs that have rare properties.
3. Chainlink Proof of Reserve
This feature provides data that enables users to perform audits on any type of asset that works with tokens. Smart contracts can gain access to on-chain and cross-chain data.
4. Chainlink External Adapters
This is a great tool that enables users to get access to data off-chain. Data can also be collected from external APIs.
Redefining the Function of Decentralized Oracle Networks
Decentralized oracle networks (DONs) were designed to gather and feed external data into the blockchain. They were generally considered secure when used with the original chain link network. Chain link 2.0 completely changes the functions of decentralized oracle networks. With the chain link 2.0 network, decentralized oracle networks can function together. Each of these networks works with different nodes that collect and distribute data in a bidirectional manner. Another additional functionality is the ability to perform off-chain computation.
Decentralized oracle networks can also be connected to blockchains which makes periodic syncing of data possible. It also facilitates how reports are made, ensuring that developers have access to correct data. Blockchains now have access to data that is on Chain resources but also from any other environment.
This makes decentralized oracle networks that work within the chainlink 2.0 network secure, reliable, and flexible. Therefore, developers can create smart contracts that are more scalable and reliable, creating room for new upgrades.
Scaling
The decentralized oracle networks are capable of computing off-chain contracts that can be synced with the blockchain. This allows the chainlink network to provide improved functionality for any type of blockchain.
Confidentiality
Decentralized oracle networks are very secure and reliable. Thus they are good for providing confidentiality. They provide confidentiality between off-chain and on-chain networks. It also provides a confidential computing system for smart contracts on the oracle network.
How Chainlink DONs Will Power Defi & Wider Smart Hybrid Contracts
The changes that chainlink decentralized oracle networks provide will pioneer more innovation in the future. The DONs will provide more support for smart contracts. Also, all oracle services are going to be enhanced. Here are a few areas that are going to be enhanced by chainlink decentralized oracle networks.
Enhanced Chainlink Data Feeds
These provide a constant and reliable link to data from Chain resources. This is done while maintaining a secure environment. Privacy is a priority and is provided by a secured blockchain. Another important feature is fast and frequent updates. All this is provided as a cost-effective solution.
Enhanced Chainlink VRF
These provide additional security features that are cost-effective. The enhanced security is important for gaming, financial, and NFTs. They work well for all types of applications that heavily rely on providing users with a secure environment.
Chainlink Keepers
This provides a decentralization of smart contracts. Also, chainlink keepers provide maintenance of important smart contract functions such as testing and production. Through an automated maintenance system, chainlink keepers are very reliable.
Chainlink Fair Sequencing Services (FSS)
These make orders on behalf of a user on the blockchain. This is a way of preventing any types of attacks. They also deal with different oracle transactions on smart contracts.
Chainlink Decentralized Identity
This provides protocols that maintain privacy. Privacy is key when operating different systems. The chainlink decentralized network also allows developers to create compatible oracle systems which are helpful for new use cases.
Chainlink CryptoEconomic Security
With the chainlink 2.0 network, linear stacking is possible. Through a unique system, decentralized oracle networks can now provide better crypto-economic solutions that can prevent even the most advanced attacks.
Final Thoughts: What's Next?
The chainlink network is going to keep improving and providing more functionalities. With additional features, it is going to attract more users who are looking for cost-effective and secure solutions on the oracle network.
As the system has been shown to drive in more data from both on the chain and off-chain sources, it offers more information to developers. The various stacking mechanisms have further driven the users looking to chainlink-supported decentralized oracle networks. The chainlink network promises to evolve in the future. This will add to the oracle functions and take small contracts in the direction towards more inn.