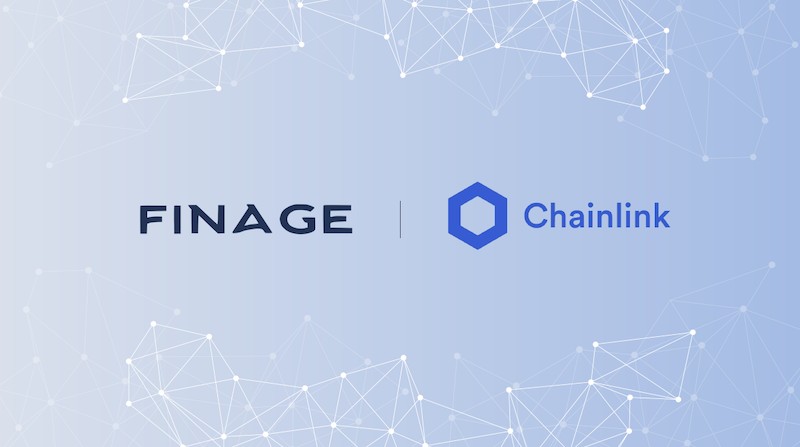 Finage is pleased to announce that our Chainlink node is live and fully operational on mainnet, providing smart contract applications access to premium stock, forex, cryptocurrency, indices, ETFs, and financial statements market data. Developers can now call our Chainlink node to get real-time and cryptographically signed price benchmark stock and sector performance data, with other data types becoming available in the future like reference data and historical end-of-day prices.
Our wide array of market data can be leveraged to secure key functions within DeFi applications, including settling on-chain derivatives products, rebasing stablecoins according to their pegged reference asset, or price synthetic token swaps around traditional stocks.
As the most widely used and time-tested oracle solution, Chainlink provides a secure and fully functional way to get our existing suite of APIs compatible with leading blockchain networks. By operating a Chainlink node, we now have a single gateway to supply our data to any current or future blockchain, as well as cryptographically sign our data on-chain to generate integrity guarantees on its origin being directly from Finage. These features significantly expand our addressable market as a data provider, exposing our data to the entirety of emerging DeFi markets taking root across different blockchains. Setting up the Finage Chainlink node was a seamless process that required minimal time and technical effort on our part.
For more information on why we selected Chainlink, read our previous announcement to explore this topic in detail. If you are a developer and want to learn how to access our node, visit the following Chainlink: documentation.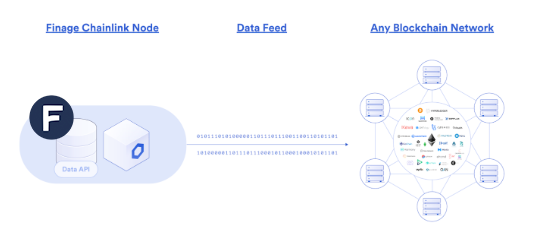 Finage provides market data for 60,000+ securities, which includes 50,000 stock prices, 2,000 Forex rates, 1,300 cryptocurrency trading pairs, 1,600 Major World Indices, 2,900 Global ETFs, and Financial Statements market data. Not only do we provide real-time data from all asset classes, but we also offer historical datasets such as the last price, historical end-of-day data, historical order books (L1 & L2), aggregates, market status updates, and more.
We're confident that our thoroughly refined and high uptime data feeds now available through our Chainlink node will enable the rapid development of DeFi applications across multiple blockchains. We are pleased to support the burgeoning DeFi market, and we look forward to seeing how smart contract applications can use our data to provide fair, openly accessible, and deterministic financial products.
"We're thrilled to launch a node on the Chainlink Network, enabling us to make Finage's large collection of premium datasets directly available to DeFi developers and applications across various blockchain networks," said Gökhan Uçkan, CEO of Finage. "Not only will the Chainlink node empower us to tap into a completely new market and earn more revenue, but it's future-proof, meaning we can scale to support new blockchains that emerge in the future with little extra work on our end."
About Chainlink
Chainlink is the most widely used and secure way to power universally connected smart contracts. With Chainlink, developers can connect any blockchain with high-quality data sources from other blockchains as well as real-world data. Managed by a global, decentralized community of hundreds of thousands of people, Chainlink is introducing a fairer model for contracts. Its network currently secures billions of dollars in value for smart contracts across the decentralized finance (DeFi), insurance and gaming ecosystems, among others.
Chainlink is trusted by hundreds of organizations to deliver definitive truth via secure, reliable data feeds. To learn more, visit chain.link, subscribe to the Chainlink newsletter, and follow @chainlink on Twitter.


Docs | Discord | Reddit | YouTube | Telegram | Events | GitHub | Price Feeds | DeFi | VRF
About Finage
The most important thing to know about Finage is that it is one of the leading companies that are consulted and worked with by those who need financial data providers, including small and large investors.
Finage Market Data APIs and WebSockets provide services that users cannot give up and make permanent. We will talk about them briefly for you. Before we talk about the types of Finage Data APIs, there is some information we need to convey. Finage Market Data works not unidirectionally but versatile. therefore, you will need to examine Data types in 6 areas in real-time and historically.
Let's move on to the 6 market data API types now.
1-) US & Global Stock Data: Finage Stock API allows you to access data from 50+ of the most popular global stock exchanges and to conduct extensive trading activity across the entire World wide stock market. With the unified data flow provided by Finage Stock APIs, you can safely research, develop, and execute your trading strategies.
2-) Forex Data API: Forex Data, which has a huge value globally, offers Real-Time and Historical Currency (FX) rates from more than 200 world currencies via WebSockets and APIs. Forex data has been adjusted according to the usage area of ​​the customer with various options.
Finage offers low latency and the best performance for your product with over 1300 forex, commodities, bonds, and metal symbols.
3-) Cryptocurrency Data: Finage is one of the best crypto portfolio trackers that will provide you with cryptocurrency data from major exchanges. You can strengthen your trading strategies by obtaining both real-time and historical data with WebSockets and APIs from more than 15 markets. Like the stock exchange, time is very important in the Crypto Money exchange. With the tools offered by Finage, you can obtain live cryptocurrency data with real-time streaming within milliseconds and strengthen your application.
4-) Major World Indices Market Data: When you would like to reach global Index Quotes, Finage has a leading role to provide Real-Time and Historical Index prices. We are covering +1,600 Indices via APIs and WebSockets.
5-) Global Exchange Traded Fund (ETFs) Market Data: Finage also provides the most popular way to track ETFs bought and sold throughout the day on stock exchanges in the global markets. We are covering +2,900 ETFs via APIs and WebSockets in real-time and also historical time.
6-) Financial Statements (Fundamentals): Finage also provides financial statements, Indices, ETFs, Forex, Cryptocurrency, and Mutual Funds. Finage covers the fundamental data part of the stocks via providing income statement, balance sheet statement, and cash flow statement quarterly and annually and there are +25 endpoints available to use by APIs.
We share with you the Finage page, which you can always reach so that you can get to know Finage better and communicate.
Website | Blog | LinkedIN | Twitter | Data Consultation

The data types (stocks, indices, mutual funds, ETFs) are not provided directly or indirectly from any exchanges but rather over the counter, peer-to-peer, and market makers.