by Finage at April 22, 2021 5 MIN READ
---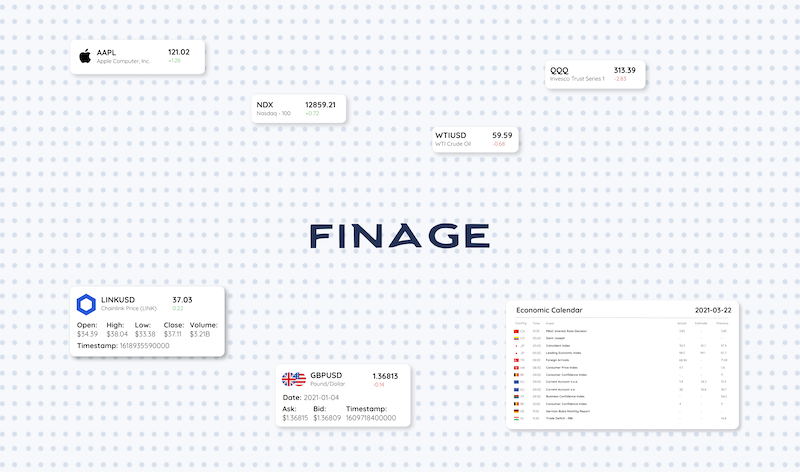 How Does Finage offer Advantages Against Other Data Providers?
Nowadays, you can easily find many different financial data providers. In addition to those with free memberships, there are many data providers that offer monthly or annual subscription packages. If you buy a subscription without researching it thoroughly, you will be wasting money on platforms that cannot meet your needs. So what are the features that distinguish Finage from other data providers? If you want to get a quality service, why should you create a Finage subscription? In our article, we will try to explain the differences between similar suppliers and Finage.
How does Finage compare to major providers?
Although the activities of large companies in the financial data industry are robust in places such as Hedge funds, they are not designed to serve promising innovations in the digitalizing financial sector.
The reasons for this can be listed as follows;
1. They are costly because the systems they use are old and manual, so they have delays, lower quality and higher price.
2. There is an unethical conflict of interest. They play pairs to make money, which means they earn money both from the raw data stream and from workstations. They do not open these raw data streams to engineers or developers, as they are not open to innovations. If they do, these users can create a better terminal with the data.
3. They face the dilemma of innovators. For example, Bloomberg has a high volume of technical debt, but you cannot innovate on top of an old infrastructure.
Finage, the new generation market data provider, has an automated data supply chain managed by AI to make its financial data accessible to new entrants in the finance industry and small-volume companies. Having a mission to support innovations in the financial field and provide developers with the data and tools they need to create new platforms, Finage constantly follows and uses the latest technology to achieve this mission. Thus, it supports customers' own innovations.
Finage has powerful Web APIs, WebSocket, software development kits in six languages, direct database access and other advanced access methods developed by its knowledgeable technical team
Additionally, Finage uses machine learning technology to standardize underlying data. Thanks to supply chain technology, data delivery is much faster than large data providers (usually within 30 minutes after a new filing by the SEC).
How does Finage compare to small providers?
There is room for all kinds of innovations and innovators in financial data technology. This vast playground has led to the emergence of many new financial data providers, but the data they provide can often be more expensive and inferior.
These types of providers are suitable for individuals who are trading individually or just want to try out their data providers. If you prefer data provider platforms to be used in your regular business plan, working with smaller providers can bring you a number of disadvantages. So what are these;
1. Small data providers frequently change their resources and break down your work for development. Endpoints where your code is affected due to changing resources are also changed. You cannot measure the quality of the resource because small providers are often not transparent about their data sources. Also, unfortunately, some providers serve with stolen data and may not comply with the market data rules set by exchanges.
2. They do not have a sophisticated understanding of the data environment, as they do not have an experienced team. In addition, they probably have a narrow data category and you may have to work with multiple data providers to get data that fits your trading strategies.
3. You may have trouble with support teams. Small providers do not have the infrastructure to deal with your personal questions. Therefore, it may take you a few moments to resolve a problem.
Finage, on the other hand, offers full transparency about all data sources, allowing you to see the quality of the data source. In Finage, basic data comes directly from the SEC, while market data comes from trusted partners and exchanges such as IEX, BATS, and QUODD.
The experienced and skilled developer team includes financial data experts who can help you find the plan that best fits your trading plans and business situation. There are data solutions customized for thousands of customers. You get the highest quality service with the technical team that helps you connect with exchanges and easily integrate the data into the trading platform you are currently using.
With Finage, you can obtain market data and key products, as well as over 55,000 stock data worldwide in real time or in historical time. It also has a reliable and pre-reviewed data partners network so that you can receive more than 1300 cryptocurrency data.
Because the data supply chain is machine learning and automated, the technical team has more time to devote to customer service. When working with Finage, you have direct phone, email and live chat access to the dedicated account representative. Additionally, Finage offers engineering support, a built-in ticketing system, and dedicated data quality team for integration and ongoing technical concerns. Basically, if you run into a problem, you'll never be left on your own.
Who does Finage serve?
Fiange is made up of innovative and user-oriented individuals who are transforming the financial data industry. The Finage team, whose mission is to provide accessible and quality financial data for everyone, built their platform on two pillars:
1) Creating various financial instruments and automating the data supply chain to provide customers with the fastest and highest quality data while keeping costs low.
2) Put the developers, who are the source of innovation, in the first place in everything that is done such as API, documents and tools
Finage creates an environment where critical information is available to everyone. Knowledge is the lifeblood of people. For this reason, gaining the trust of its customers and keeping their promises to them is the most important philosophy for Finage.
Finage's primary goal, which builds a seamless and reliable service with modern technology, is to get out of existing expensive, complex and slow services and replace them with modern artificial intelligence services.
Ready to innovate? Request a consultation from Finage team.