by Finage at November 6, 2021 4 MIN READ
---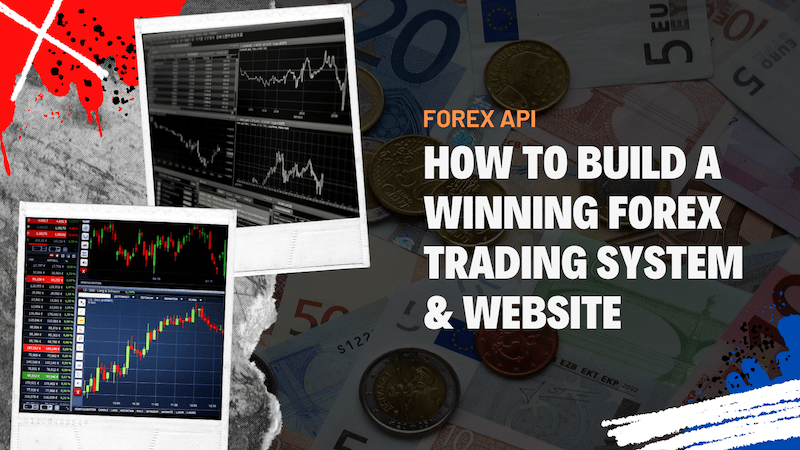 How to Build a Winning Forex Trading System & Website
The Forex trading system thrives on profits and many traders receive huge benefits. Wonder how you can make real profits and retain the money with Forex? You can build a winning Forex trading system and website to get your share of profits. Let's discuss the main points and steps on how to create an amazing and useful trading service.
Contents:
#1. Primary Preparation
#2. Registration & License
#3. Type of Trading Platform
#4. Approaches to Site Development
#5. Website Characteristics
#6. Extra Functions
#7. Safety & Reputation
#8. Earning through Platform
Final Thoughts
#1. Primary Preparation
Before launching your Forex platform, a certain research and preparation are necessary precisely in the following steps:
Researching the market and knowing your target audience (this may help you to promote the platform strategically);

Creating start-up capital is another thing necessary before launching your Forex trading platform;

Registration of the brokerage company is an important step and with that license, one can start accepting money from traders;

Agreeing with payment service providers is the next crucial step as it helps to prevent financial mishaps;

Adding the right API with real-time and historical data is an important add-on to the website;

Choosing one of the trading platforms providers is the last step (there are 3 types- Market Maker, STP, and ECN).
#2. Registration & License
Registering your company opens doors to various opportunities. Various international companies can help you get registered and obtain a brokerage license.
Also, a license tells everyone that your Forex platform follows the regulations of the host country. Only after you have a license, you can gain profits, receive money from traders, provide services, manage the assets and be able to get a loan from the bank.
#3. Type of Trading Platform
There are 3 types of trading platforms as mentioned above, based on which your preliminary preparation of setting up a trading company is done:
Market Maker is the first type wherein artificial prices are provided for certain currency pairs through special dealing pairs. In this case, the winning amount is the difference in the value of assets.

The next type is STP broker, where conflict of interests are avoided by ordering liquidity providers.

The last type of trading platform is the ECN broker. In the last type, the orders are sent directly to the Forex market without intermediaries.
#4. Approaches to Site Development
There are several approaches to the development of a trading site. For example, you can buy a Forex trading platform for a fixed price. It might cost anywhere between $25,000 to $100,000.
Another approach is to use someone else's website, but with your company name on it. It is definitely a cheaper option, but you are not allowed to make too many modifications to the data. You need a Forex data API to empower your system. You can get Forex data from Finage. Forex Data with various options will boost your website. When financial fundamentals data may empower your site with global exchange charts, forex news and market status via forex API.
#5. Website Characteristics
The website elements serve as the foundation for the success of the trading platform. There are a few mandatory and optional elements. In this article, we are going to restrict ourselves to the mandatory elements. They include the Forex client area, website design, online marketing, and Forex CRM.
The Forex client area basically consists of a set of tools to manipulate and manage the assets. This area further is divided into trader's rooms, back-office tools, partner systems and payment solutions.
#6. Extra Functions
How do you know that you are on a good trading platform? When the website provides options other than buying and selling stocks. Stocks are usually money invested by people into a company, and people own a part of that company in the form of stocks. The best trading websites include a set of integrative support for the clients and visitors of the service.
Contracts for difference and options, CFD trading and margin trading are included as a part of additional functions. Quality of the website content plays a very important role. One might also like to add blogs, webinars, lectures and courses.
#7. Safety & Reputation
Safety and reputation are very important for a trading website. To attract traders, maintaining a good reputation and having safety are crucial. That is because nobody would put in their money when a website has bugs and has issues with security.
Also, it is important to remember about the regulatory authority that runs the brokerage website and its financial activities. For example, if you have the regulatory authorities that are BaFin, FCA and PRA, NFA and CFTC, and CySec, it is considered secure.
#8. Earning through Platform
How does the platform and the owner of the trading company make money? Mostly it is through commission and spreads. Spread is the difference between the purchasing and the sales price. The spreads are usually calculated under pips and are usually varied.
It depends on the liquidity of the market. Apart from the above-mentioned platform monetization methods, certain websites charge additional fees for certain extra features.
Final Thoughts
Overall, a trading platform requires some research and knowledge about website creation in order to create a winning Forex trading platform. If you don't perform proper research, all your money will just go into waste.
It might become difficult to maintain a website because, in the beginning, the number of trading clients is not many. Therefore, strategizing, optimizing and having an amazing marketing team is crucial. You can also get the right API from professionals and find useful data for your platform.

You can get your Real-Time and Historical Currency Data with Finage free Forex Data API key.
Build with us today!