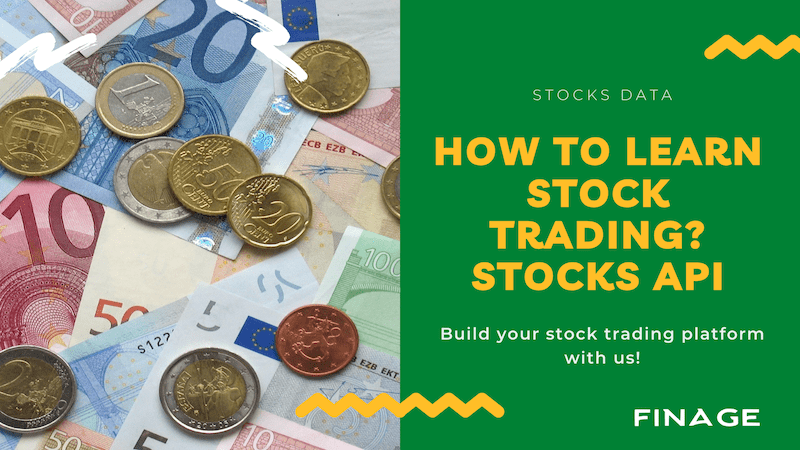 For beginners taking their first steps in learning the basics of stock trading, find multiple quality educational resources here.
How To Learn Stock Trading?
Stock trading means buying and selling shares of companies on a public stock exchange. By purchasing shares of a company's stock, the individual essentially takes a small stake in that company's ownership. Stocks can also be sold, and the purpose of all stock trading is to buy shares when they have low prices and sell when they have high prices. Prices are determined by how many shares of a particular company are available and how much demand is for those shares. Many people want to invest in the stock market, but do not particularly understand what they are buying when buying and selling stocks. If someone owns a stake in a company, that is another way of saying that person has equity in a company. The value of that stock can rise or fall with that company's wealth. Stock trading is a way for investors to take advantage of these rising and falling prices and make a profit.
Generally, stock trading takes place on a publicly traded exchange, such as the New York Stock Exchange in the United States or the London Stock Exchange in Great Britain. Transactions can be made through over-the-counter markets, which do not have a centralized exchange overseeing them. The main problem with these markets is that stocks with the ability to find buyers and sellers for them are less liquid than the main exchanges. Publicly traded companies raise capital by issuing their equity to investors.
Tips for Beginners
Open A Stockbroker Account
To trade stocks, you need an online broker. Each broker offers something different. Visit our site for the best online stock brokers for a list of recommendations. As a result, some brokers are known for their trading platforms and tools, others provide excellent research and some provide a bare-bones experience but are easy to use.
Read a book
The books provide a wealth of information and are inexpensive compared to the cost of lectures, seminars, and training DVDs sold on the web. Check out my list of 20 great stock trading books to get started. One of my personal favourites is the book "How To Make Money From Stocks by William O'Neil", the founder of CANSLIM trading.
Read the articles
Articles are a great resource for education. The most popular website for investment education is Investopedia.com. I also highly recommend reading the notes of billionaire Howard Marks (Oaktree Capital) which is absolutely awesome. Naturally, searching with Google search is another great way to find educational material to read.
Find A Mentor or Friend to Learn From
A mentor can be a family member, a friend, a co-worker, a past or present professor, or anyone else with a basic understanding of the stock market. A good mentor is willing to answer questions, provide assistance, suggest useful resources, and keep morale high when the market gets tough. They have been mentors to all successful investors, past and present, in their early days. Although "old school", online forums are still used today and can be a great place to get questions answered. Two recommendations include Elite Trader and Trade2Win. Just be careful who you listen to. The vast majority of participants are not professional traders, let alone profitable traders. Follow the advice of forums with heavy doses of salt and under no circumstances follow commercial recommendations.
Study successful traders
Learning about great investors from the past provides perspective, inspiration, and appreciation for the game that is the stock market. Greats include Warren Buffett (below), Jesse Livermore, George Soros, Benjamin Graham, Peter Lynch, John Templeton, and Paul Tudor Jones. One of my favorite book series is Jack Schwager's Wizards of the Market.
Read and follow the stock market randomly
News sites like CNBC and MarketWatch serve as a great resource for beginners. Look no further than the Wall Street Journal and Bloomberg for details. By checking the stock market and reading headline stories every day, you'll expose yourself to economic trends, third-party analytics, and general investment language. Pulling stock quotes on Yahoo Finance to view a stock chart, view news headlines, and check fundamental data can also serve as another source of quality exposure.
TV is another way to expose yourself to the stock market. Without a doubt, CNBC is the most popular channel. Even opening CNBC for 15 minutes a day will expand your knowledge base. Don't let the language or news style intimidate you, just watch and let the commentators, interviews and discussions draw you in. However, over time you may find that most investment programs on TV become more. it's actually more of a distraction and a source of excitement than useful. Recommendations rarely provide profitable trades.
Carefully explore seminars, online courses or live lectures
Seminars and classes can provide valuable information about the general market and certain types of investments. Most seminars will focus on a specific aspect of the market and how the speaker has found success using their own strategies over the years. Reliable examples include the Will O'Neil workshops, Dan Zanger and Mark Minervini, both of which I've attended here and reviewed in detail on the site. No fee is required for all seminars. Some seminars are provided free of charge, which can be a rewarding experience, just be extremely conscious of the pitch that will almost always come at the end. Whatever is offered, say no!
Conclusion
After a company lists its shares on an exchange, anyone, including you and me, can use an online broker account to trade shares. Anyone can trade, whether you're a day investor or an institutional hedge fund that manages hundreds of millions of dollars of client money. We hope that this blog post will be beneficial for you. We will continue to create useful works in order to get inspired by everyone. We are sure that we will achieve splendid things all together. Keep on following Finage for the best and more.

You can get your Real-Time and Historical Stocks Data with Finage free Stock Data API key.
Build with us today!