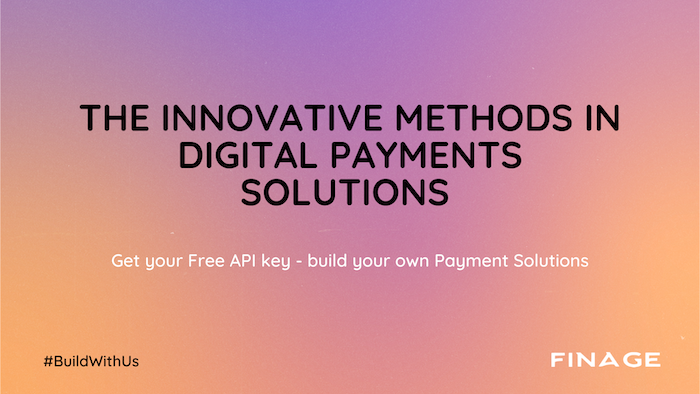 As all we know, the pandemic process has affected most of our lives deeply. Within the outbreak of a pandemic, many things that we are used to in our lives found themselves having to adapt to the new normal. We can say that one of the most affected things here was the physical merchandising sector. Many people started to tend to online shopping methods rather than going to physical stores. This circumstance, in parallel, created a new market need or caused a market to rouse. People discovered the power and practicality of online shopping during the lockdowns. However, the problem here was the payment methods. People who are used to traditional methods and still only use cash have had a hard time adopting online payment. At this point, a market supply emerged. New methods have begun to be created to make people feel more secure for digital payments.
In a sector developing day by day and also in a situation that changes people's lives so much, it is necessary to take precautions against the possibility of fraud. Many consumers and businesses also choose to buy or trade a product using faster and more reliable payment systems in order to eliminate possible risks of fraud. There are many reasons why the significant growth in the crypto money market will increase significantly, especially as of 2021, with the acceptance of payment providers such as PayPal and large-scale banks. Therefore, in order to keep up with the pace of change, everyone in the industry has started to adapt to innovations and produce alternatives to them.
When we want to pay for a product that we buy, it is enough to just have the card reader on a plastic screen owing to the effects of technology. We can say that old methods such as entering passwords or signing for shopping have already been shelved. The old methods of entering passwords began to be replaced by methods made with the latest technology such as paying with QR codes. In short, many companies that do not keep up with new technologies in digital payment methods will gradually lose their customers and incur losses.
The Gen Z-Push for Smarter Digital Payment Solutions
The new generation, which we call the generation Z, born in 2000 and later acquainted with technology quickly. As the generation changes, technology proceeds in parallel and the demand for faster and more efficient services is increasing. This situation also changes the order in digital payment systems.
According to some data, new payment systems have been used frequently in most of the shopping made especially after the pandemic period. Contactless payment methods have increased from 45% to 55% for people aged 50 and over. After the first quarter of 2020, the rate of online shopping peaked with an increase of 71%.
Omnichannel Integration and QR Codes
Especially with the development of omnichannel integration systems, the need for digital payment methods has increased even more. By shopping with a QR code, consumers noticed that they could save a lot of time. Let's say you are going to work in the morning and you see a coffee shop on the road. Imagine going inside, ordering your coffee, and making your payment with the QR code in a very short time. Isn't it all very practical? Therefore, people in this sector are working quickly to integrate QR payments, which have become quite common in a few industries, in many more. Keeping up with the world's most up-to-date technologies, every sector should be open to these innovations.
Increased Personalisation of Banking Apps
Banking applications began to change and develop, especially as of 2021. Methods that will make people's daily lives easier are trying to be integrated into every sector. One of these sectors is the banking sector. Approximately millions of people may have to transfer money every day. This situation, which many people use on a daily basis, is among the priority needs. For this reason, applications that you can easily transfer your money from one account to another account are becoming more popular in the banking sector.
Mobile applications that allow you to complete your transaction as soon as possible by eliminating the need for help from a branch make people's daily lives quite comfortable.
Payments Solutions Through Smart Speakers
Since smart speakers are among the most innovative technologies in recent times, they may seem luxurious to most individuals. However, we can call smart speakers a technological wonder for our lives. Imagine that you are preparing food in your kitchen and need a product to finish your meal. Your hands are dirty and so, you have to wash your hands at first and then reach for the phone. This seems like torture for you at that moment. You can definitely get a smart speaker to get rid of this and similar situations, and make your life even more practical. Many companies that we can accept among the giants of the world have started to produce smart speakers. This means that this sector will expand further and we may come across these machines in many houses in the next few years.
Key points for online businesses when picking a digital payments provider
If you are looking for a digital payment provider and do not have detailed information on the subject, please take a glance at the steps below.
The capability of 24/7 support for your business and customers,
The capability of multiple-channel-transaction,
Easy integration to your platform,
High protection against fraud possibilities,
Integrated features that encourage customers to spend more time on your website.
A smooth and easy shopping process is an indispensable desire for every consumer. Companies whose ultimate goal is the satisfaction of their customers should shape this process according to the wishes of the customers. The better the customer's experience means that will be a high amount of trust and demand for a brand. Integrate new methods into your business life that will enable you to earn more profits and get more positive feedback from your customers. At this point, diversifying your digital payment methods and offering easy alternatives to your customers will take you to your target point.

You can start building your own Digital Payment App with Finage free API key.
Build with us today!