by Finage at January 8, 2022 4 MIN READ
---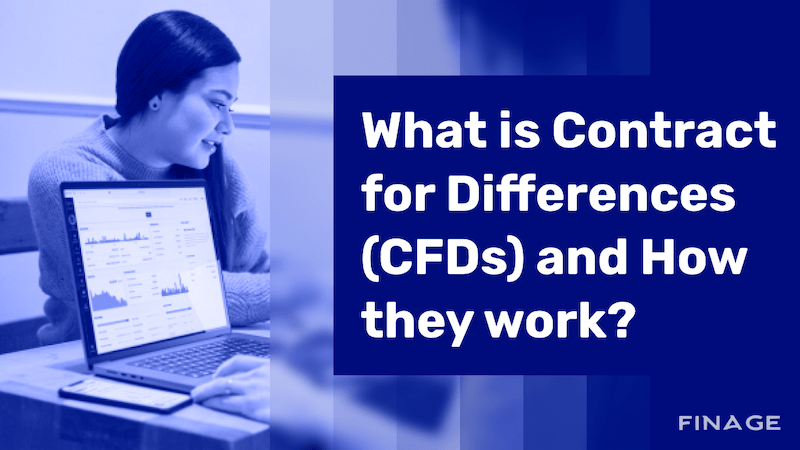 What is Contract for Differences (CFDs) and How They Work?
We have explained CFDs to you in detail, which allows traders and investors to profit from price action without owning the underlying assets.
What is CFD?
CFD is a financial instrument known as 'Contract For Difference', and it is a derivative instrument that allows speculation on the price trends of assets such as parity, indices and commodities.
The history of CFD Contracts dates back to the 90s. CFD contracts have been developed with the use of leverage effect in stocks. With the development of the Forex market, today it has taken the form of the CFD market, where financial instruments such as stock market indices, energy products, commodities, stocks and currency pairs are traded.
When a transaction is made on a product that is the subject of a CFD contract, the expectation about that product is purchased. Instead of physically owning that product, a position is opened on the future price of that product.
How to Invest in CFD Products?
CFD contracts have fixed maturities, that is, the contract has a start and end date. A CFD contract that is due is automatically closed. The difference between the expiry price and the starting price of the contracted underlying asset is calculated as the investor's profit or loss.
CFD products have periodic maturities such as 1 month, 2 months and 3 months on average. All investors are informed in advance via the platform, website or mail. If the positions that are open at the expiry date are not closed by the investor, they are closed at the last price realized at the time specified by the system.
In the Forex market, you can easily perform CFD transactions on the trading platform, just like foreign exchange transactions.
What are the CFD Advantages?
Investors can trade all CFD groups including all currencies, bonds, bills, stocks and parities at the same time on a single platform. CFD investors can trade simultaneously with the whole world at instant prices, so they can benefit from investment opportunities arising in international markets. CFD transactions also offer the investor advantages such as small initial margins and low commission rates.
What are the Disadvantages of CFDs?
While CFDs offer an attractive alternative to traditional markets, they also present potential pitfalls. First, having to pay the difference in entries and exits eliminates the potential to profit from small moves. Spread also slightly reduces winning transactions and slightly increases losses compared to basic security. Therefore, while traditional markets expose the trader to fees, regulations, commissions and higher capital requirements, CFDs reduce traders' profits through spread costs.
The CFD industry is not highly regulated. The credibility of a CFD broker is based on reputation, longevity and financial position rather than government status or liquidity. There are excellent CFD brokers, but it is important to research a broker's background before opening an account.
CFD trading moves fast and requires close monitoring. Consequently, traders should be aware of the significant risks when trading CFDs. There are liquidity risks and margins must be protected; If you cannot cover the declines in values, your provider may close your position and you must cover the loss no matter what happens to the underlying asset later on.
Countries Where You Can Trade CFDs
CFD contracts are not allowed in the US They are allowed on listed, over-the-counter (OTC) markets in many major trading countries, including the UK, Germany, Switzerland, Singapore, Spain, France, South Africa, Canada, New York. Zealand, Hong Kong, Sweden, Norway, Italy, Thailand, Belgium, Denmark and the Netherlands.
As for Australia, where CFD contracts are currently allowed, the Australian Securities and Investment Commission (ASIC) has announced some changes in the issuance and distribution of CFDs to retail customers. ASIC's purpose is to strengthen consumer protections by reducing the leverage of CFDs available to retail customers and by targeting CFD product features and sales practices that increase retail customers' CFD losses. ASIC's product response order went into effect on March 29, 2021.
Costs of CFDs
The costs of trading CFDs include a commission (in some cases), a financing cost (in certain cases), and the spread (the difference between the bid price (buy price) and the bid price at the time you trade). There are usually no commissions for forex pairs and commodities trading. However, brokers usually charge a commission for stocks. For example, broker CMC Markets, a UK-based financial services company, charges commissions starting at 0.10% per share, or $0.02 per share, for shares traded in the US and Canada. 4 Opening and closing transactions create two separate transactions, so you pay a commission for each transaction.
A financing fee may apply if you take a long position; this is because overnight positions for an item are considered an investment. Traders are usually charged an interest fee for each day they hold the position.
How do CFDs work?
A contract for difference (CFD) allows traders to speculate on future market movements of the underlying asset without actually owning or receiving the physical delivery of the underlying asset. CFDs are available for a range of underlying assets such as stocks, commodities and currencies. A CFD contains two trades. The first trade creates the open position and is then closed via a reverse trade with the CFD provider at a different price.
If the first transaction is a buy or a long position, the second transaction (closing the open position) is selling. If the opening trade is a sell or a short position, the closing trade is a buy. The trader's net profit is the difference in price between the opening trade and the closing trade.
We hope that this blog post will be beneficial for you. We will continue to create useful works to get inspired by everyone. We are sure that we will achieve splendid things altogether. Keep on following Finage for the best and more.

You can get your Real-Time and Historical Forex Data with Finage free Fx Data API key.
Build with us today!